"Every day's a school day," or so the saying goes. But for 132 million girls, no day is a school day – a figure that could rise as the climate changes. And yet in the fight against climate change, educating girls is one of the most powerful tools we have. Here's why.
At last November's COP26 climate talks, amid all the discussions of clean energy, reforestation and green financing, Malawi's Minister of Education Agnes Nyalonje could be found telling stories of her schooldays, when she owned only one dress and no shoes. Why was Nyalonje's lack of shoes on the agenda at a global climate conference?
There's a very good reason. Project Drawdown, which researches climate solutions, ranks girls' health and education as the second most impactful intervention to limit global warming to under 2°C (after reducing food waste). Why? Because education allows girls to choose their own path, when they marry, how many children they have and how they raise the next generation.
"We are not talking about a small community. It's 50% of the world who are missing out"
Chrisanta Muli, CEO of One Girl
Children's education charity Their World indicates that across sub-Saharan Africa the birth rate is four times lower among girls completing secondary school, compared with girls with no education. Slowing population momentum could avoid as much as 85 gigatons of potential future emissions, as well as reduce the strain on the planet's precious resources. So getting more girls into school doesn't only make the world smarter and fairer, it also makes it greener.
The benefits of education are beyond measure.Young women like Greta Thunberg and Vanessa Nakate show how it can empower young women to become powerful climate advocates, while a study of more than 70 countries showed that those countries with more women in parliament have better climate policies and lower emissions.
Education also increases resilience and equips women to cope with the impacts of climate change. After all, women make up 80% of those displaced by natural disasters and, according to the Women's Environmental Network, are much more likely to die or be injured during a disaster.
The solution we missed
But even though going to school is critical for their own future and that of the climate, many girls don't get the chance. Families facing hardship may choose to remove girls from school so they can care for siblings, grow food, fetch clean water from kilometres away, or earn money as a home help. They may be forced to marry young to secure a much needed dowry.
"We are recycling, going vegan, shifting to solar… but we have missed the one that is right up there at the top of the list"
Chrisanta Muli, CEO of One Girl
As CEO of One Girl, an Australian charity dedicated to getting girls educated, Chrisanta Muli is familiar with the problem. It is "a knotted ball" of interconnected challenges, she says, which has been overlooked by individuals and governments. "We are not talking about a small community," says Muli. "It's 50% of the world and the future mothers, leaders and scientists who are missing out on the skills to be part of this journey. We are recycling, going vegan, shifting to solar, all good and meaningful issues, but we have completely missed the one that is right up there at the top of the list."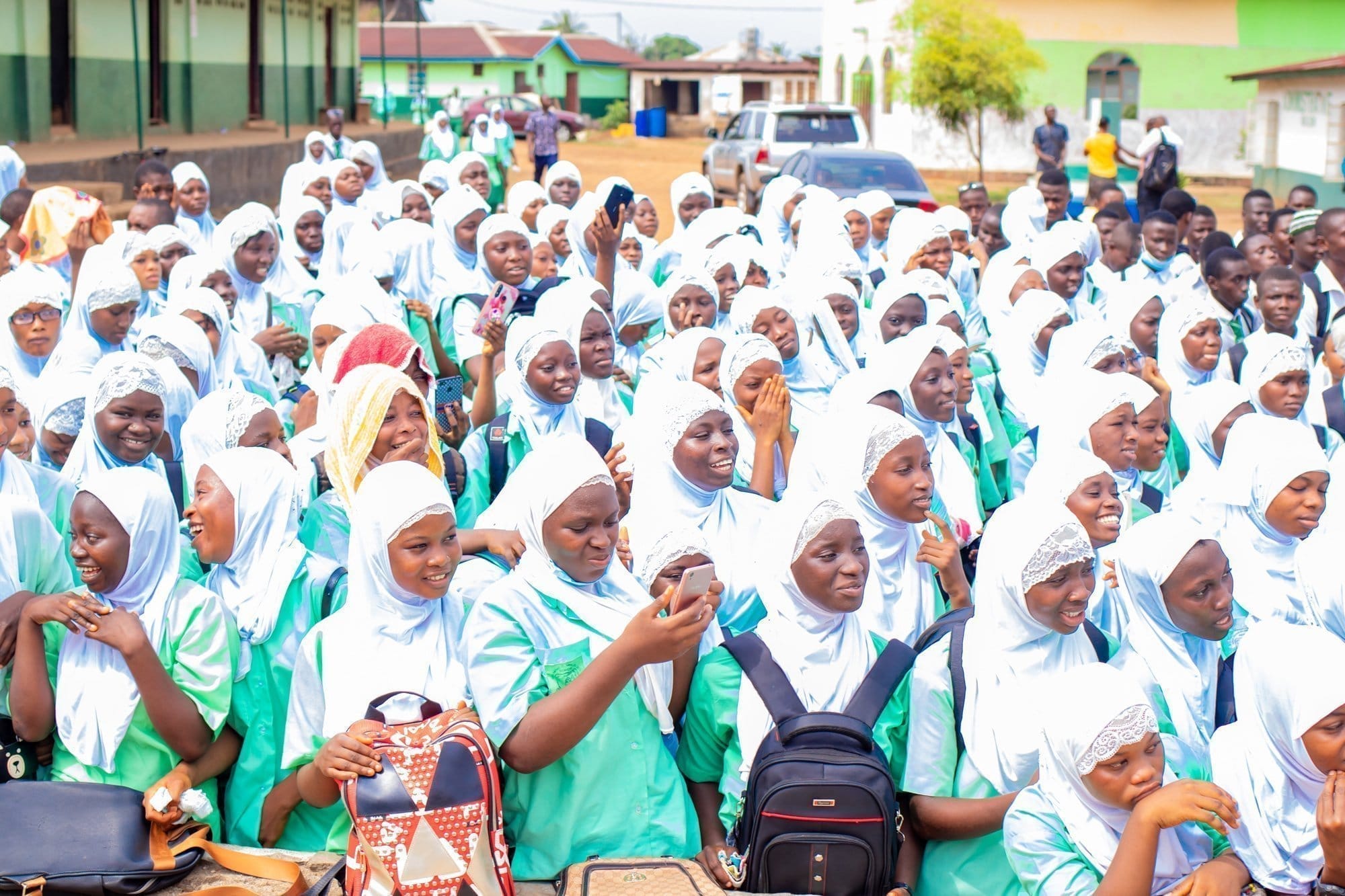 Untying the knot
Luckily there are many people out there working to untie the "knotted ball". Blandine Umuziranenge is the founder of Kosmotive, a company in Rwanda making maternal and child health products. The realisation that 18% of girls are missing school because they don't have access to period products inspired Umuziranenge to put her fashion design skills to good use and experiment with making reusable period pads out of fabric, which can last for two years. She now has a team of 10, who spend more time making period products than on her original maternity fashion lines – producing 1,000 pads a day. With help from charities, the business hopes to produce two million by the end of 2023 – enough for every girl in the country.
Another organisation called Moja trains people in Tanzania to make reusable pads, which are distributed to local girls at workshops on puberty and menstrual health. Over 1,500 children – boys and girls – have attended the sessions aimed at encouraging open communication and breaking taboos.
In Uganda, Chrisanta Muli's charity One Girl provides vocational training for teenage mothers who find it difficult or impossible to get back into the education system, and face a lifetime of low-paid work. Training in male-dominated careers like carpentry can help them build a viable alternative future.
The same organisation supported Alice, a business administration student in Sierra Leone, who says One Girl "gave me hope again", with emotional and financial support to finish her schooling, as well as education on sexual and reproductive health and rights, career development, life skills and more. "Only through education can I achieve my dreams of being an entrepreneur," she says.
"I'm here because of my education. And I get the opportunity to return the favour"
Chrisanta Muli, CEO of One Girl
One Girl's CEO Chrisanta Muli attributes her own passion for education to her African grandmother, who was forced to leave school after less than a year, but vowed that things would be different for her daughter and subsequent generations. After getting her PhD from the University of New South Wales, Muli made a career working on women's rights across Africa. "I'm here because of my education," she says. "And I get the opportunity to return the favour."
Alice is a prime example of the principle in action: as well as pursuing her own dream, she's already supporting other girls through the One Girl programme too. Like Muli says, education is "the gift that keeps on giving".