The Sahara Desert is more than just a vast expanse of empty sand. It's also home to displaced Sahrawi refugees, who have eked out a provisional existence here for decades. With no waste system in place, plastic is piling up. But now a team of hands-on recyclers is helping the local community build their own circular plastic workshop.
The desert wind toys with an empty bottle, rolling it this way and that across the sand, as if trying to pick it up. But the bottle is too heavy. Instead the wind launches empty bags into the air, which rise up like lost balloons. Scraps of black plastic swirl around a large pile of rubbish smouldering in the distance.
So what is this plastic doing here, in the middle of the Sahara Desert? This is where a cluster of five refugee camps have stood for over four decades, housing Sahrawi people displaced by a territorial conflict in the Western Sahara that remains unresolved to this day. Around 1500km away from Algiers, these camps, run by the UN's refugee agency (UNHCR), support some 90,000 of the region's most vulnerable refugees with basic necessities, with help from international aid organisations.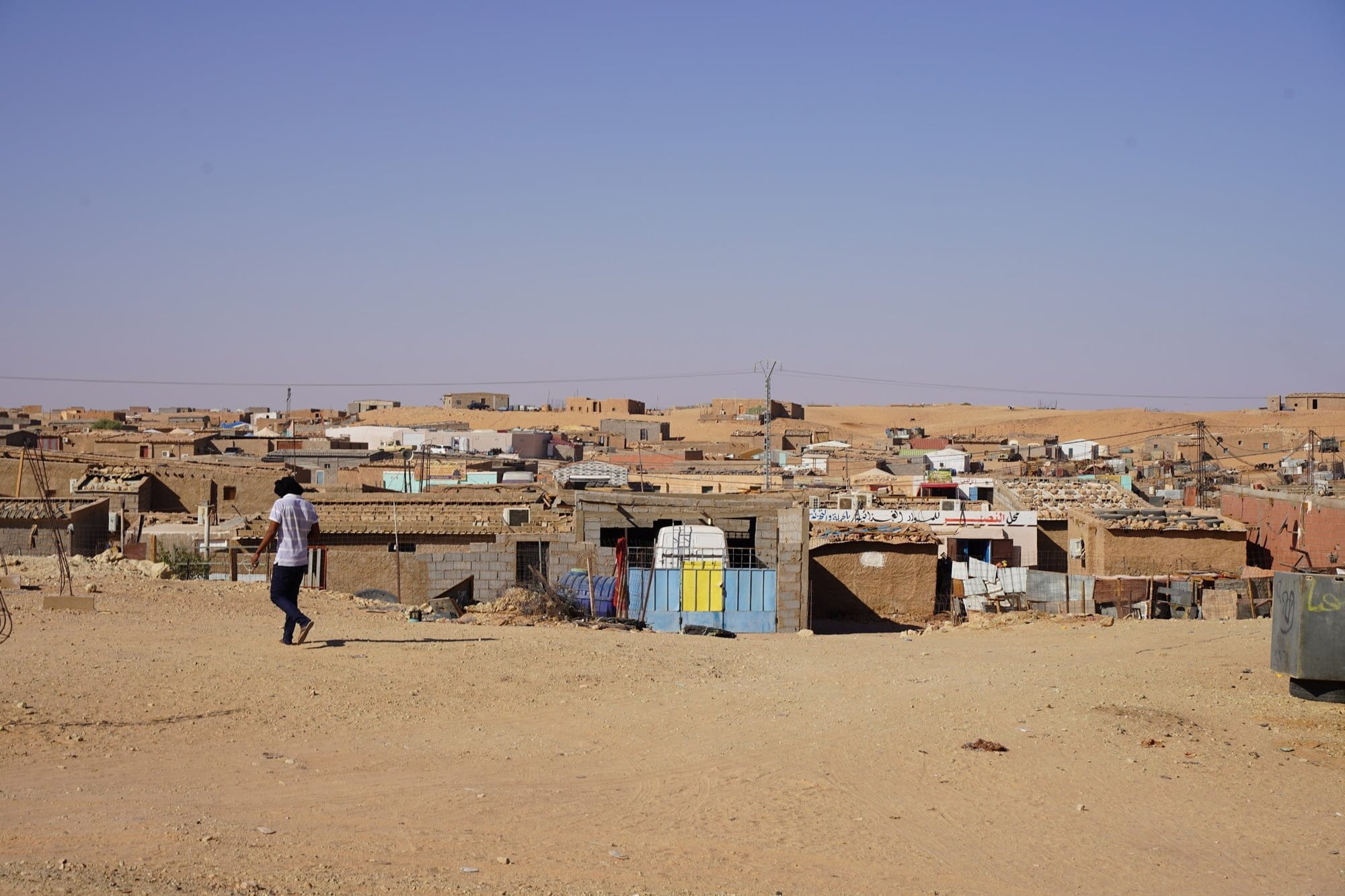 But there are no endless rows of white tents here, unlike the camps often in the news, erected rapidly in the wake of an immediate disaster. Instead the numerous small buildings made of sand-coloured brick reveal just how long this situation has been dragging on, as people try and build a semblance of life, despite their highly uncertain future.
The continued impermanence of the settlement coupled with the remote location mean that there is a lack of infrastructure to deal with waste. Trucks shuttle back and forth between the camps and the open desert several times a week to incinerate the rubbish. There is nowhere else for it to go. Landfill is not an option, because it could contaminate what little water there is in the ground. And so, the wind has free rein to blow whatever the flames don't consume deeper and deeper into the desert.
Part of a global circular community
But this isn't a story about rubbish. It's a story about people. And possibilities. That's where Precious Plastic comes in. Founded by Dutch designer Dave Hakkens in 2014, Precious Plastic is a global circular community united by a single goal: to teach anyone, anywhere how to recycle plastic. There are workshops everywhere from Chile to Iceland and India to Vietnam. The Sahrawi refugees are one of the latest additions to that network.
Working with a Precious Plastic team, the refugees set up their own recycling workshop from scratch in just three weeks. After installing the machines, the next step was learning how to identify and sort the different kinds of plastic, before moving on to some real action: shredding it and melting the assorted plastic scraps into sturdy beams or large sheets on the sheet press, which can then be used to make just about anything.
"Plastic waste is pervasive here. It's just thrown away. I feel good to help clean the environment"
Selka Lehbeyeb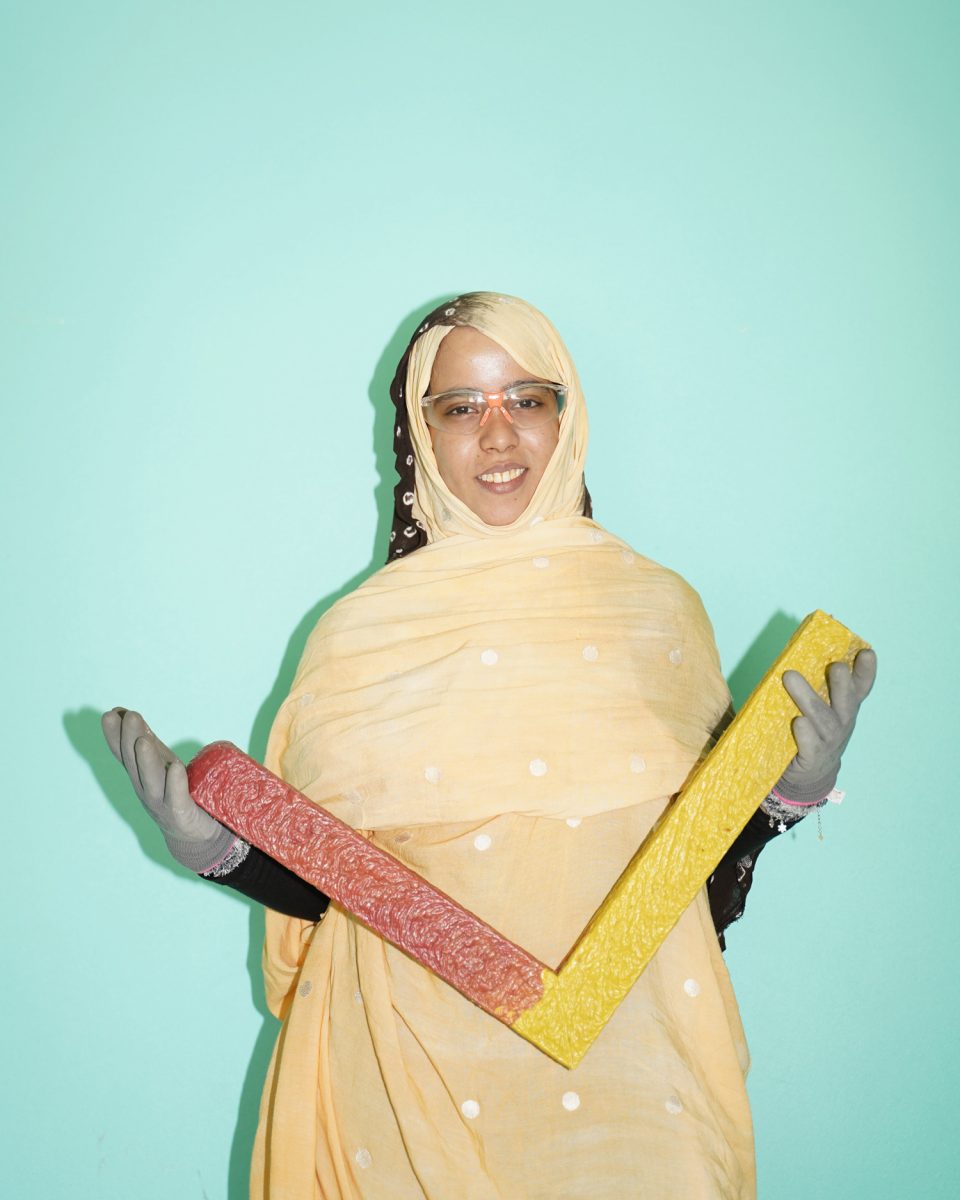 Selka Lehbeyeb is one of nine refugees who signed up. She moved here from another camp 11 years ago with her parents and five siblings. This camp has electricity, and the previous one didn't, she explains. She graduated from school three years ago and is excited to be a part of the project. "It's the first time I've met people from different countries," she says. "And the work is great." She especially likes the last stage in the process, producing the final products, together with the fact that she's able to do something to help. "Plastic waste is pervasive here. It's just thrown away. I feel good to help clean the environment of hazardous waste. Waste which didn't have any value and that you can now recycle into products that can last for a long time," she adds.
"We are a small population with a lot on our plate – I want to help my people"
Salamu Husein
Learning the ropes along with her is Salamu Husein. Although he really enjoys operating the machines, that's not his main motivation. "We are a small population with a lot on our plate – I want to help my people so they are not harmed by plastic waste," he says. Like many of his peers, he too was born as a refugee. And like so many others here, he too hopes to be able to use the skills he gains elsewhere, in a more permanent setting that he can call home.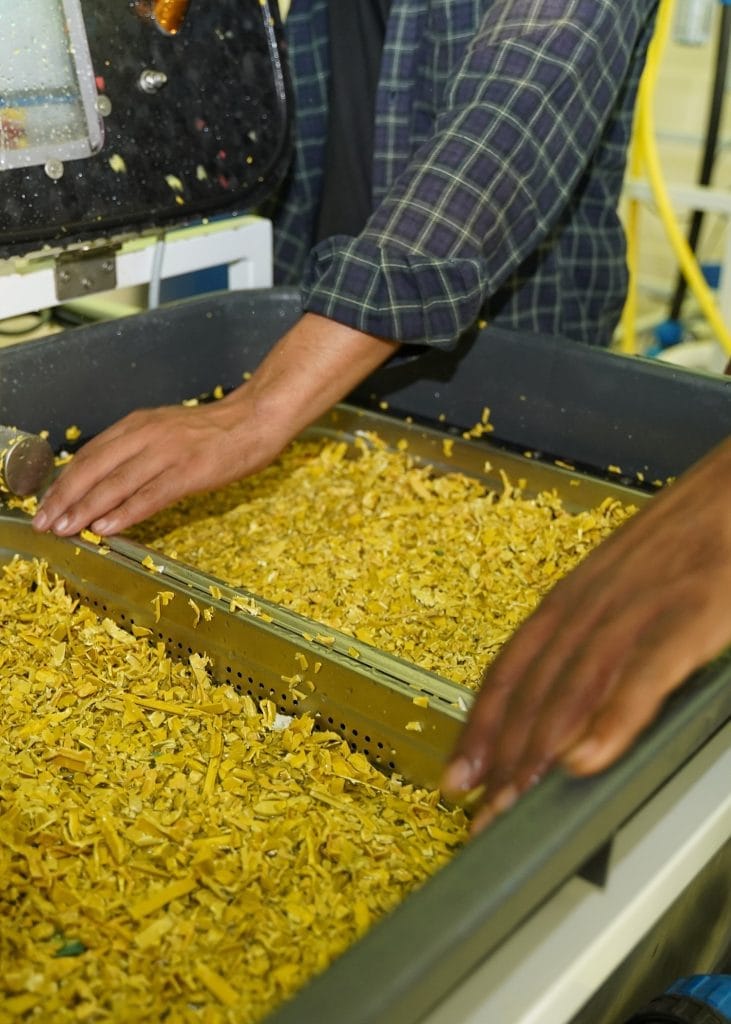 Desert-proof machinery
This is the biggest project Precious Plastic has ever undertaken – and the first one in a refugee camp – not to mention a desert, so there was a lot to learn for everyone, despite nine months of preparations. One issue is that the sand gets into everything. But these machines are especially designed for durability. Unlike fancy industrial-scale machines, the parts are easy to make and replace. And because everyone is involved in the assembly, it means they know how to fix them on-site should anything break. 
"We can come and bring knowledge and the machines and the hardware, but it's really up to the people running it and giving the soul to the project"
Katharina Elleke
Industrial designer and self-proclaimed 'plastic nerd' Katharina Elleke has worked with Precious Plastic for years, helping to refine the open-source techniques. She leads the training sessions at the camp, all of which are conducted via a translator, translating from English to Hassaniya, the local Arabic dialect. But the communication is smooth, regardless. "We have a dream team here. They are really curious, open and positive, and there's a great energy – they're asking lots of questions," Katharina says. "We can come and bring knowledge and the machines and the hardware, but it's really up to the people running it and giving the soul to the project."
Tackling the trash
The Sahrawi crew have been able to put their new skills to use quickly, already processing as much as 180 kilos of plastic on a single day. So what is the potential impact? "With the current capacity they could reach around 200 kilos a day – that's quite a lot," says Yann Chauvin, an engineer and head of operations on this project. "That could even go up to 400-500 kilos a day when they are up and running at full capacity." 
By the end of the training period, there was a colourful array of tangible results in the form of a couple of benches, a school desk, some bowls and assorted smaller products, all from waste collected in the camps. "Getting materials here is really hard, and wood is scarce, so anything that can be made locally is a big win," Yann explains.
Tahar Kachebi is also pleased to see the project doing so well. He works for the UNHCR here and helped to get Precious Plastic involved from the start, impressed by their smart, practical and low-tech 'recycle plastic anywhere' method, which he realised would also work in the refugee camps. A grant from the Humanitarian Innovation Programme made it all possible. 
"The young people are really struggling to find a role. This gives them purpose, it's something that has meaning"
Tahar Kachebi
This isn't just about protecting the environment, it's also a way for the refugees to generate extra income, Tahar explains. "Having full ownership over the running of the workshop is important – the refugees have been here for such a long time, and young people are really struggling to find a role. This gives them purpose, it's something that has meaning, they can learn something new," Tahar says.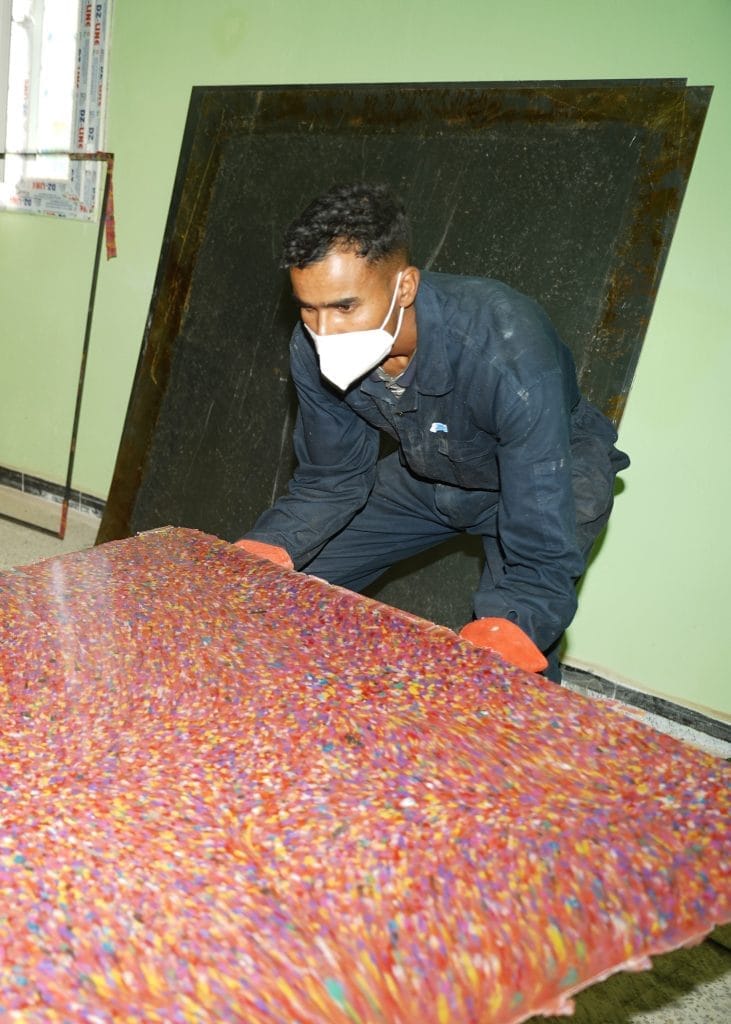 A fledgling business in the making
Orders are streaming in, creating real market demand for products made in the workshop. This is crucial, as the initiative must be financially self-sufficient in six months. Local NGOs are proving to be keen clients: by buying goods from the workshop, instead of from Algerian manufacturers outside the camps, they further support the community they are already active in. Case in point is an Italian NGO, which has requested a number of school desks and there's a large potential order from Oxfam for plastic shields around the shared water taps throughout the camps. That would amount to some 2,000 in total, at $120 each, Tahar says. It's a promising start to what he hopes can be replicated in other refugee camps, where plastic waste is a common problem.
"It's an extraordinary experience, in an extraordinary context, with extraordinary people. We're very grateful to be welcoming these wonderful new members to our global family of plastic recyclers," Katharina says. Although the team are parting ways after weeks spent working alongside each other, this is no end, but a beginning. With the Sahrawis at the helm of their new recycling workshop, the impact for the community will continue.
But first it's time to celebrate the completion of this very special pilot project. And what better way to do that than with a giant metre-wide homemade pizza for all involved – cooked Precious Plastic style – in the brand-new sheet press, which afterwards will be put to good use pressing plastic.
What can I do?
Interested in starting your own plastic recycling workshop? Join the global Precious Plastic community here.
Start recycling
One Army is a partner of 5
5 is an impact media foundation which helps its partners maximise their impact by telling their stories. In some cases we also provide financial or other support. We produce our content independently and we don't take payment for coverage.

Find out more about our work with One Army and our other partners here.