Are you dreaming of deserted beaches, hiking in the wilderness, or soaking up a new culture? Are your reveries just as quickly interrupted by concerns about flygskam and travelling sustainably? We can help.
When it comes to travelling responsibly, we know where we want to be, we just don't know how to get there. That's the finding of a new survey from Booking.com, in which more than three-quarters of travellers said they want to stay in verified sustainable accommodation, but 44% said they feel unable to identify the best options.
It's hardly surprising. After all, anywhere can add "eco" to its name, so prospective visitors don't have much to go on when making their choices.
That's why we've done our homework and found 10 places that are working hard to ensure their impact is positive, and are transparent about how they're doing it. Here is 5's selection of places that have sustainability at their core.
1. Desert island retreat
Part of the pioneering Soneva hotel chain, Soneva Fushi in the Maldives offers a luxury experience as far removed from the pollution, noise and light of urban environments as is possible to imagine. It believes true luxury is increasingly defined by rarity, from watching a film under the stars, to a sunset dolphin cruise or bathing in the open air surrounded by nature. It also tries to counter the Maldives' uneasy relationship with tourism – a significant revenue generator with a heavy impact on biodiversity. The Soneva Foundation reinvests in forest and coral regeneration, conducts biodiversity surveys, identifying 18 new species in its latest report, and supports the Myanmar Stoves Campaign providing jobs and clean cooking equipment across Myanmar.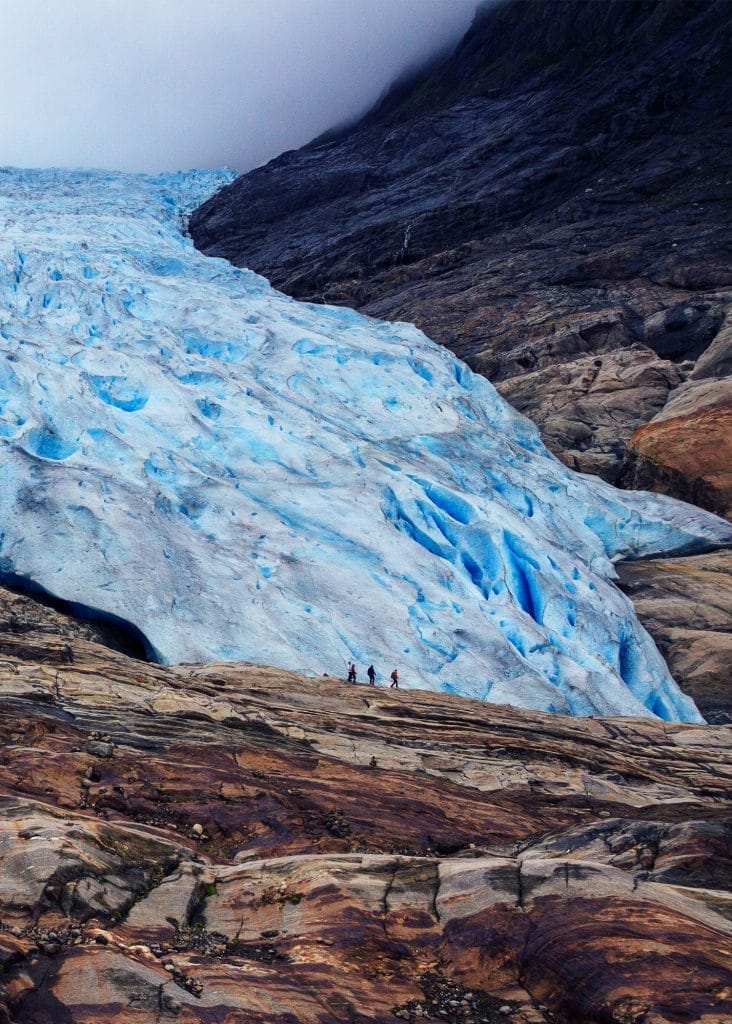 2. New kid on the block
Located at the foot of a glacier, Norway's much-anticipated Svart hotel is set to open its doors in early 2024. Located at the foot of a glacier, it has set the bar high for sustainability, aiming to be 100% off-grid, carbon neutral, energy positive and zero waste, while allowing guests to become more in tune with themselves and the polar region's importance for the environment. Floating on the Holandsfjorden, the circular design was inspired by a Fiskehjell, a traditional wooden structure for drying fish. A 360° glass frontage allows the building to make maximum use of the sun for light and heat – so much so that Svart expects to generate 160% of its energy needs within 50 years. Plastic is banned, while careful selection of building materials keeps embedded carbon to a minimum.
3. Restoring Nemo
Pimalai Resort & Spa aims to "share the beauty of Koh Lanta, Thailand in a way that has minimum impact on the environment" and is rapidly targeting no impact. It has already achieved zero food waste. It has been a long-term partner in a project to reintroduce clownfish following decimation of the local population by the pet trade. It is the local champion of Princess Sirinthorn's Little Scientist House science education programme for children.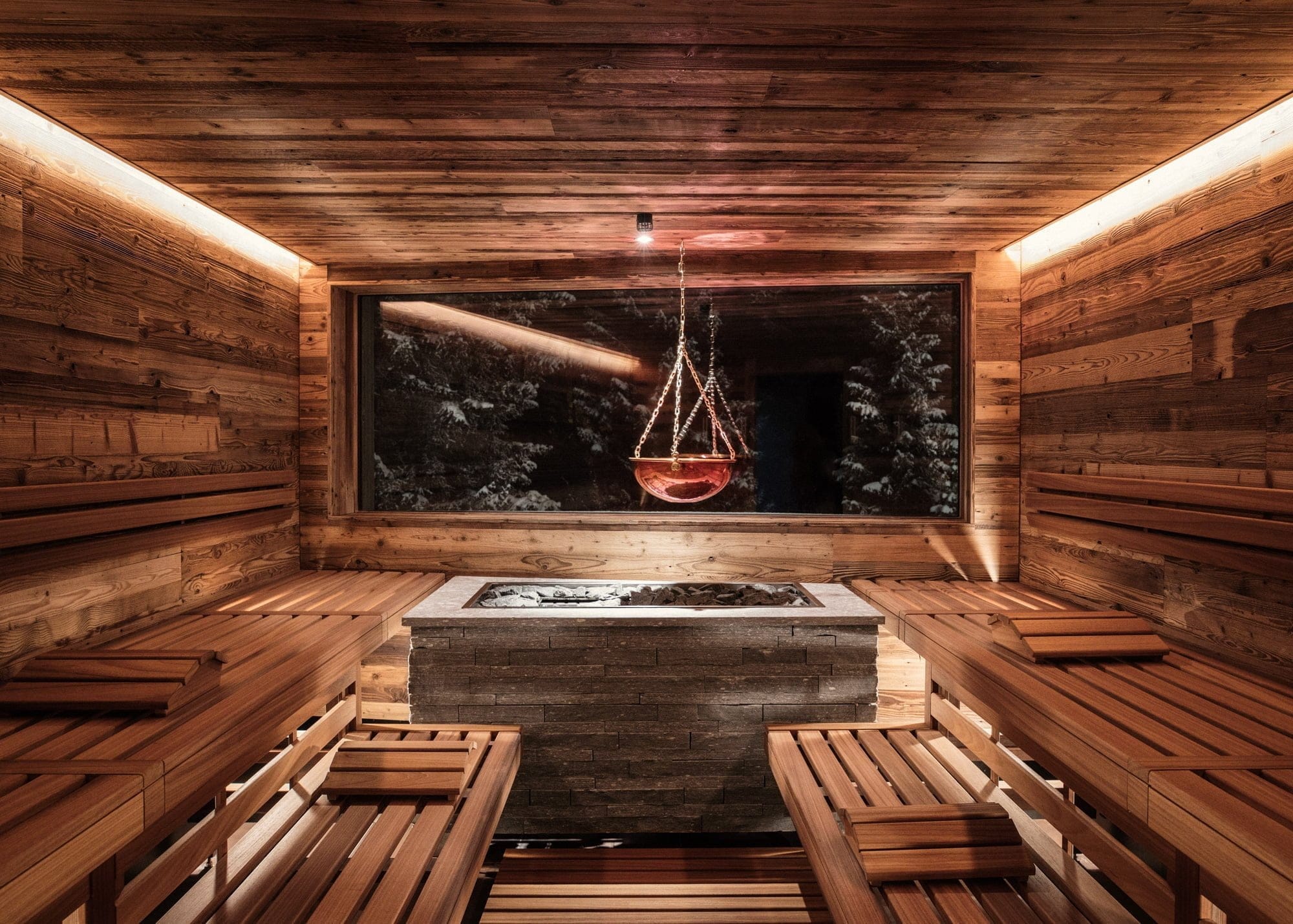 4. Ice hot
On the edge of Switzerland's Arosa forest, the Valsana Hotel is a modern chalet hotel using its natural surroundings as inspiration for its design, the larder for its kitchen and the source of its energy. The latest technological innovations have been deployed to minimise the hotel's impact on the environment, including a state-of-the art "ice battery". Heat is captured via geothermal probes and stored in the battery until needed to feed the heat pumps. These turn the liquid in the battery to ice, while recirculation of waste heat from kitchen appliances and servers returns the ice to liquid to allow the process to start again.
5. A touch of Scandinavia in Vietnam
Listed as one of National Geographic's 50 top places to stay if you care about the earth, Topas Ecolodge, Vietnam is set in the mountains of Hoang Lien National Park. Guests stay in individual bungalows which combine local natural elements with Scandinavian minimalism. The Scandinavian twist extends to the food thanks to the Danish head chef and to the sustainability strategy developed with support from the Danish Ministry of Foreign Affairs. A newly constructed wetland naturally processes all wastewater on site. The region is home to five different ethnic minority groups, giving visitors a chance for a rich cultural experience.
6. Sustainable safari
Once intensively farmed, the land surrounding House in the Wild, Kenya is part of an innovative rewilding project. Grazing animals are the drivers of habitat creation, resulting in wild dogs, leopards and lions becoming an increasingly common sight just outside your cottage. Founders Lippa and Tarquin Wood run the private Enonkishu Conservancy in collaboration with 50 local Maasai families, as well as the Mara Beef farm and two local schools. Guests can accompany Tarquin to the local market to bid on cattle for the herd, as well as more customary safari trips and bush walks.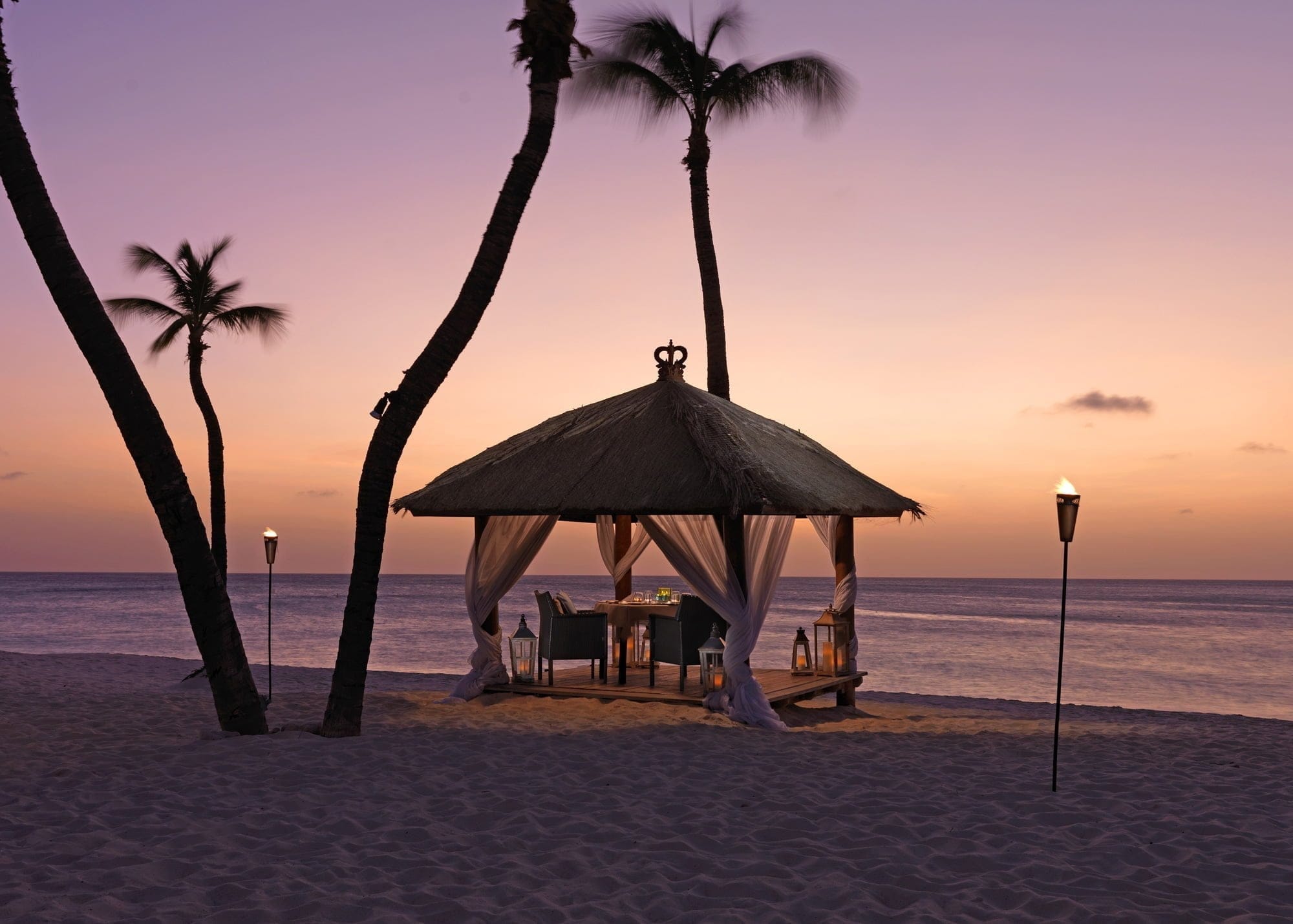 7. Better than staying at home
Bucuti & Tara on the Caribbean island of Aruba promises "memorable, much-deserved vacations delivered in a sustainable manner". In fact, the owners believe guests have a lower impact while staying at the hotel than they would at home. The first carbon neutral resort in the Caribbean and the only hotel with a UN Climate Action Award, it draws power from wind, solar and its own guests; 74% of the energy generated in the fitness suite is reused. Its innovative approach to laundry has cut drying times by one-third. Working with WWF, food waste has been minimised, with any leftovers used to feed local livestock.
8. The call of the wild
Set on Canada's west coast, surrounded by the Great Bear Rainforest, mountains and 10,000-year-old glaciers, Nimmo Bay Wilderness Resort provides the opportunity to get away from it all. Owners Fraser and Becky Murray are conscious of "giving more back to the land and the community than they take". Hydro power provides 80% of energy needs, while floating docks minimise the need to deforest land. Dedicated to protecting the local wildlife, they run their own charity Cedar to Sea, as well as Bullets for Binos, which encourages locals to surrender their trophy-hunting licence. Partly thanks to their efforts, there is now a province-wide ban on bear hunting in British Colombia. The retreat anticipates becoming a B Corp in 2022.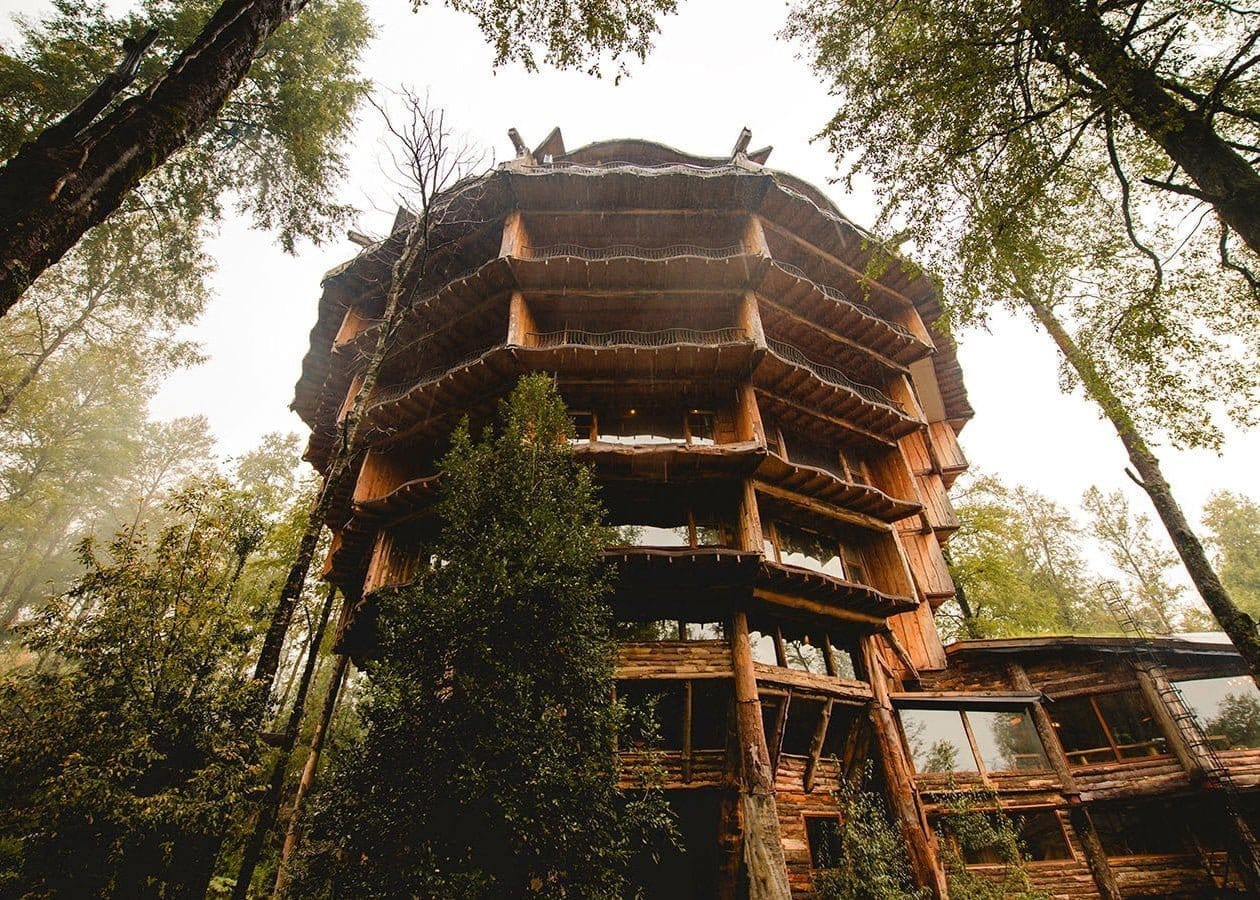 9. Chilean tree palace
Guests arriving for the first time at Chile's Nothofagus could be forgiven for thinking they have landed in the Ewok village from Star Wars. The 55-room dome-shaped hotel rises up through the trees reflecting the region's natural and cultural heritage and giving every room a magnificent view of the Patagonian Forest. The hotel is also a museum housing more than 350 archaeological finds rescued during construction. Regeneration and environmentally-sensitive landscaping have helped to restore damaged ecosystems and bring the Huemul deer, Chile's national symbol, back from the brink of extinction.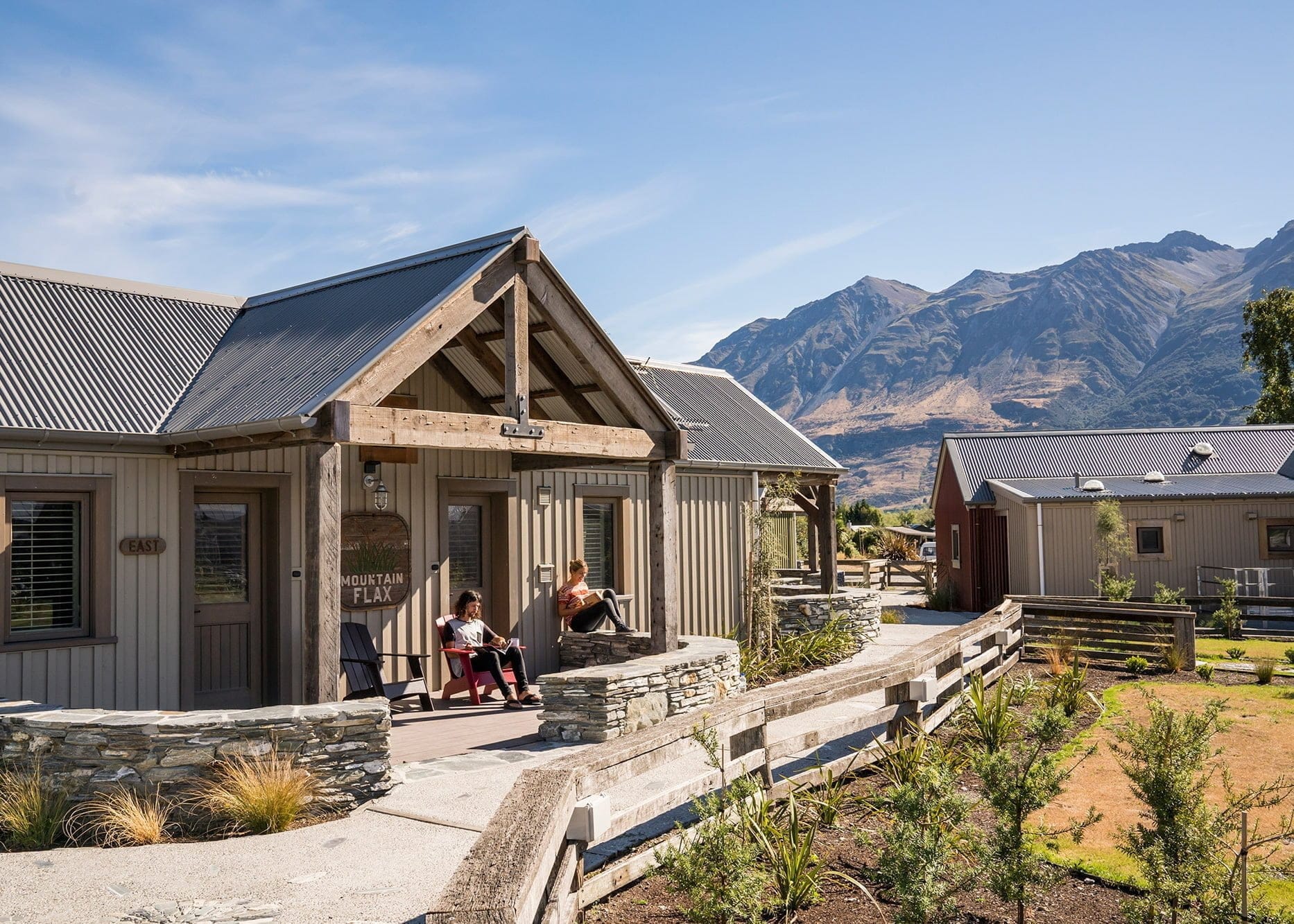 10. Breathing new life into old materials
Designed according to the stringent principles of the Living Building Challenge, New Zealand's Camp Glenorchy wants to inspire visitors with what's possible using today's technology, while celebrating the natural surroundings and the creativity of local artists. The local community was consulted from the outset to ensure that the site was designed in sympathy with local needs and surroundings. Construction used only salvaged, natural and non-toxic materials, such as timber from an abandoned local wool shed, to ensure that the camp is "safe for all species for all time". Meanwhile, any on-site cultivation is guided by the maxim, "If it's not native, it's edible" to ensure that native species can thrive.
Find your next sustainable holiday
The Global Sustainable Tourism Council sets the gold standard for sustainability accreditation, endorsing schemes that properly inspect hotels to check on their environmental, economic and social impact.
See the list