Businesses have to make money to be viable. But they can also be a powerful force creating value in other ways: for employees, entire communities or the environment at large. An increasing number of corporations are waking up to the potential of conscious capitalism.
Key Takeaway
Conscious capitalism embraces a long-term view to creating value for all stakeholders that goes beyond increasing short-term company profits.
If 'conscious capitalism' sounds to you like a contradiction in terms, no one could blame you. After all, capitalism has a strong track record of putting profit above all else. What difference does it make to put the word 'conscious' in front of it? But sustainability and social responsibility have become much harder for businesses to ignore. As a result, more businesses are forging a new path, not just paying lip service to their impact on the wider world, but baking it into the structure of organisations.
"Producing profitable solutions to the problems of people and planet"
Colin Mayer
Companies that embrace conscious capitalism – also known as stakeholder capitalism or purpose-driven business – aim to make money too, but in an ethical way. The idea is "to produce profitable solutions to the problems of people and planet, and not to profit from producing problems for people or planet," explains Colin Mayer, professor at Oxford University's Saïd Business School.
Businesses refer to this whole area as ESG: environmental, corporate and social governance. And clients, employees and investors really care about it. In fact, the number of investors applying ESG principles went up from less than half in 2017 to three quarters in 2019, according to a survey by French bank BNP Paribas. This dramatic shift reflects how strongly conscious capitalism is resonating with a new generation.
Money-making businesses might not seem the most obvious institutions to lead change in these areas, but compared to governments, companies can move fast in addressing some of the biggest issues we face – if they choose to. It is a power that business professor Raj Sisodia is convinced we should harness, outlining a framework for doing so in his pioneering book, Conscious Capitalism: Liberating the Heroic Spirit of Business. The book put this new concept on the map in 2013 and was co-authored by John Mackey, founder of organic supermarket chain Whole Foods. It defines the four strands that make up this way of doing business: purpose, stakeholder integration, culture and leadership.
"The paradox of profits is that, like happiness, they are best achieved by not aiming directly for them"
John Mackey
Purpose: the 'why' of an organisation
"Purpose refers to the difference you're trying to make in the world," explains Mackey, which in the case of Whole Foods, is to "nourish people and the planet". In the journey towards achieving this goal, he managed to build his chain of organic supermarkets to a value of more than $13 billion. "The paradox of profits is that, like happiness, they are best achieved by not aiming directly for them," Mackey says. A paradox indeed, as companies with a higher purpose have shown that they are able to outperform more traditional firms.
Conscious capitalism frontrunner Patagonia is an example. When the outdoor wear manufacturer was founded in 1973, its mission was to "build the best product, cause no unnecessary harm, use business to inspire and implement solutions to the environmental crisis". Unusually for a consumer goods producer it discourages over-consumption – it prides itself on selling long-lasting products, has repair centres to deter customers from buying new items and it does not take part in Black Friday or other sales promotions.
Yet in the current corporate climate, publicly listed companies remain under pressure to forego these long-term 'soft' aims for quarterly profits. Indeed, after investors lost patience, Whole Foods itself ended up being sold to retail giant Amazon in 2017.
Serving all stakeholders
What sets companies that practice conscious capitalism apart from traditional corporations is that they seek to generate value for all stakeholders, not just shareholders. Rather than resources to be exploited at the lowest possible cost, employees, communities and the environment are seen as crucial parts of the ecosystem. This approach creates a virtuous circle of goodwill – and, according to a growing base of evidence, good results.
Communities welcome conscious capitalist organisations – not only are they valued employers, they embrace sustainable environmental practices so that natural resources are protected. Many of these organisations have set up foundations to plough profits back into the communities in which they are active, often through educational, healthcare and environmental programmes.
Companies may change their legal structure to protect their higher purpose and stakeholders, by specifying a purpose above profits and preventing investors from selling off assets. Depending on the country in which they are based, options include setting up your business as a B Corp, social enterprise, or using a steward ownership model.
Ecosia, a Berlin-based search engine, has adopted the latter to safeguard its purpose: using all profits to fund reforestation projects. The founder signed over the company to a foundation in 2018 with the following legally binding restrictions on himself and Ecosia's other owners: shares can't ever be sold at a profit or owned by people outside of the company; and no profits can be taken out of the company.
There are around 3,000 certified B Corps, and the scheme is attracting ever larger businesses, including ice cream brand Ben & Jerry's, the North American division of French food maker Danone, and Brazilian cosmetics giant Natura. Patagonia became a B Corp in 2018, when it also sharpened its purpose to: "We're in business to save our home planet".
B Corps embrace multi-stakeholder governance: they seek to include all stakeholders in the decision-making process. From opportunities for employees and local community members to vote on business decisions, to thinking about more distant stakeholders who may be indirectly influenced by business practices, to considering the needs of the environment and the global community as a whole, these firms are pushing the envelope of what it means to be a stakeholder.
Culture conundrum
A clearly defined purpose is all well and good, but bringing it to life means fostering the right kind of company culture, which is no easy task. A company's culture is like its personality: how it feels to be there, the prevailing values, how it behaves and treats people. Fair pay, good childcare and opportunities for growth help create a positive culture, but it is also closely connected to the organisation's purpose. Done right, culture attracts talented, motivated workers, adds meaning to stakeholders' lives, unifies them and turns them into brand ambassadors in the broader community.
Above all, perhaps, people respond to feeling valued and heard. Companies with a conscious approach to capitalism do well at fostering the sense of security, belonging and achievement that allows people to speak up. When networking and educational organisation consciouscapitalism.org surveyed the employees of eight partner firms in 2019, 69% of respondents said they felt comfortable sharing their ideas on projects they were working on. And just 3% said they did not enjoy coming to work. Quite a contrast to the 50% of American workers at traditional firms who described themselves as disengaged in a 2020 poll.
Why leadership matters
It is up to top management to keep the organisation's culture healthy. That's because an organisation's values almost always come from the top down. An ethical business model can only succeed if executives are seen to support good corporate citizenship whole-heartedly. As Timothy Henry, a co-founder of the conscious capitalism movement, puts it, "An organisation can't be more conscious than its leaders." What that looks like in practice is honouring the organisation's purpose rather than short-term profits, listening with humility, and treating stakeholders generously.
Conscious capitalism also requires candour and bravery from executives. In a traditional corporation, the C-suite can often avoid coming face to face with the negative effects of their decisions on employees, communities or the environment. Conscious capitalist leaders can't bury their heads in the sand. This is about more than matters related directly to their organisation's purpose. According to the Edelman Trust Barometer for 2020, 92% of employees agree that CEOs should speak out on the issues of the day. And three-quarters of the general population believe CEOs should take the lead on change instead of waiting for governments to impose it.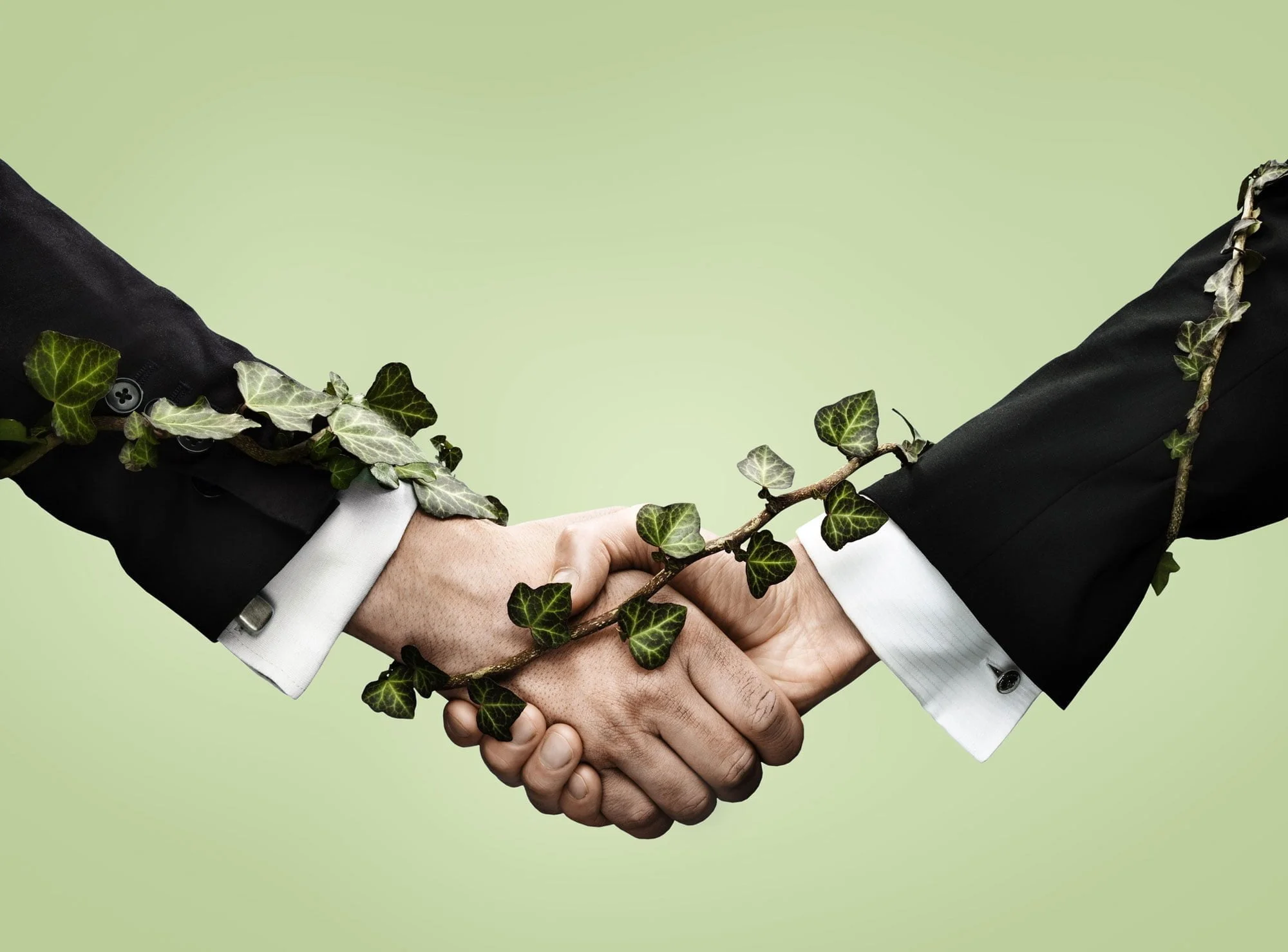 "An organisation can't be more conscious than its leaders"
Timothy Henry
The upside to these demands is that morally sound leadership inspires employees and other stakeholders to excel. And transparency about difficulties creates loyalty and trust, which makes an organisation more resilient in challenging times.
Snowballing success
There's a lot more to be done to broaden conscious capitalism's reach, such as building an evidence base for the effectiveness of the approach and creating clear legal structures for setting up firms focussing on conscious capitalism.
That said, the voluntary adoption of ESG frameworks by more and more organisations bodes well for the future. Eighty per cent of the world's 5,000 biggest companies now report their sustainability performance, up from 75% three years earlier, according to accounting giant KPMG. Another promising step was taken in September 2020, when the World Economic Forum published a much-needed set of guidelines for reporting and auditing ESG performance, in an effort to harmonise the various approaches that have gained traction in recent years.
The measures required to become a truly conscious capitalist business can be disruptive and costly to implement. Still, the responses of governments and businesses to the Covid-19 pandemic prove that, when it matters, we can transform.