With 22 years of experience as a top-tier chef, Rudolf Brand knows where things go wrong when it comes to wasting food. That's why he's so passionate about adopting a more circular approach.
Key takeaway
Chefs deal with vast amounts of food every day, so who better to talk to about fighting food waste?
Most people come to Zuidas – Amsterdam's main financial district – to do business. Big business. Home to banks, fintech companies, law and consultancy firms, the area is usually flooded with suit-clad professionals who quickly disappear inside the towering stacks of glass and steel stretching skyward.
In the midst of these architectural heights is a pavilion that looks equally sleek, but stands out from the rest for its proximity to the ground. This is Circl – initiated by ABN AMRO Bank as a test case in doing things differently. More sustainably. Created as a hub to learn, inspire and connect, there are masterclasses and guest speakers on circularity and social impact in the event space. There's also a rooftop bar and restaurant. It's here that chef Rudolf Brand wields razor-sharp knives and culinary creativity to explore a more planet-friendly way of working with food.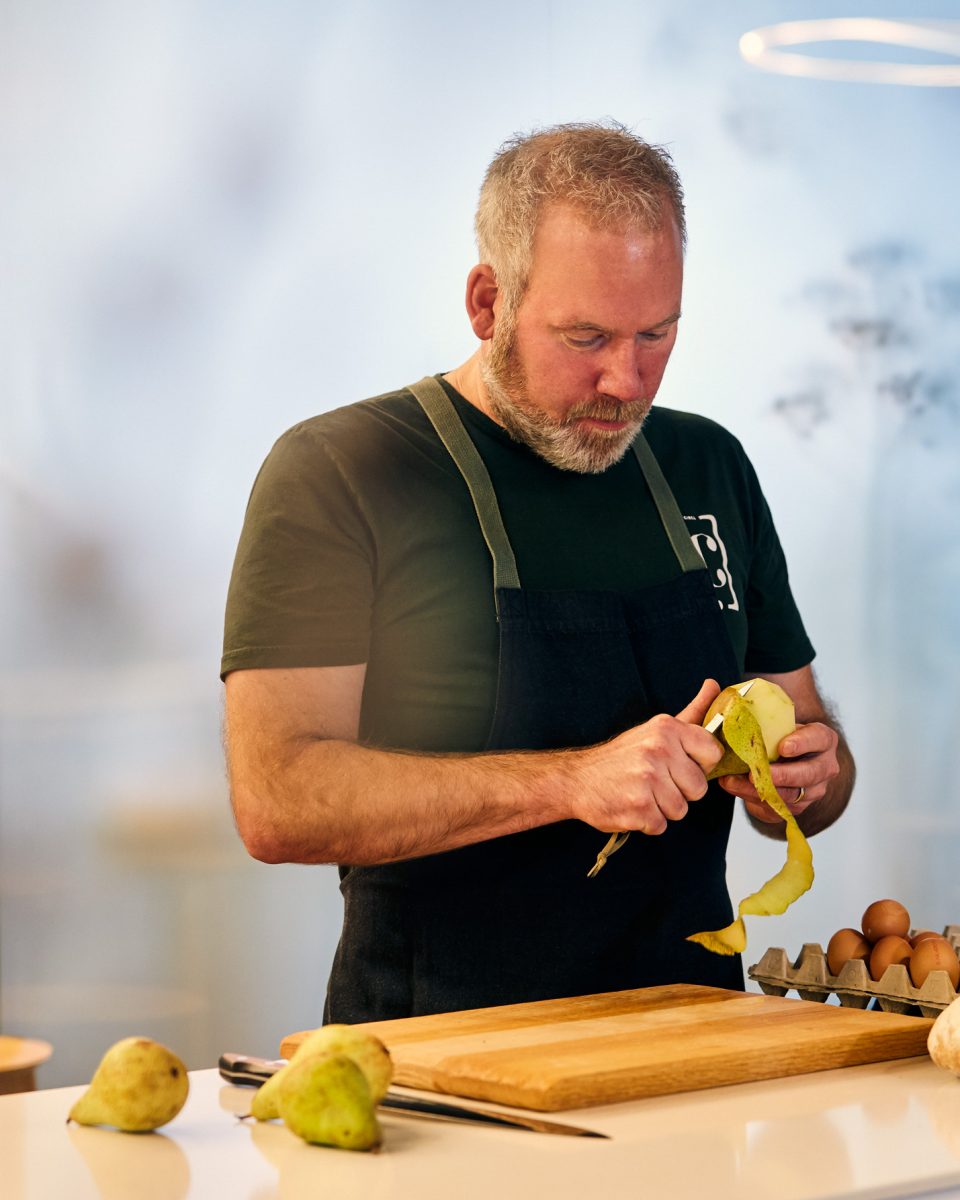 "You can learn ways to avoid waste, but it needs to come from the soul"
While for many a chef, serving up the most sumptuous meals is the ultimate aim, Rudolf has an extra mission: fighting food waste. He is keen to prove that the two can go together and believes that with his dishes, he can have a big impact: not just on people's taste buds, but also on their way of thinking about food – and food waste.
With one third of food currently being thrown away globally, food waste has an enormous environmental footprint because so much more goes to waste than the food alone. "When you think of the packaging, the transport, the money, and all the energy that has gone into the products – it's painful," Rudolf says.
Mindset over training
As a lone restaurateur, you can't fix the whole system feeding the food surplus, Rudolf knows, yet he strongly believes in focusing on what he can achieve. For him, minimising food waste is a natural part of his job as a chef. "It's a question of mindset rather than training: you can learn ways to avoid waste, but it's a philosophy you have to believe in to follow – it needs to come from the soul."
With 22 years of experience, including Michelin-starred restaurants in London and Amsterdam, he has seen a lot of food go by in his career. So what is the best way to prevent it from ending up in the bin? For him, it really comes down to one essential thing: "Rather than thinking about what you want to cook, look at the surplus, what's available, and then make a menu. This is what every chef should do."
If he hears that a supplier is drowning in onions, he'll create dishes with onions. "I'll make a cheese and onion tart or onion soup or I can make a garnish of roasted onions with a tasty piece of fish or a nicely roasted or baked onion…" The possibilities are endless.
"Lose the fanciness and look at the quality and the flavour"
This may sound like an obvious way to operate, but many chefs today don't work like this, Rudolf explains. "You have too many chefs who are trying to be too fancy. They want to have only the biggest sea bass or lobster no matter what. Or they make a dish with only the heart of the lettuce, only using the smallest, nicest, most tender leaves and then they discard the rest." He looks down at his hands and shakes his head at the idea of such waste.
He's clear on what the solution is: "Lose that fanciness, and look at the quality of the product and the flavour. Does it really have to be a perfectly square piece of meat? Then what do you do with all the bits you trim off? You can do lots of things with the trimmings, but why create trimmings?"
It's simple arithmetic
What pains Rudolf the most is when people don't think about the implications of their actions, or worse, when they don't care. He knows that one of his suppliers – a local farm – is left with a growing food mountain when top Michelin-star chefs only buy the prized cuts of meat such as lamb racks or saddles instead of ordering the entire section, which includes the leg. He does the math and shows how quickly the surplus adds up. In the space of just three or four weeks, the farm is left with 1,000 legs of lamb in the freezer. "And that's just one supplier," he says.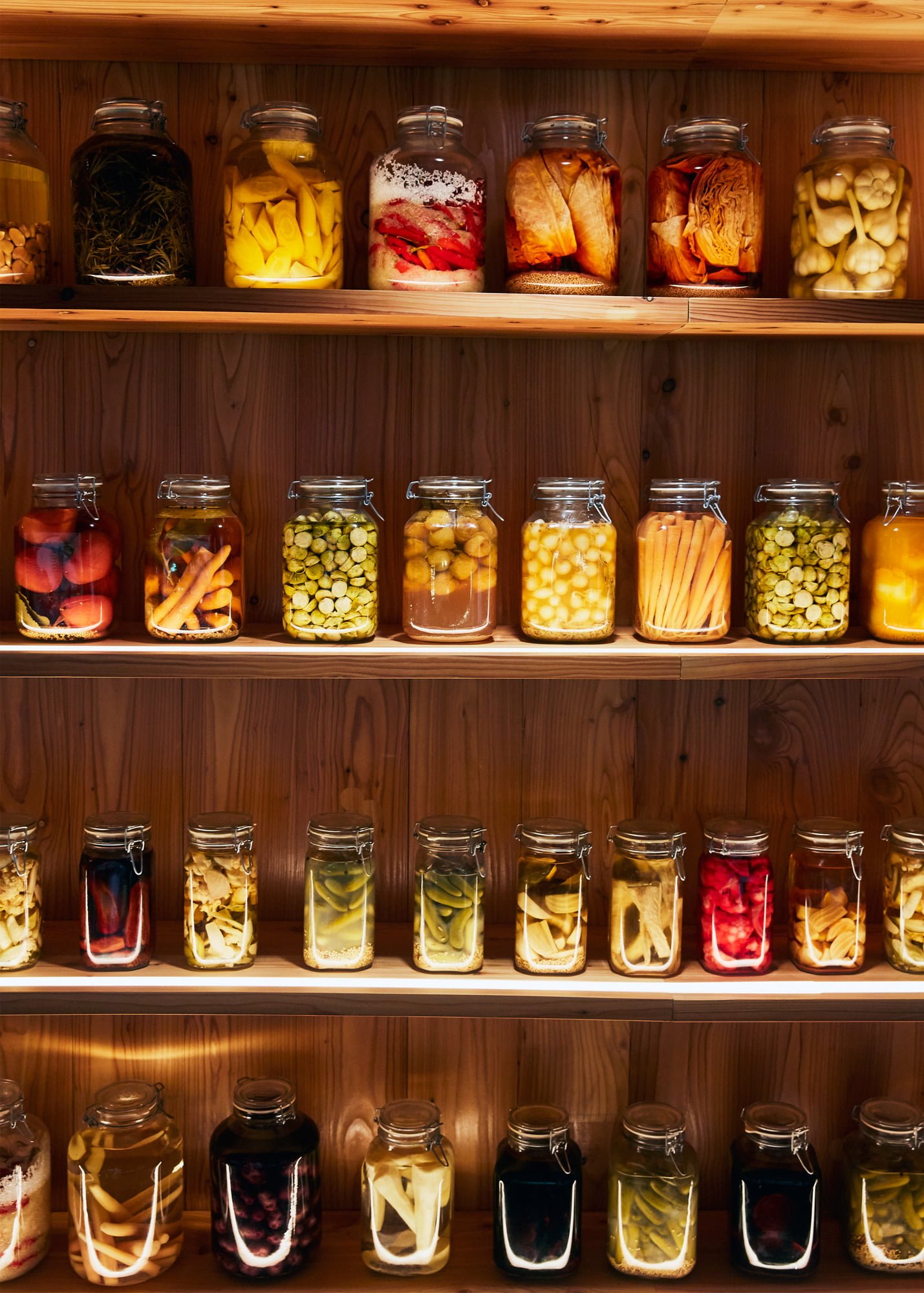 Multiply this scenario on a national or international level and you really start to see the scale of the problem. But you can also see the role a chef can have in doing something about it. It's a role that Rudolf takes very seriously. It's about understanding that you're all part of the same food supply chain.
"I find it very much of a priority that you're helping each other – you're helping your suppliers, you're helping your farmers. You call them and find out what's coming up. What can they not sell to others? What are they left with? Then I'll take it."
Where other chefs will only accept the best from their suppliers, if something is smaller or damaged or has a few black bits, this chef is still going to use it. "Just because I'll accept produce of a slightly lower quality doesn't mean I'm going to serve less quality. It's my job to turn that into good-quality food on the plate."
Waste not, want not
Since the restaurant first opened three years ago, he has teamed up with Instock, a Dutch company that buys leftover supermarket surplus. They supply around 40% of the restaurant's fruit and vegetables. What surprises Rudolf the most so far is the quality of the food that would otherwise have gone to waste. "It's still so good."
To further lengthen the shelf life of his fresh produce Rudolf pickles and ferments a lot of his own vegetables. The resulting culinary cache is put on full display in the restaurant, where an entire wall filled with some 350 jars becomes a mouthwatering design feature. There's green tomato chutney made from unripe tomatoes that a farmer couldn't sell, tea and apple preserve, pickled mushrooms and beautiful cauliflower florets floating in pink vinegar. Rudolf proudly adds that he has had the same salted white cabbage in his fridge since 2017. "I use it to add crunch and freshness to dishes. It's developing more flavour and depth all the time."
"When food is available every hour of every day, you need to overproduce"
And what about those green carrot tops that everyone always throws away? Rudolf has an immediate answer: stir-fry it with garlic and some hoisin sauce and you have a beautiful side dish, or make a pesto with Parmesan, garlic and olive oil. Although there's a limit to how much pesto you can eat, he adds. He's been there, apparently.
On beating the system
While Rudolf is passionate about fighting food waste, he remains realistic. He recognises that a lot of people may lack the knowledge, creativity or time to figure out what to do with leftovers, or how to avoid them. If you have a family to feed and the pressures of daily life to juggle it's not always easy to plan meals and shopping lists in advance.
He doesn't want to preach. He also points to the system that is perhaps most to blame. "To create a system built to ensure that supermarket shelves are never empty, restaurants and takeaways always have enough, where food is available every hour of every day, you need to overproduce." Getting food has simply become too easy. The more we become aware of the whole cycle behind the food in front of us, the harder it becomes to throw food away. And from professional restaurants to our own home kitchens, throwing away less food is something we can all work towards.
"This is the ultimate circular dish, great for using up stale bread. Easy to make, it's comfort food at its best"
Rudolf's top festive food-waste recipe: Bread pudding
500 g stale bread
100 g cane sugar
2 pears
4 eggs
200 ml cream
500 ml whole-fat milk
Pinch of salt
½ tsp ground cinnamon
½ tsp ground star anise
½ tsp ground cardamom
100 g melted butter
50 g sour cream or crème fraiche
50 g prunes (soaked to soften)
Cane sugar for caramelising
The day before
Bring the milk, cream, sugar, salt and spices to the boil in a large pan. Leave to cool and mix with the loosely beaten eggs. Tear the bread in pieces and place in a dish. Pour the milk and egg mixture over the bread. Peel the pears and remove the core. Dice into 2 cm cubes. Butter an oven-proof dish with the melted butter and add half of the bread. Add the pear slices and cover with the rest of the bread. Press lightly and add the remaining melted butter. Cover with baking paper and bake in a pre-heated oven at 160 C for 45 minutes.
The day itself
Beat the sour cream or crème fraiche with a whisk until creamy and firm. Place in the fridge. Add a few spoons of warm water (or your favourite spirit) to the soaked prunes to make a prune sauce. Save outside the fridge. Remove the bread pudding from the dish and cut into nice slices, or serve straight from the dish.
Finishing touches
Warm the bread pudding in a pre-heated oven at 160 C for 5 minutes. Remove from the over and cover with a thin layer of cane sugar. Caramelise using a gas burner or under the grill until dark brown. Serve with the cream, prunes and prune sauce. Enjoy!