Kathryn Larsen – aka the Seaweed Girl – is not your average architect. She explores and develops the potential of seaweed, seagrass and seashells on a mission to design more sustainable buildings. 5 asked her about her projects and why we must rethink how buildings are made. 
What first interested you in working with materials from the sea?
It started with a deep obsession and nerdiness about traditional architecture. I spent a year in Japan looking at how old building techniques were used and refreshed for use in new buildings, and then when I came to study in Denmark, I kept looking at all the regional architecture with the same fascination. I came across the houses using seaweed on thatched roofs on [the northern Danish island of] Læsø, and all I wanted to know was: how do you build with this material?
When I came to Copenhagen, I shifted to study architectural technology. One day, I noticed that all the materials we were using in school were synthetic, including the materials and the wall finishes, using paint made from plastic. We had one professor who said: actually in the old days we did not build like this, we built with natural materials. That's when I found out that seagrass is also an excellent thermal insulator. It drove me even further down the rabbit hole until I eventually did my whole thesis on how to use this material in construction and how to thatch with it. 
What have you made with it so far? 
The first thing I developed was prefabricated thatched panels. Over a two-year period in two different test locations, they both failed but for different reasons – one because there wasn't an air gap between the seagrass so it just rotted on the frame; the second was too open so it just got too exposed. 
I ended up going to Møn [an island in the southeast of Denmark] and met with the seagrass farmers who have been doing this since the 1950s, and they showed me a technique that has never been written about, where they thatch it on gables and they weave a thick stick through the construction and press it down. That provides enough tension to keep the seagrass in place – and that was the missing key.
"There are houses in America from 1682 that had seagrass insulation in their walls. This is old school"
What's so great about working with seagrass products? 
Seagrass is a great fire-resistant natural resource, because of the salt. It was patented in the US in the 1970s because you can pulverise it and spray it on to things, and the salt will make it fire retardant. 
The other thing is longevity. There are houses in America from 1682 that had seagrass insulation in their walls and when people opened up the walls to renovate them, all this seagrass fell out. So it lasts a really long time in a proper wall cavity system. It was one of the first insulation products on the market in the US. This is old school. 
What other sea-based products have you created? 
We've created a small-scale production of Zeeglas Seaweed Bioplastic lamps, completed a research project at Venice Biennale, mapping, drying and documenting seaweed in the lagoon, finishing up by creating a stool using seaweed leather from the lagoon. We have developed some seaweed paint recently, based on a formulation from a traditional Danish use of seaweed as a gelatinous paint for ceilings. We've also used granulated mussel shells to create a concrete construction. 
Why does the buildings and construction sector need to be more sustainable? 
Building construction creates 40% of the world's carbon dioxide emissions and it is one of the most polluting industries as a whole. 
Using seagrass can be a sustainable solution, but it is super country-specific and location-specific. In the Mediterranean, there is a tonne of seagrass washing up, and in Denmark, hundreds of thousands of tonnes are washed up annually, so harvesting it and using it there is a viable business. 
There is so much of it, that in Denmark and Germany it ends up being buried in landfills, essentially being composted. When it rots in huge amounts on the beach, it can give off poisonous gases, so it does have to be removed. But you also don't want to remove too much of it. We are careful to encourage people not to harvest it themselves without knowing what they are doing. At the beach, herring spawn eggs in the seagrass, and it also prevents coastal erosion. It is supposed to be there!
To make sure we harvest the right amount, we work with the farmers, and the farmers work with the local municipalities, who monitor it and control it at a higher level.
How do you see things changing for architects and the buildings industry?
I think we're starting to see a shift in perspective towards healthier materials for the climate, and more local materials. I'm having to do a little bit less educating of clients about why certain materials should be less used than others. I also see more education for tradespeople in Denmark about how to use biogenic materials in construction. 
The hardest thing is money. There are few investors who want to back something that is so experimental… especially when it comes to building materials, even those that have been in use for thousands of years. You need a tonne of money for testing and to prove that it's safe and secure.
What are you working on now? 
We're developing a shell-based concrete right now, and we want to use it to make artificial reefs. We discovered that a lot of the reefs being deployed by NGOs are concrete, or concrete-derived. Usually concrete is really toxic to sea life. 
We saw an opportunity using shells – a waste product from restaurants and from shellfish farms – which I have experimented with, mixing with glue from seaweed and a little gelatin and heated to around 200°C, to create a kind of brick. We're looking to work with The Fieldwork Company, a research organisation in Groningen in The Netherlands, to test it as a reef this winter.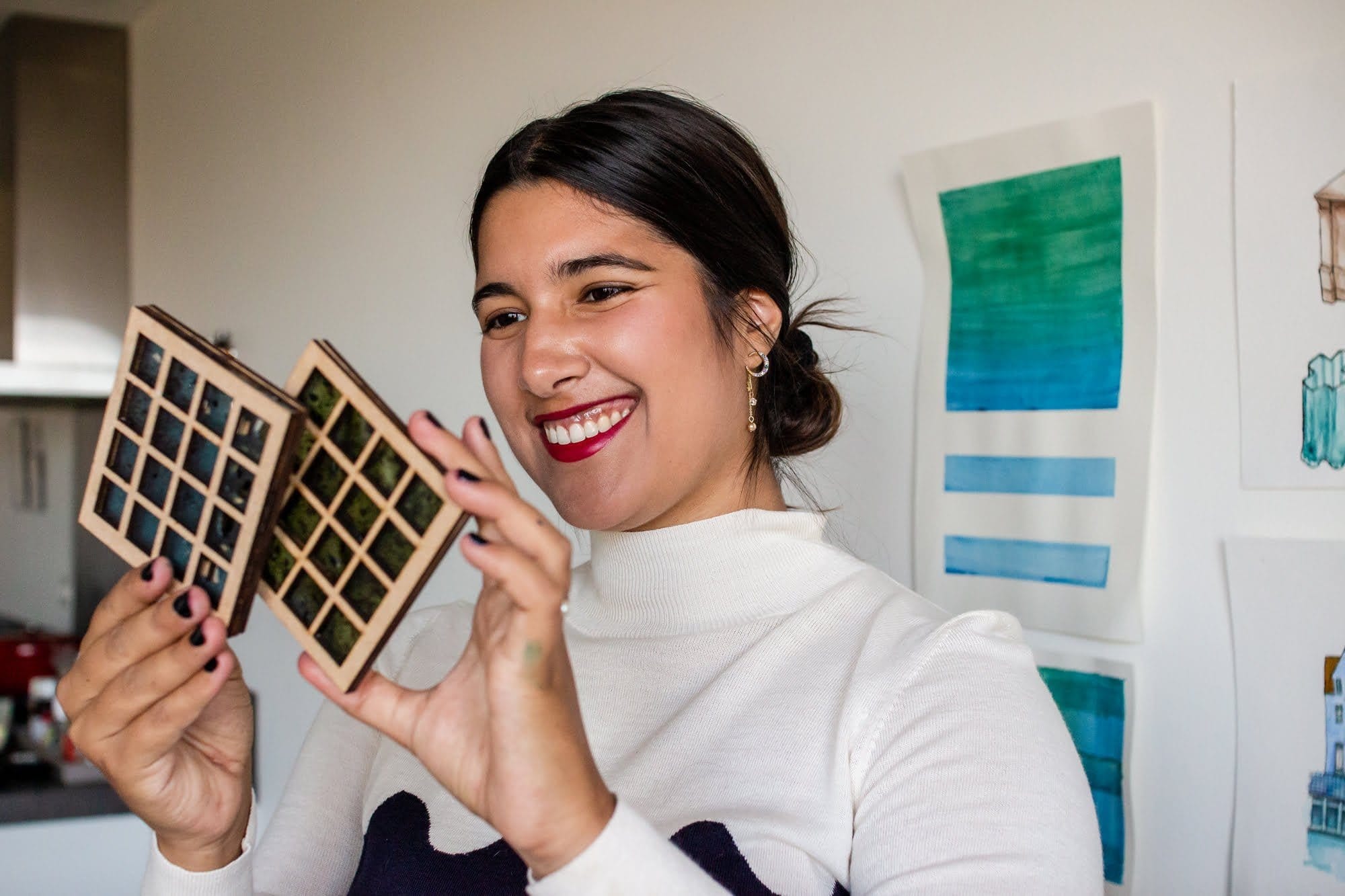 Seaweed bioplastic. Photo: Sarah Tulej
Shell-based concrete. Photo: Kathryn Larsen
It all starts with lots of experimentation. Photo: Sarah Tulej
These colours are made using seaweed. Photo: Kathryn Larsen
Larsen's Seaweed Pavilion, showcasing the potential of this natural material. Photo: Kathryn Larsen
Seaweed has been used as insulation for centuries. Photo: Kathryn Larsen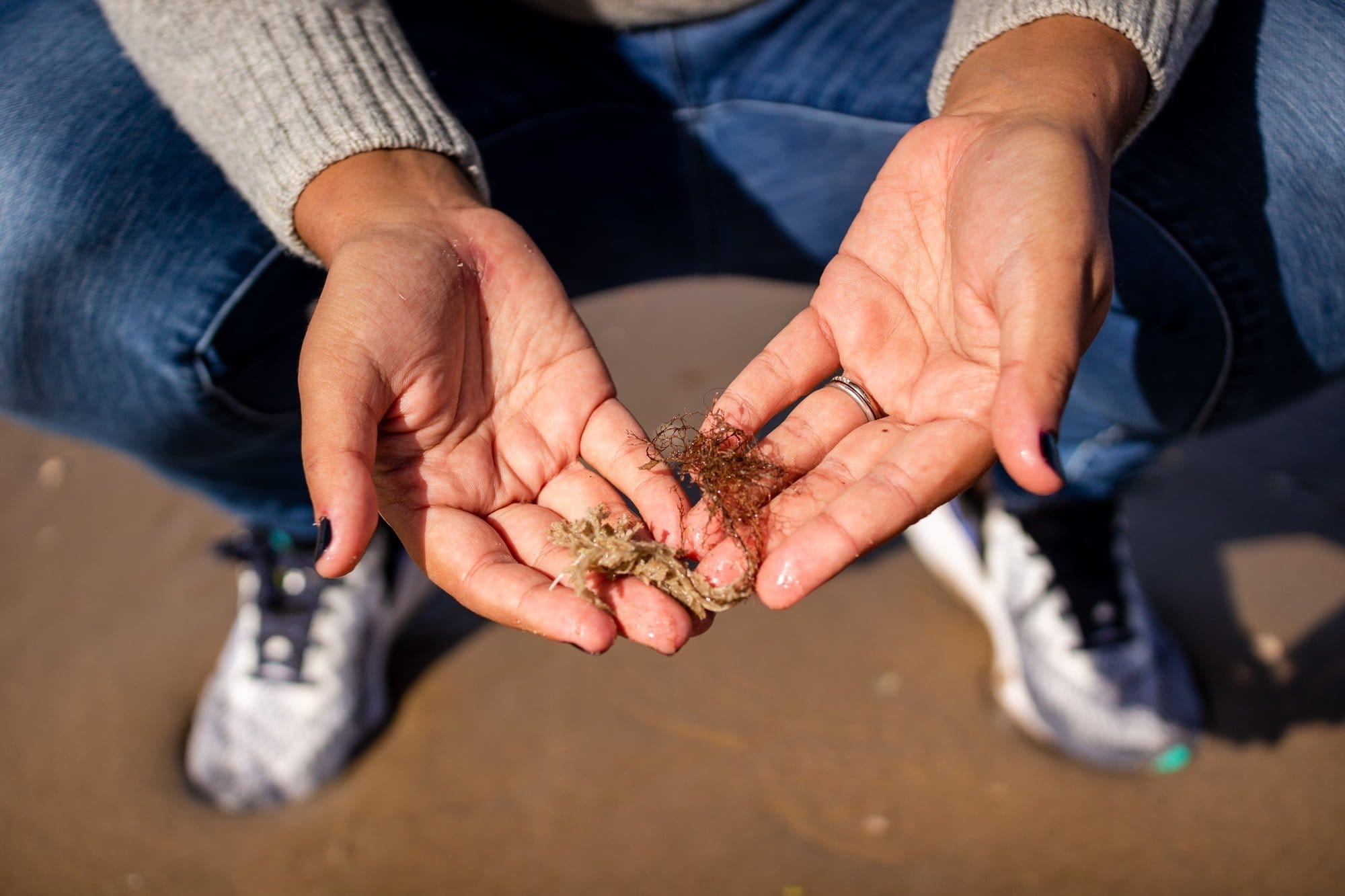 Straight from the source. Photo: Kathryn Larsen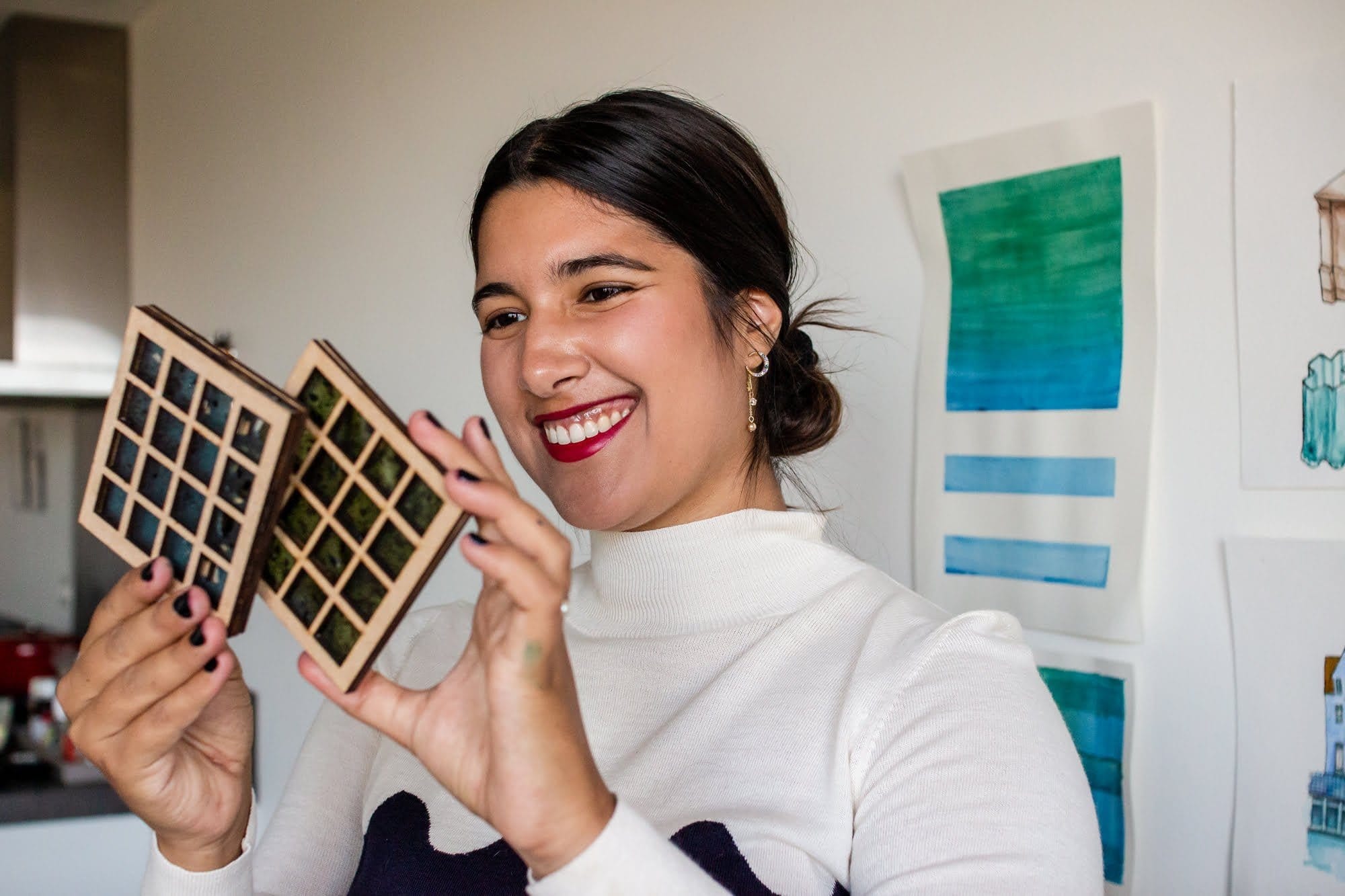 Seaweed bioplastic. Photo: Sarah Tulej
Shell-based concrete. Photo: Kathryn Larsen
It all starts with lots of experimentation. Photo: Sarah Tulej
These colours are made using seaweed. Photo: Kathryn Larsen
Larsen's Seaweed Pavilion, showcasing the potential of this natural material. Photo: Kathryn Larsen
Seaweed has been used as insulation for centuries. Photo: Kathryn Larsen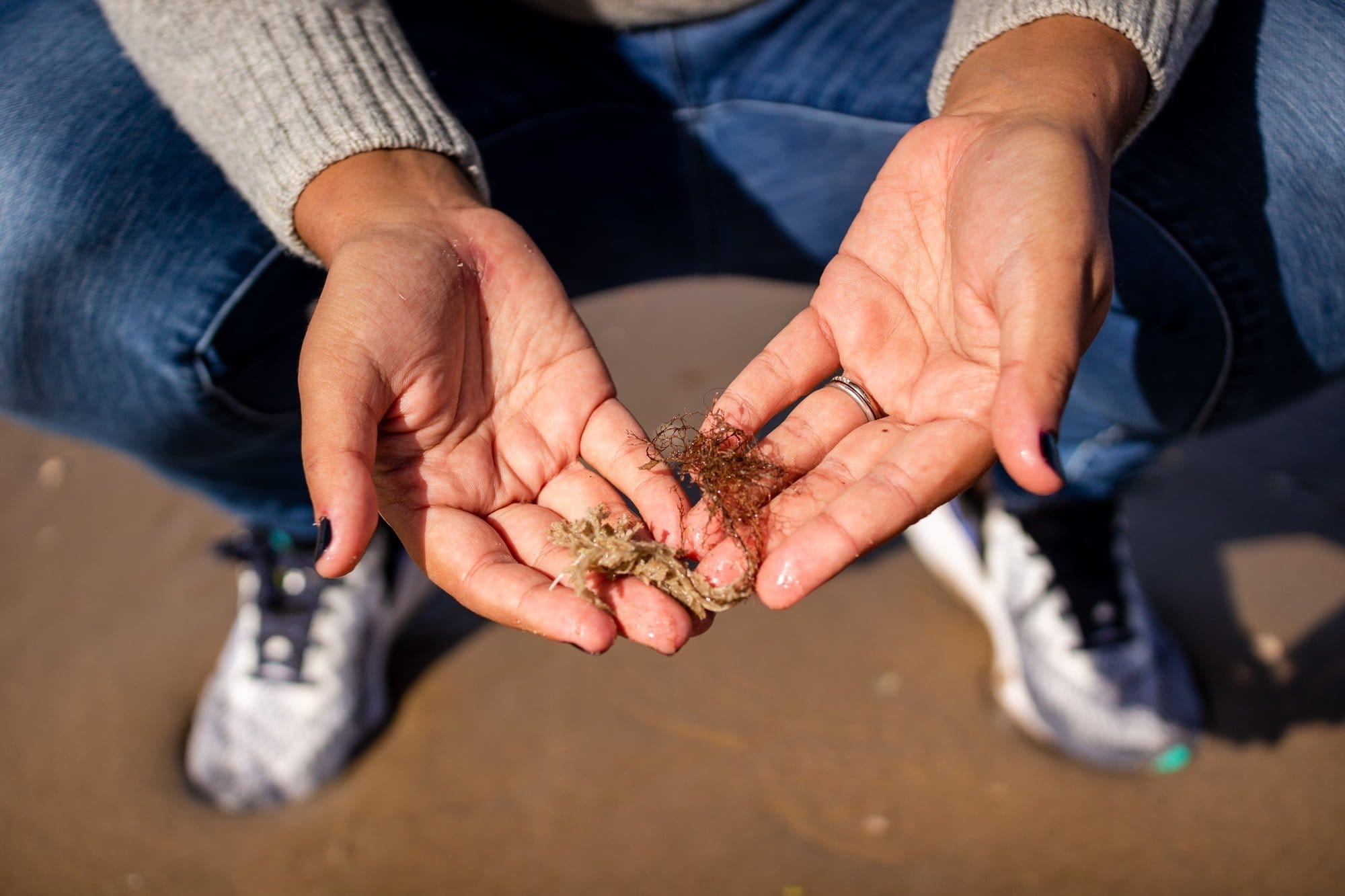 Straight from the source. Photo: Kathryn Larsen
Find out more
Discover more about what seaweed can do on Kathryn's website
Visit the site