The Indian men in the striking photo project 'Flower Men' suck you right into the scene with their penetrating gaze, proudly bearing their colourful flowers and foliage in bunches or gigantic chains. Their simple clothes and the soft-focus background lend the image an even more powerful appearance. Exactly what photographer Ken Hermann had in mind. "They wanted to show their strength and pride. I created a setting to capture and highlight exactly those features, set against the delicacy of the flowers and romantic scenery".
Fascinated by India
Ken's fascination with India started almost 20 years ago, when he first came to the country as a backpacker. Overwhelmed by the picturesque scenery and culture, he went out and bought his first ever camera on the black market in Delhi. "I know it sounds like a cliché, but that's where my career as a photographer started. And even though I returned to Denmark after a while, I knew I would be back one day". Ken became a professional photographer and, besides revisiting India numerous times, he travelled all over the world, creating dreamlike images of everyday people. "By tweaking the surroundings a little, I try to add an almost surreal atmosphere to the scene, giving the portrait more depth, more to discover".
Mallik Ghat Flower Market
Flowers are of great importance in India. They are used in many cultural and religious rituals, like weddings, temple offerings, prayers and festivals. This also makes them big business. Built in 1955, the Mallik Ghat Flower Market in Kolkata (Calcutta), eastern India, is one of the oldest flower markets in Asia. It is also one of the largest. Located on the Hooghly River, which flows into the sacred Ganges, near the famous Howrah Bridge, the place is crowded almost 24/7. There are all sorts of sellers and buyers; from small vendors making flower arrangements and bouquets to wholesalers auctioning huge consignments of flowers to retailers. Travel guides designate the market as a must-have experience, 'a picture of vibrancy, vigour and life'. Ken agrees. "After finishing the shooting for a project in a coal mine, I had a day or two to visit Kolkata. I wandered around as a tourist and ended up at the flower market, fascinated by the, mostly male, sellers walking around with what looked like huge flower dresses, because they were carrying so much". For two years he couldn't get the image out of his head, until he finally gave in to project Flower Men.
"The shoot was hard work. The chains of orange marigolds one of the men is wearing, weighed 60-70 kilos"
Ken Hermann
A clear idea
Ken had a clear idea of the images he wanted to create. "I wanted to portray the sellers against a more picturesque background, away from the busy, dirty market. With the help of a local fixer I tested several locations and settled on a spot next to the river, which offered the perfect backdrop: a misty (smoggy) view over the water. I used some flash to make it even more surreal". He says the men posed quite naturally, although he told them where and how to stand. "To achieve some similarity between the images I only shot from 12 till 3 pm every day. That's when the sun was straight above them, casting a shadow below. I added some studio lighting to enhance the colours and create a more dreamlike effect.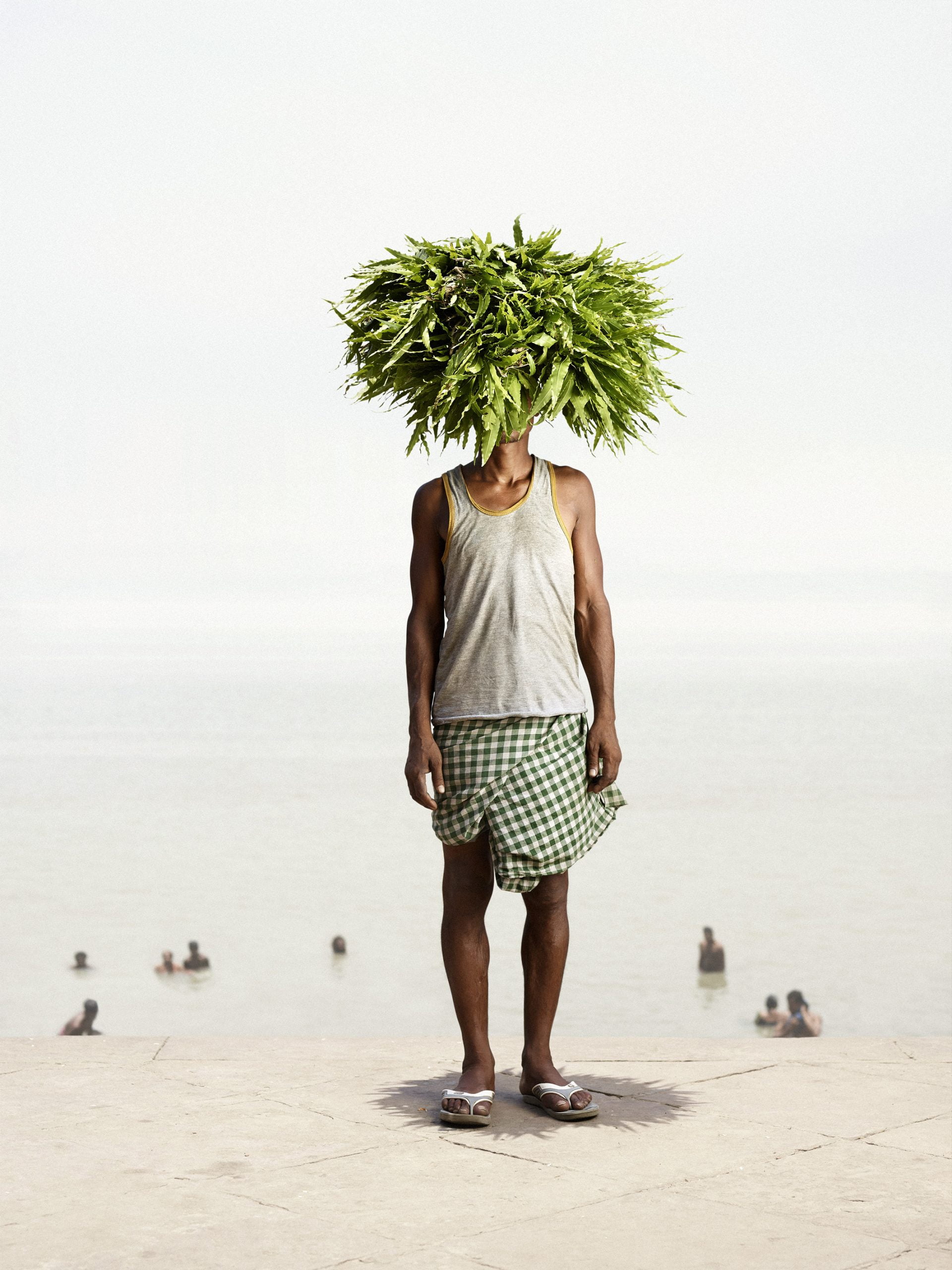 Tough, hard working men
It took some convincing to get the sellers to pose for him. "In the countryside people can be more suspicious of journalists. They're afraid you're from the International press and want to make them look bad or show how miserable they are, which they really aren't. Getting them to the riverside and the process of directing and shooting took a couple of hours. The flowers wouldn't survive the blistering sun, so I had to buy them all and give them to the locals". For some of the men the shoot was hard work, because of their heavy load. "The chains of orange marigolds one of the men is wearing, weighed 60-70 kilos. That's also why this job is mostly done by men. I love the contrast of these tough, hard working men, and the delicate load they take such good care of. They keep a perfect balance when walking and sprinkle the flowers with water all the time because of the heat".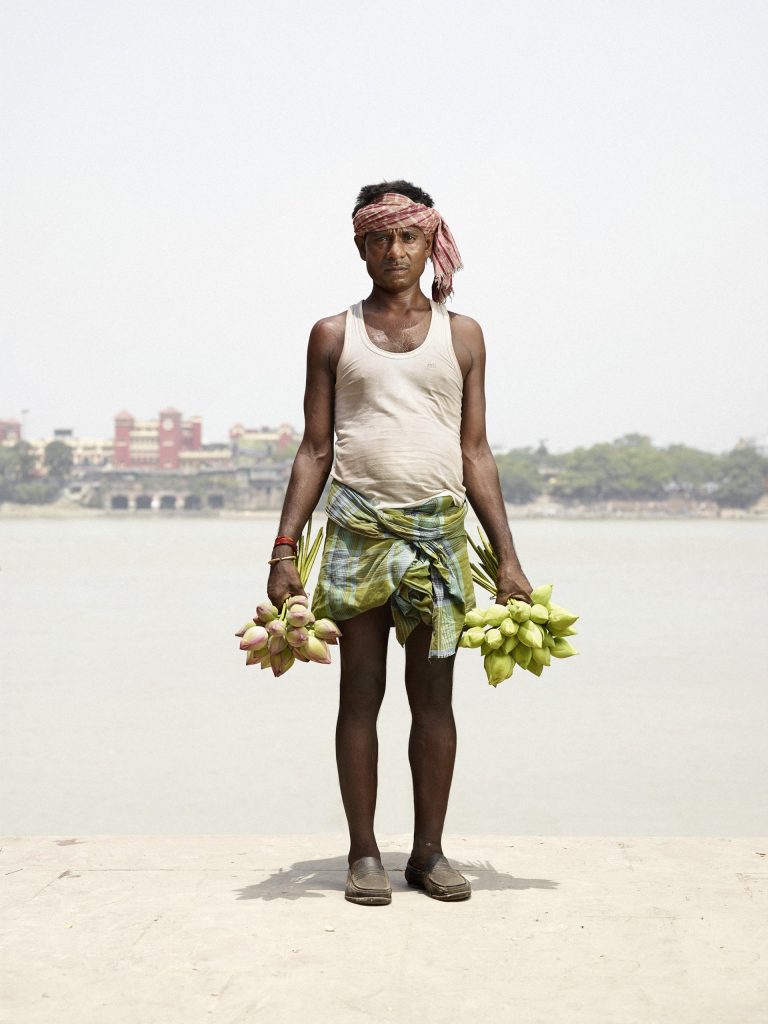 Ken's Flower Men project has been met with enthusiasm. The pictures have enjoyed a good deal of exposure and were even, a few years later, published by National Geographic. That's when Ken decided to go ahead and publish a photography book of the Flower Men after all. "People like the pictures, I am happy about that. But let's be honest: good looking men with flowers, what's not to like?".