The
Australian
winemaker
going carbon
neutral
Alisdair Tulloch's family has been producing wine in Australia's Hunter Valley for five generations. But now climate change is making it harder for him to grow his grapes. Despite the challenges, he knows that he can be part of the solution, which includes net zero emissions, from grape to glass.
Created with

A new documentary series by
Tim Arnold and Eefje Suzanne Kragten
Article by:
Anne-Marie Hoeve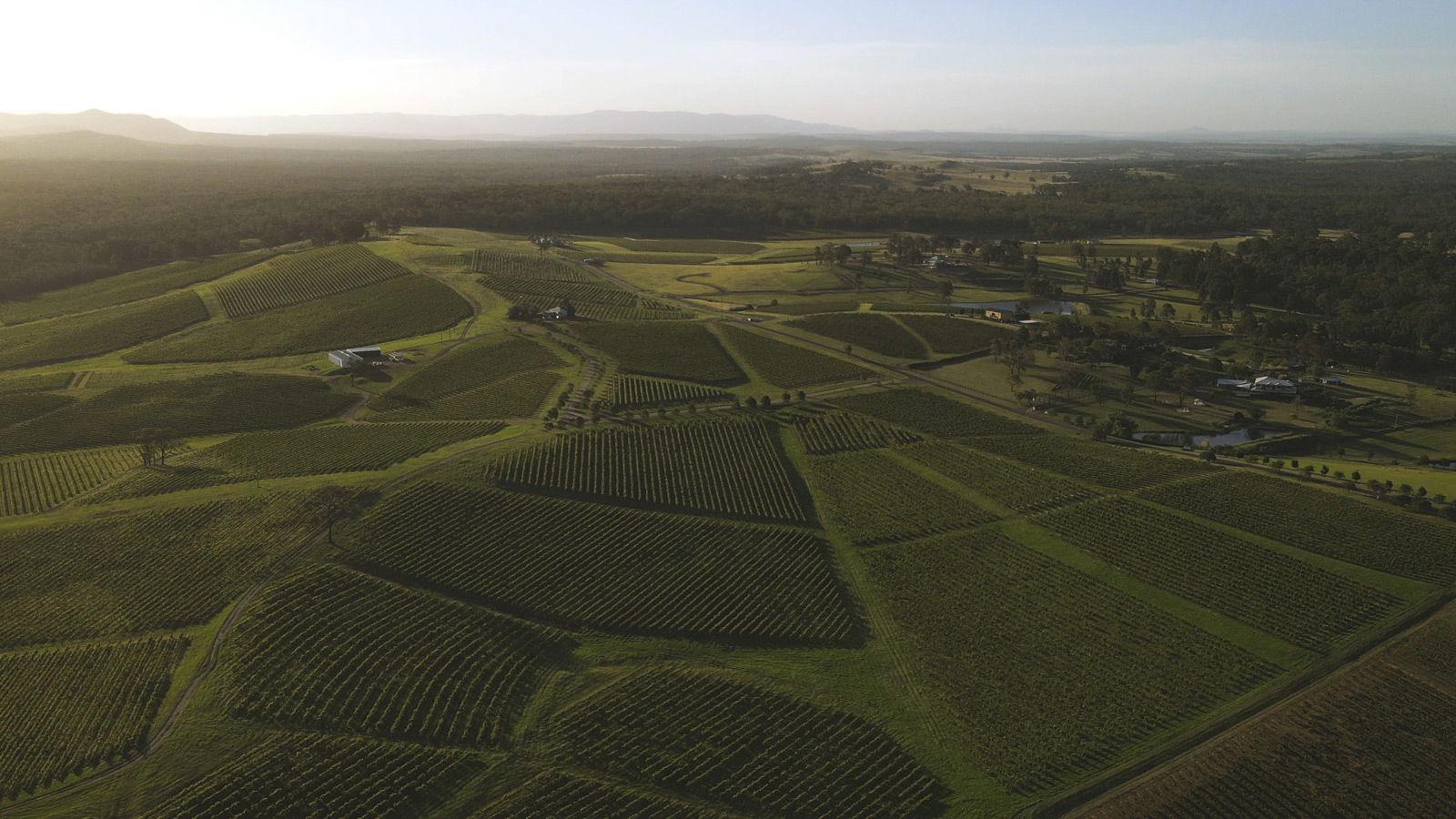 "My earliest memories are in the vineyards of the Hunter. It's a very important part of me. I remember walking through the vines with my father and grandfather. Learning about the growth of the vines, about the relationship with the sun, the earth and the water. And tasting the fruit.

The vineyards themselves are planted alongside a small creek, which winds in and out of the vines throughout our property. I love this part of the vineyard, it teaches me how interconnected nature is."
Seasonal extremes
Each year, the winter is shorter, and the summer is drier and hotter. In the searing sun, the fruit is slowly cooked on the vine, spoiling before it's even ripe. Rainfall is erratic, and when it arrives, it's more extreme. Hail storms batter vines that used to thrive.
In 2020, the bushfires that made global headlines came so close that over 50% of total fruit harvest was lost. It had been tainted with smoke.
Animals also affected
Changing weather patterns not only threaten crops, local wildlife is also struggling to survive.
But Alisdair is not giving up. He is committed to finding a better way to farm. One that minimises emissions and supports the land that he and his family rely on. And other families like his.
"As a farmer, I feel a responsibility to give back to nature."
The difference
farmers can make
0% of all greenhouse gas emissions are linked to food.
0% of the world's available energy is consumed by the agri-food system.
0% of non-CO2 emissions like methane, nitrous oxide and fluorinated greenhouse gases come from agriculture.
Agriculture is part of the problem. And that's exactly why it can also be part of the solution. When farmers embrace more sustainable practices, they can help reduce their environmental impact.
"The fact that sometimes the tasks are difficult, or that you have to choose the slower or the more expensive option, for me it's not a choice. It's an imperative. I draw resilience through the possibilities."