Touring the world and playing to big crowds comes at a high environmental cost. So acts like Billie Eilish, Lukas Graham and Coldplay are turning sustainability up to 11.
Bust-ups, breakdowns, TVs hurled from windows. World tours take their toll on musicians. But lately the old rock'n'roll cliche of "excess all areas" is looking a little tired.
In a welcome shift of priorities, exhausted stars from Shawn Mendes to Arlo Parks are declining to just push on through, and instead taking the difficult step of putting tours on hold, and putting their wellbeing first.
At the same time, performers and their fans are becoming more conscious of the impact of touring on the planet. How much carbon is emitted by a giant diesel-powered light show? Is there a reason to keep criss-crossing the globe in a private jet? And what do you do with the mountains of litter after a festival?
Music can make a difference
The music industry is hearing the alarm loud and clear, and in 2019 a group called Music Declares Emergency came into being. Its current campaign, No Music on a Dead Planet, underlines just how much is at stake. "It came out of thinking that the music industry has been at the heart of every other cultural issue to date, Rock Against Racism and Live Aid included," says Lewis Jamieson, one of the charity's co-founders, who has been in the industry for decades. "Eighty per cent of people in the UK at the time accepted that there was a climate emergency, but very few knew what to do about it. We felt that music was a powerful way to get people involved."
The organisation began with 1,000 signatures, and support from artists including Foals, Suede and Radiohead. It focuses on what can be improved: the industry itself, using its power and influence to create change, helping artists get the advocacy they need so the industry can adapt, and educating artists about how to use their platforms to talk about climate change and sustainability.
Izzy B Phillips, who sings with the band Black Honey, puts it bluntly: "There's no Black Honey on a dead planet." "We have a chance, we've got a window, we've got something that we can do. It's not about personal responsibility, it's about the big dogs stepping in and doing their job, so write to people, make sure you spread the word… It's not on you, it's on everyone."
Also backing the campaign are Nova Twins, who have been described as "the loudest, most exciting new rock band in the UK". Last year they played in an open-top bus as part of a show demanding action from world leaders at the COP26 climate conference.
Of course, one quick way to decarbonise live music would be to cancel it and say no to touring altogether. But even if that happened, it wouldn't necessarily fix the problem, says Lewis. "If Radiohead said 'we'll only play in the UK from now on,'" he said, "airlines would be punching the air. Thousands of fans would fly over from the US to see them. It doesn't make sense. We have to create a future that improves on what we have got."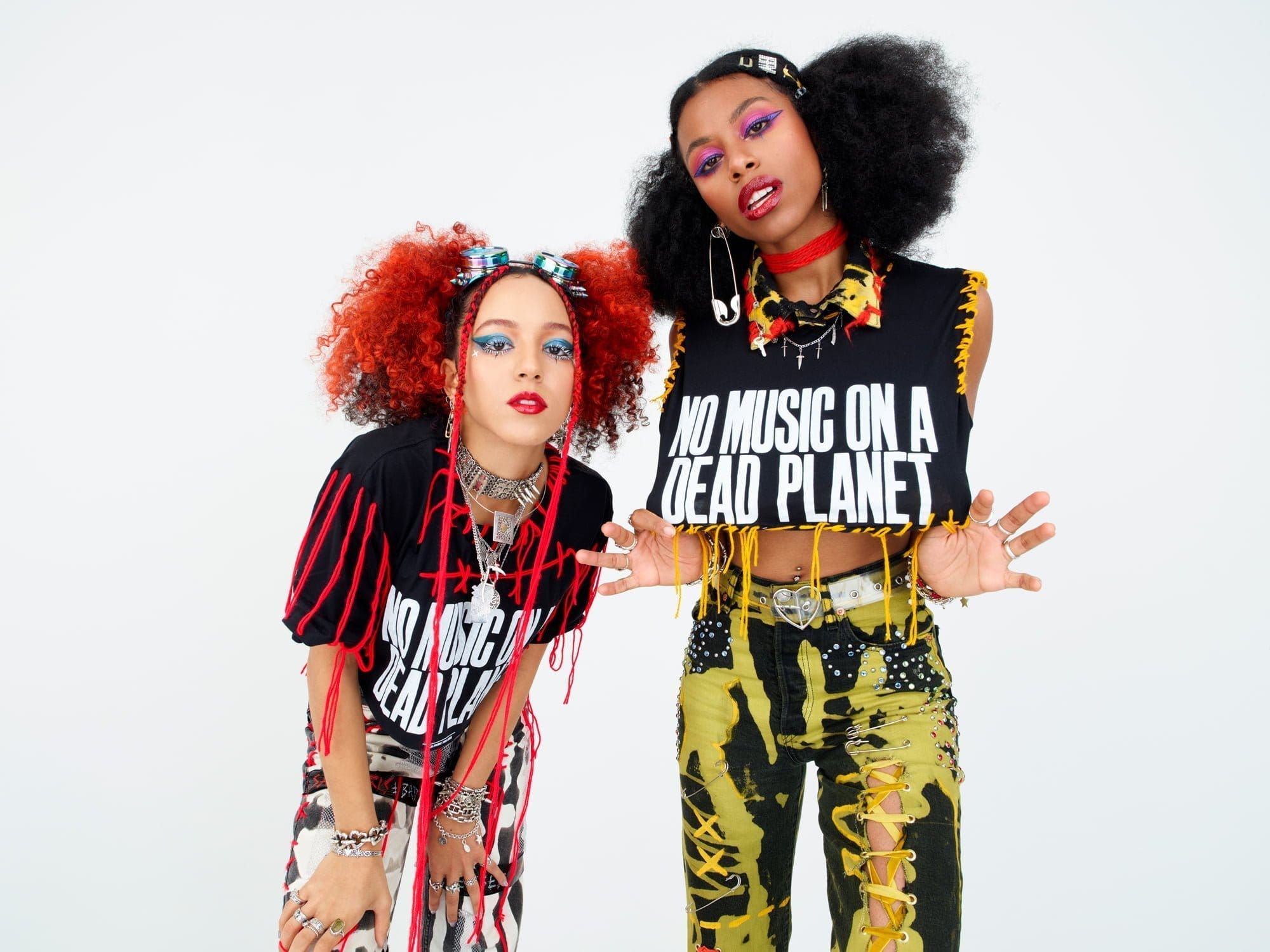 Musicians are working with researchers to find solutions
Massive Attack made a big contribution to industry knowledge on green touring when they unveiled a plan last year to reduce carbon emissions across the live music industry, developed with the Tyndall Centre for Climate Change Research. They identified three key areas causing the most environmental damage: band travel and transport, audience transport, and venue emissions.  
The report recommends eliminating the use of private jets; switching to electric transport at concerts and festivals; switching venues to renewable energy; designing tours with low emissions in mind; and standardising equipment globally, so gear does not always need to be transported. 
Grammy award-winning Danish band Lukas Graham has adopted another of Massive Attack's action points: phasing out diesel generators by 2025. This year the group has collaborated with wind energy firm Vestas to develop battery-powered concerts which they tested through their summer shows in Denmark. Each of the six concerts saved, according to their calculations, about a tonne of CO2 – the same amount the average American uses in three weeks.
Coldplay's current 'Music of the Spheres' world tour is also powered by battery, in this case a set of 40 EV batteries with a capacity of 1.67 megawatts. The batteries are partly recycled, and recyclable. That's alongside bottle refill stations, bike storage, EV charging locations, a zero waste-to-landfill policy, and a tree planted for every ticket sold. Even the LED wristbands are reusable. The band's aim is to cut carbon emissions in half compared to their last tour.
Oh, and there's a kinetic dance floor that generates electricity when fans move around. A little larger than a boxing ring, it's probably the most eye-catching green innovation, even if its contribution is relatively small (about enough to light up two floodlights when it's packed with excited fans). But it's a glimpse of the future – imagine what would be possible if the whole stadium floor worked this way.
"We just feel like telling someone they're doing everything wrong doesn't usually result in much of a change," Chris Martin said in an interview with the BBC's The One Show. "We've been trying this, and our audience seems to really care about it."
What does a green concert look like? 
A number of not-for-profit organisations are trying to help the industry come up with sustainable alternatives, among them Sound Future. Set up by three women passionate about data, music and sustainability, including Brandy Schultz, wife of The Lumineers frontman Wesley Schultz, their focus is on providing the missing data the industry needs to establish a baseline for what a 'good' concert looks like. 
"What we're finding is that everybody cares," says CEO Cassie Kloberdanz Lee, "but they're risk averse or see environmental protection as a luxury not a necessity. It's not."
Elsewhere in the US, Reverb works with musicians, festivals and venues to reduce event footprints and create ways to engage concertgoers. Fans at Billie Eilish's concerts have been able to visit Reverb's eco-village pre show, where they found reusable bottles, free water refills and a climate quiz. 
Jack Johnson's tours have also benefitted from a similar set up, again with Reverb's help. Among other innovations, Johnson's shows have featured a bike valet. Even that rock'n'roll staple, the black band t-shirt, has started to go green: merchandise for the Hawaii-born musician's tours has included organic cotton t-shirts and recycled paper posters. Overall Reverb has raised $5.7m for environmental causes so far, and eliminated 287,000 tonnes of CO2 along with over four million single use plastic bottles.
"As we normalise the idea of being concerned about climate change, everything will change"
Lewis Jamieson, No Music on a Dead Planet
Can I get a volunteer from the audience?
Artists are clearly feeling pressure from their fans to do better. But we have news for the fans as well. According to Music Declares Emergency, 80% of emissions from the average live event come from the audience. At an arena show that could easily be 20,000 people, each arriving and departing by some form of transport, consuming food and drink, and perhaps buying merchandise. Concerts may be a time to cut loose, but fans' choices have a significant environmental impact when made at scale. Venues are making strides in communicating about public transit options, and more thoughtful event promoters are laying on plant-based food (in Billie Eilish's case, matching prices for the meaty version). 
But for all the impressive reductions in tonnes of CO2 emitted or waste generated, we all know that those numbers can't capture the real power of live music. Perhaps the biggest contribution music can make to protecting the planet is just doing what it's best at: moving us.
"Music can drive mindset change, which will drive the change we want, and it can also play a role in encouraging optimism and drive," said Lewis Jamieson. "As we normalise the idea of being concerned about climate change, everything will change."

_____________________________________________________
5 ways fans can make a difference
1. Start at the top 
"Vote leaders in place that understand the need for a more environmentally sound future," says Cassie Kloberdanz Lee of Sound Future. This sets the scene for the music business, and every other industry, to do its best.
2. Tell artists what you want, what you really, really want
Hearing that their fans expect a more sustainable approach influences bands to make a change. Artists may not pull all the strings in the music biz, but their voices carry a long way.
3. Check out the venue beforehand
Check the venue website before you go and find out what's on offer. London's Wembley Stadium, for example, has 16 free water taps so you can bring a refillable bottle with you. Some promoters may offer incentives if you come by public transport.
4. Change your behaviour 
New initiatives don't take off if you don't engage with them, so try the new things you see, be they kinetic dancefloors, bike storage or hyperlocal vegan food.
5. Join a fan club
Music Declares' Fan Club for Climate is a weekly newsletter with ideas on how to contribute to change, and chances to win tickets and join events.