In ink of the deepest green, artist Katie Holten has created a tree alphabet to nurture our connection to nature, and grow our appreciation of all things arboreal in the very language we use to talk about them.
"I've always felt like I am maybe more plant than human," Katie Holten says, speaking from her book-laden apartment in Manhattan. This kinship with the natural world has always made itself known in Katie's art. She once created a Tree Museum on the streets of the Bronx, where yellow plaques on 100 trees displayed a phone number that anyone could phone to hear a local resident, gardener, musician, or poet share a story about the area. She has made mushroom music, built enormous globes of a changing world, and drawn the structures underpinning life itself.
But her relationship to the non-human world is perhaps no more powerfully represented than in her latest creation: a book written in its titular 'language of trees'.
About the author
Katie Holten has spent 20 years working at the intersection of art, activism, ecology and language. She has represented Ireland at the Venice Biennale, has had multiple solo exhibitions internationally, and is a visiting lecturer at the New School of the Anthropocene. If she could be a tree, she would be an Oak.
A is for apple tree
The idea is simple, the results somehow extraordinary. In Katie's tree language, each letter of the Latin alphabet is translated into the distinctive branched outline of a tree. A is an apple tree, B a beech tree, C a cedar. ("It was tricky with X, Y, Z trees", she adds, though they eventually found their namesake in Xanthoxylum, Yellowood and Zelkova). Anyone can download the 'Tree' font from Katie's website.
The Language of Trees uses this alphabet to translate a rich collection of texts – poems, song lyrics, essays, stories – that offer myriad lenses on trees' function, their beauty, on all that makes them irreplaceable. A recipe for oak gall ink sits alongside Radiohead lyrics. A chapter on the science of tree rings follows another entitled 'how forests think'.
"I just want to help people fall in love with the world again"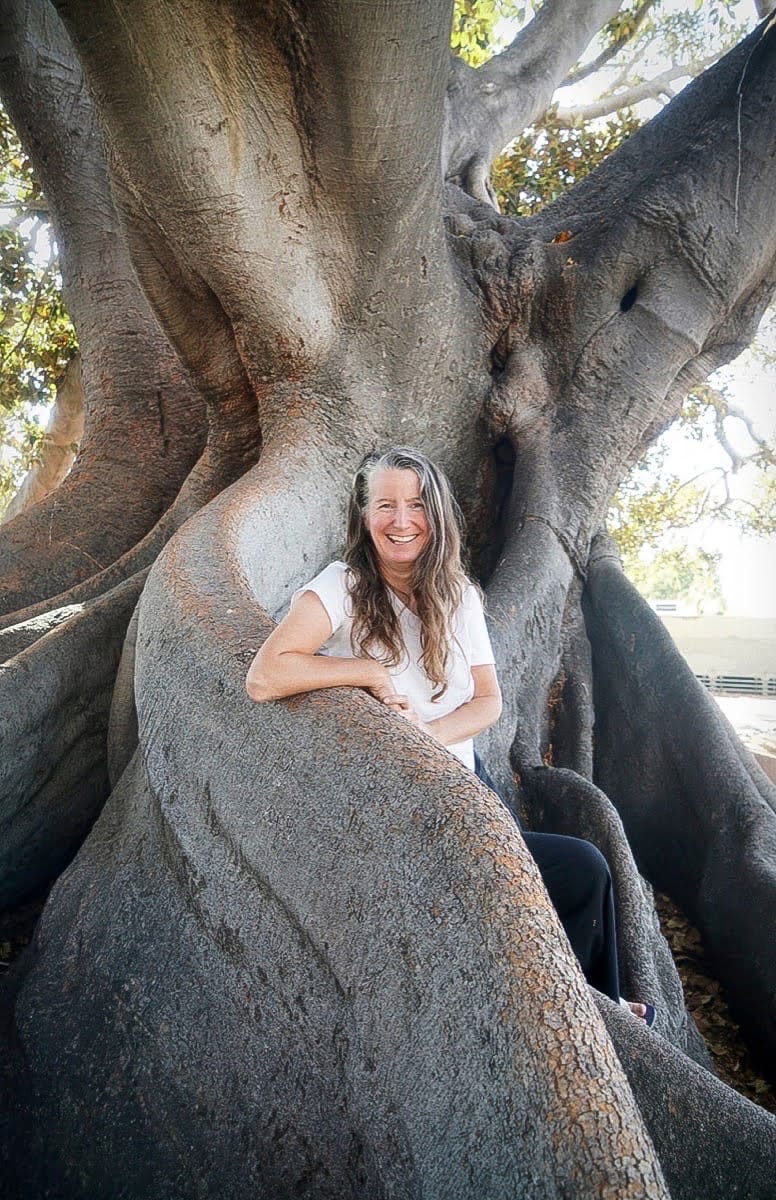 Katie created the book out of the belief that if we can converse with the forest, we might just conserve it. "My work has always been political," she says, "trying to draw connections between things, but not banging people over the head going 'change your lightbulbs'. I just want to help people fall in love with the world again".
The first seed
Unbeknown to Katie, her idea for a tree alphabet first formed in 2004. Having grown up in rural Ireland, she was then new to New York. She would walk the city's gridded streets, finding them difficult to distinguish in their grey uniformity. Difficult, that is, but for the trees that lined them. Katie sketched out her daily routes, drawing the street trees that marked her path, and mapping the city's hard concrete lines by its less predictable, greener growths.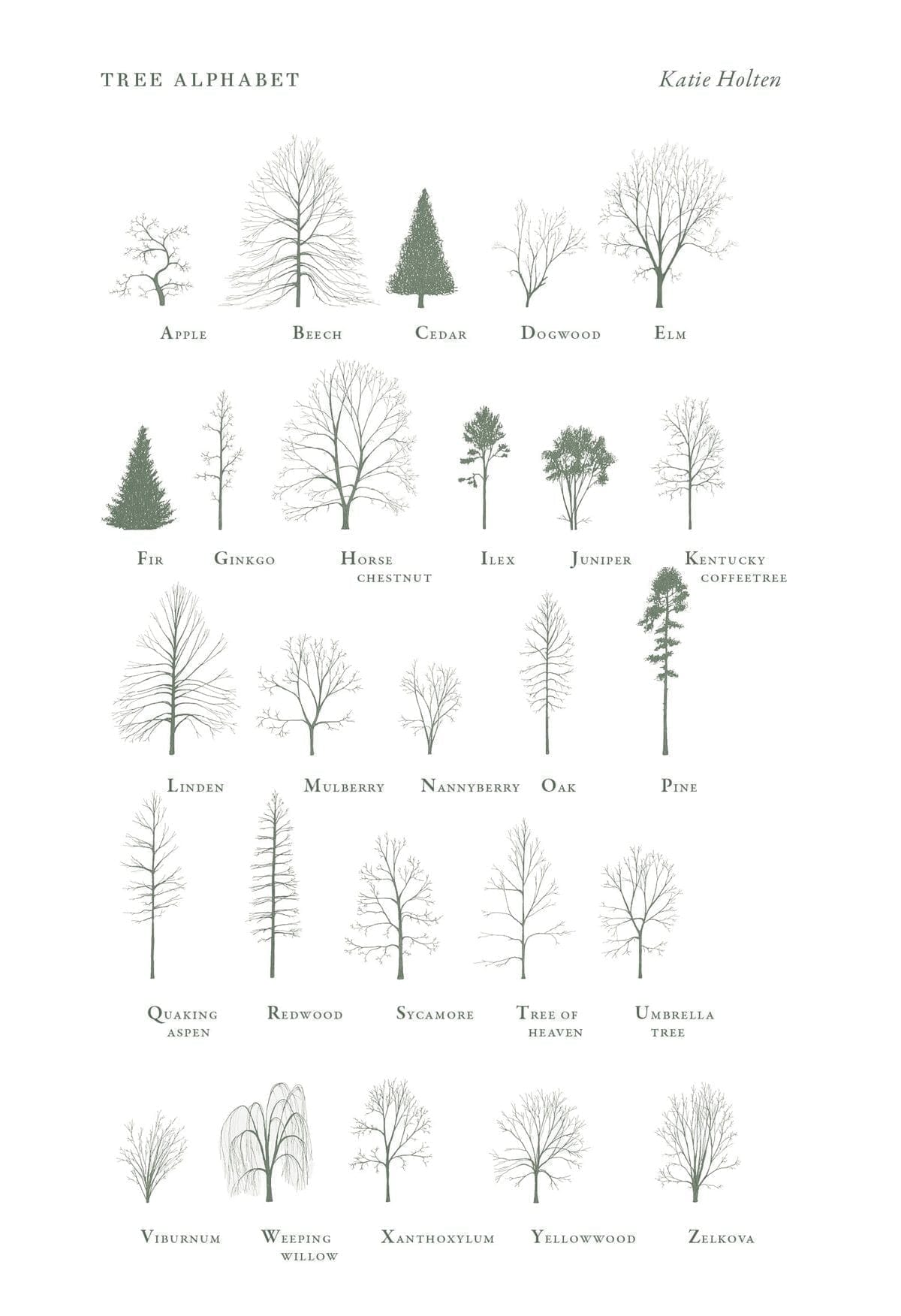 Over a decade later, these tree drawings re-entered Katie's consciousness. "It was two o'clock in the morning when I was lying in bed – almost asleep but not quite, the most productive time of the day – and I realised 'Oh, the trees are the characters. They're writing the story'. I saw a white page and the trees popped up the same way letters pop up when you type on a computer screen."
She quickly created About Trees, a "big, big, beautiful book" packed with voices including Ursula K. Le Guin, Robert Macfarlane and Gaia Vince. She only did a small print run, and every copy was snatched up during pre-orders. 
Eight years and a publishing deal later, that book – with many additions, including an introduction, ("incredibly," Katie says) from American poet Ross Gay – has become The Language of Trees: a rewilding of literature and landscape.
The words, and word forests, that line its pages take the reader from Japanese apple orchards and a Californian commune, to forest islands in the Amazon and Canada's migrating tree line. They describe the Beninese miracle tree, the tree clocks of northern Mongolia, and the papery-plastic trees being built in a lab in New Jersey.
And, like the woodlands they speak of and for, the tree texts are not uniform. The tree-characters of an essay exploring forests' role in imagination and sex are planted right to the paper's edge, the lifeforce they denote filling the page to its limit. Others form sparse, even lines, or – in the case of a description of harmful GMOs – an unnaturally neat circle. Radiohead lyrics become visual poetry.
Recycling words
Most of the pieces of writing that make up the book already existed. Katie's job has been largely one of curation, an activity that stemmed naturally from her branching network of tree-loving writers, activists, musicians and fellow artists. "I like recycling," she explains. "I like using what's already there. So when I make objects, I tend to reuse materials and with the text it was the same. I thought, if I can just collect a lot of this stuff and have it in one place – new and old and lost and forgotten – it would be a beautiful way to connect all of these things."
The response has been overwhelmingly warm. "The tree alphabet itself seems to immediately make people's hearts kind of… go bigger," Katie laughs, unable to find words for the excited affection her tree letters have inspired. "It seems to be a very visceral, immediate response. It's really striking how everyone responds immediately with a smile and a twinkle in their eyes when I say I'm talking about trees." 
This feeling – a feeling that art can elicit in particularly concentrated and poignant ways – is one that can be harnessed. A tree alphabet is at once simple and subtle in its influence, Katie explains. "Most everybody I meet says 'I love trees'. So the book is an easy way, a kind of undercover way, to slip in and let people think about deeper, darker issues.
"Definitely love is at the heart of it," she adds, assertively. "You have to love something in order to protect it."
Can't get enough of trees?
Want to write in tree too? Download the font for free from Katie Holten's website.
Tree alphabet