Since becoming mayor of Paris in 2014, Anne Hidalgo has been on a mission to reinvent the city as a green metropolis. As she celebrates winning her second six-year term, all signs suggest she's about to shift up a gear.
Hidalgo has made a name for herself with her bold measures to free the streets of Paris from cars, and make room for pedestrians and cyclists.
The socialist incumbent has won many admirers this way, and quite a few enemies too. In fact, at various stages in the campaign, her future as mayor looked doubtful. But rather than trying to win back support by easing off on her green revolution, Hidalgo doubled down.
Following a lacklustre performance in the first round of the election in the spring, Hidalgo struck a deal with the green party. With their backing, and an uncompromisingly eco-focused agenda, she sailed to a convincing victory, securing around 49% of second-round votes.
The upshot of all this is that the city's greenest ever mayor just got greener.
"Hidalgo's rhetoric is optimistic but blunt, never shying from the fact that her job is to navigate an environmental crisis"
A Paris that breathes
Anyone who doesn't live in France or take an interest in its municipal politics would be forgiven for not knowing of Anne Hidalgo. She may not be a major player on the world stage – yet. But she's in charge of a city of more than two million people at the heart of Europe, and she has big plans.
Depending on which Parisian you ask, Hidalgo is responsible for turning the French capital into a resilient eco-city of the future, or for choking it up with endless roadworks and building sites. What everyone agrees on is that Paris is changing.
Hidalgo has cracked down on cars. She has carved up roads to fit in more cycle lanes – and trees. She has opened up the routes along the banks of the River Seine to pedestrians and cyclists. Traffic disruption has been considerable, which critics say doesn't help the pollution problem, but Hidalgo hasn't wavered. "Change is difficult," she told the New York Times. And when locals complained about Extinction Rebellion occupying the Place du Châtelet last autumn, she sided with the protesters.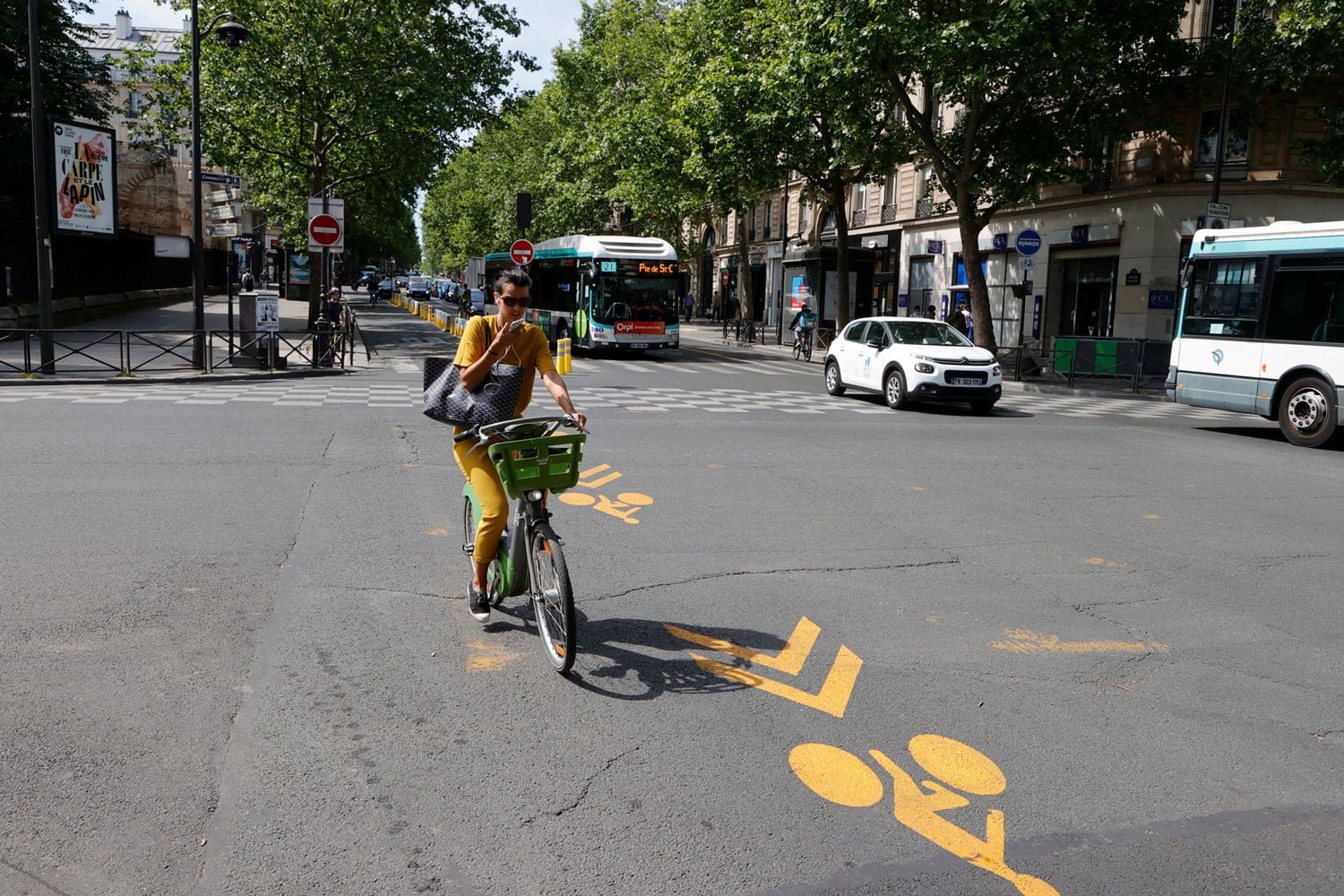 Hidalgo's rhetoric is optimistic but blunt, never shying from the fact that her job is to navigate an environmental crisis. While past mayoral candidates have spoken of their "passion" for Paris and their drive to keep the city "one step ahead", Hidalgo in her re-election campaign simply offered "a Paris that breathes".
Voters have now trusted her to deliver on that promise. But having spent most of her first term talking about le climat, in its closing months Hidalgo has faced another emergency beginning with "c".
The Covid-19 pandemic has been the biggest test of Hidalgo's leadership so far, claiming thousands of lives in Paris. At the same time, it has provided glimpses of how a more sustainable future might look. When cafés couldn't serve customers indoors, Hidalgo let them take over pavements and parking spaces. And 50 kilometres of temporary cycle lanes created during the crisis may now remain, she says.
"France isn't the only country where city leaders are making national figures look sluggish – even sclerotic – when it comes to the climate crisis"
In fact, the experience of the pandemic seems to have emboldened Hidalgo to go beyond just encouraging more bikes and fewer cars. At the centre of her campaign was the vision of the "15-minute city": a network of small, self-supporting neighbourhoods with everything on the doorstep. As people emerge from this year's great experiment in remote working, ideas like this suddenly seem a lot more feasible than they would have before.
Cities lead the way
Hidalgo's victory is part of what France's press are heralding as a "historic green wave", which saw the greens win local elections in cities including Lyon, Bordeaux and Strasbourg. It's a rude wake-up call for the government of President Emmanuel Macron, who has been accused of inaction on the environment, and has clashed with climate activist Greta Thunberg.
France isn't the only country where city leaders are making national figures look sluggish – even sclerotic – when it comes to the climate crisis. Eric Garcetti, mayor of Los Angeles, has promised a "decade of action" on the climate – pretty much the opposite of what the US federal government has been pursuing. Similarly, Sadiq Khan, mayor of London, wants his city to be carbon neutral by 2030, but warns that "climate delayers" in the UK government are making the job harder.
The crucial role of cities in dealing with climate change is recognised by bodies such as C40, a network of nearly 100 major cities, which aims to capitalise on their ability to act more nimbly and decisively on the environment than countries can.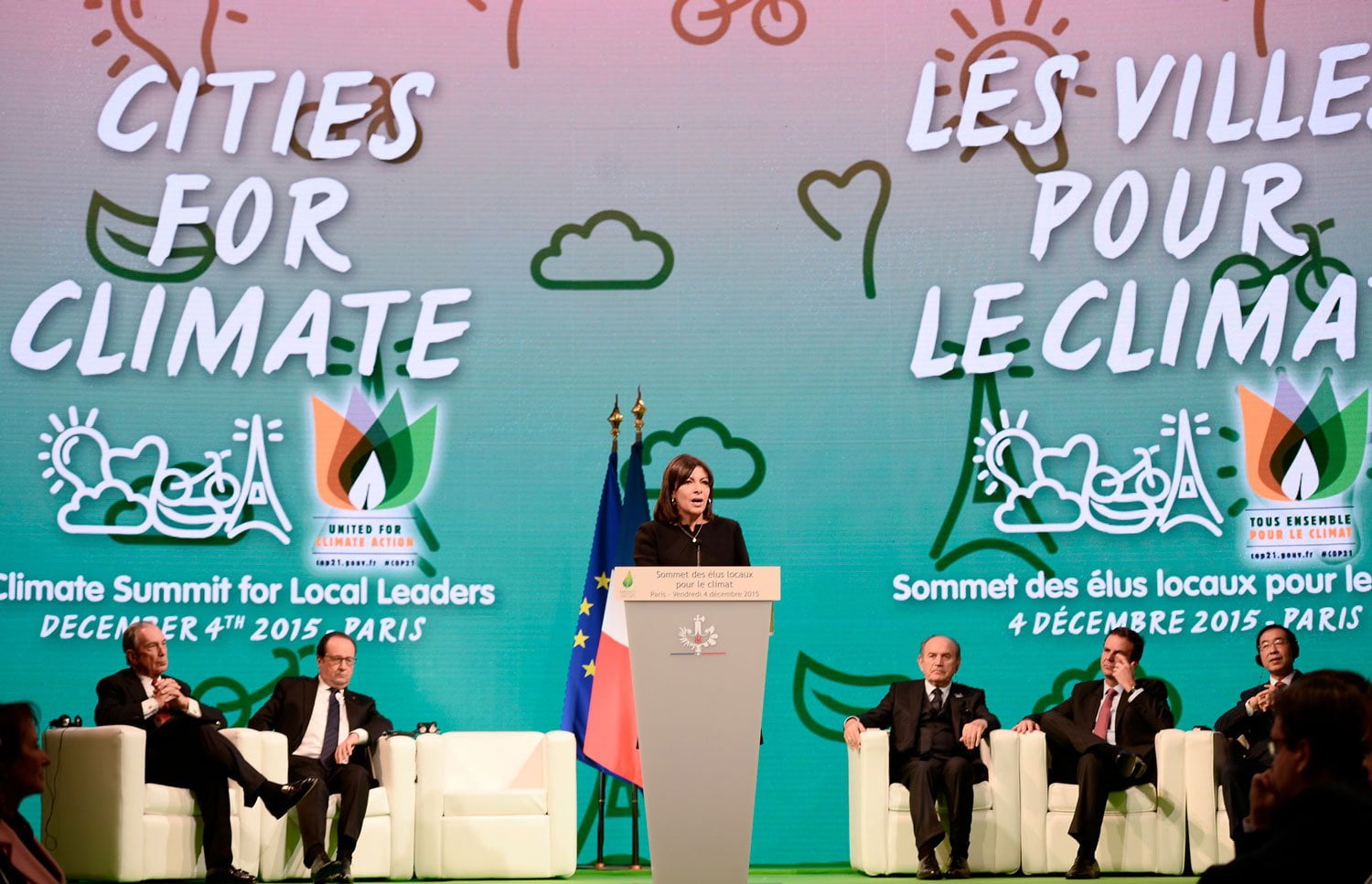 Of course, cities still rely on national governments to underpin their actions. Indeed, it was on Hidalgo's turf that leaders of 195 nations shook hands on the Paris Agreement in 2015, committing to keeping global temperature rises down. Even so, activists pushing to get that agreement translated into action, such as the One Thousand Cities Campaign, often set their sights on municipalities, because they know that's where a lot of the real work will take place.
Eventually, what happens locally echoes on the national stage, and with a presidential election due in 2022, Macron will have to learn to ride France's new green wave if he is to avoid a fate similar to that of his party's candidate in Paris this weekend, who was left in the dust with just 13% of the vote.
Hidalgo, meanwhile, is back at work at Paris's City Hall, and her victory speech hinted at what's on her mind. She spoke of enabling the people of Paris to "change their way of living", making clear that the adaptations she envisions will not just come from the top-down. They will require real commitment, and sometimes sacrifices, on the part of residents.
If Paris is going to transform, then Hidalgo has an opportunity to lead the way. But she knows that ultimately, it will be Parisians themselves who have to do the transforming.