At 5, we are interested in the leadership of the future and in new ways of exercising power. That's why Margrethe Vestager was an obvious choice to interview. From being a shy girl growing up in rural Denmark, Vestager has climbed to Brussels' upper echelons, where she is Executive Vice President of the European Commission. Along the way, she's formed strong opinions about how power should be conducted.
The rectory of the parish church in Ølgod, a small town in the Southwest of Denmark, was packed with guests. Margrethe Vestager's parents, both priests, were always sociable and generous, and every year they put an advertisement in the local newspaper inviting everyone from the parish to their home. Usually around 350 people accepted, filling the family home for four days straight. In the living room, her father and brother entertained guests with boisterous conversation and singing, but Margrethe, being a shy young girl, was intimidated by the prospect of having to make small talk with her neighbours. On these occasions, she usually preferred to hide in the kitchen, filling coffee pots and placing homemade pastries on trays.
Four decades later, the same shy girl is the European Union's Executive Vice-President, charged with the monumental task of making Europe fit for the digital age. She is also the EU commissioner of competition and has, in that capacity, earned a tough reputation as someone who takes on seemingly untouchable tech behemoths with tremendous calm. Her bid to recover the illegal billion-dollar aid that Ireland had granted tech giant Apple in 2017 incited President Trump to label her "the tax lady who really hates the U.S." Yet perhaps more revealing than Trump's assail was Vestager's deadpan response: "Yes, I am a woman and yes, I work with tax."
Sitting across from her now, at the EU headquarters in Copenhagen, Vestager's path from rural Ølgod to cosmopolitan Brussels seems both wholly unprecedented and wholly predictable. Certainly, she's been calm and collected at every turn, paving her own steady path to star-politician status. She's diligent: fluent in English and Danish, competent in French. But she's also nothing if not a product of her time and circumstances: she's ridden her era's wave of aspirational free market forces and EU optimism straight into the halls of power. If there ever was a "European Dream" equivalent to the American one, surely, Margrethe Vestager would be its poster child. "It's been a very long journey," she tells 5.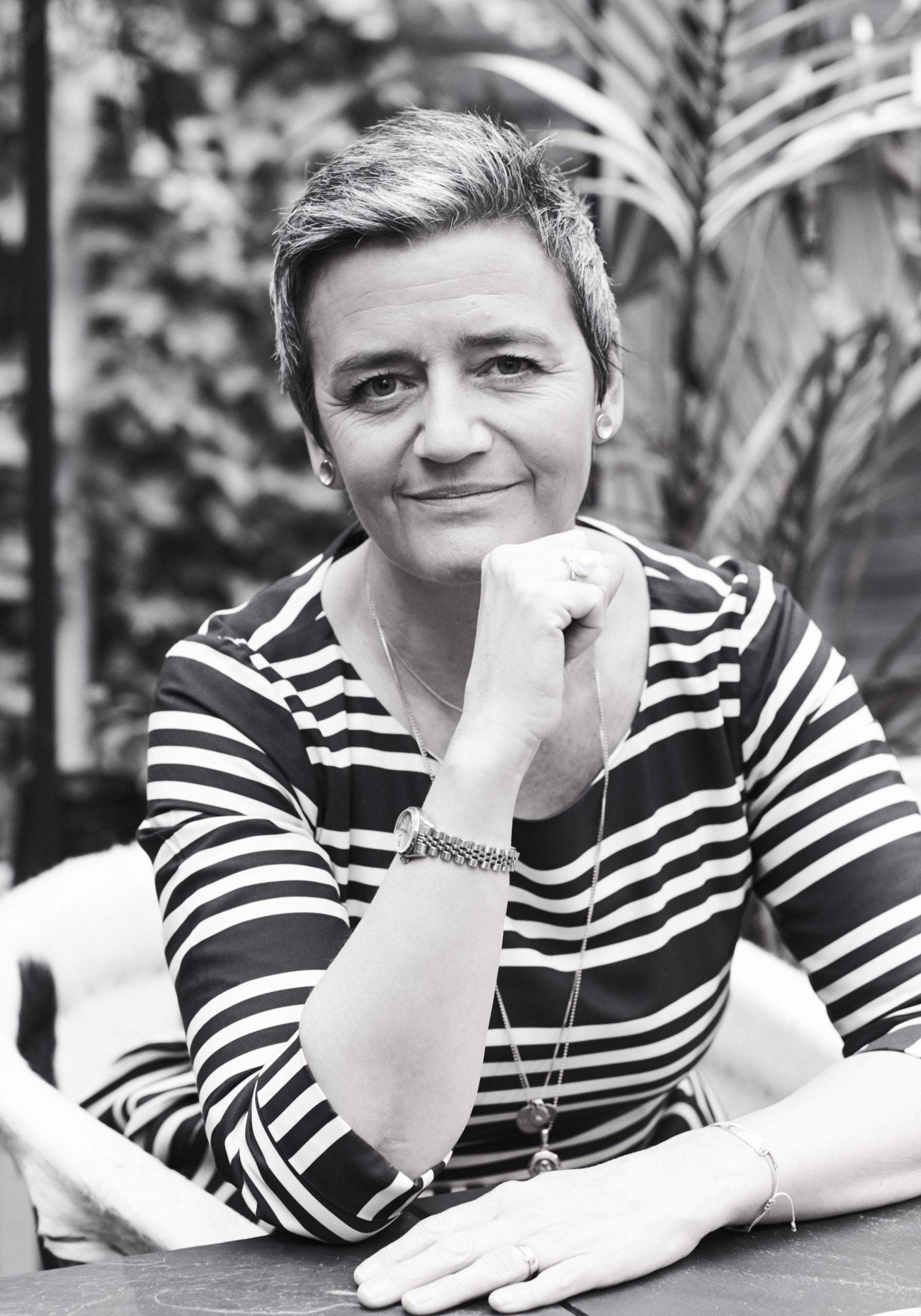 Conquering a room
Whilst the journey has been long, it has not been without focus. After graduating from university with a degree in economics in 1993, Vestager worked in the Danish Ministry of Finance, before people in Radikale Venstre, the Danish Social Liberal Party, spotted her talent and installed her as their youngest-ever national chair. At 29, Vestager became the Minister of Education and Ecclesiastical Affairs and soon after, the youngest minister ever to give birth while in office. She now has three adult children and remains happily married to Thomas Jensen, an assistant professor.
By 2007, Vestager was head of the Radikale Venstre, and by 2011, the Minister of Economic Affairs. Whilst in government, she used her significant influence to make the Social Democratic-led coalition stick to liberal economic policies (political drama pundits, insert your comparisons to Borgen's Birgitte Nyborg here). Three years later, she was named European Commissioner for Competition. During her time in Brussels, she's become Europe's most powerful anti-monopoly watchdog. From Fiat to Starbucks, no one is beyond scrutiny.
Vestager chooses her words with care and speaks in long, well-rounded sentences. She deems herself an "introvert" who "had to learn how to conquer a room." She's overcome her own shyness, not because it was particularly pleasant, but because she's always held a very fundamental desire to engage in, and try to change, her surroundings. "What happened in my parents' church wasn't prayer and song, it was a call to getting involved, truly involved, in local society. We were told that that was what mattered: engaging with the world."
"I had to learn to live in conflict, because the political world is filled with conflict and unbalance. You have to accept chaos, because it's also in chaos that creative forces are set free."
Margrethe Vestager
The first time she tested the hazardous waters of politics – by running for chairwoman of her local constituency – she only did it under the assurance that she would not, in fact, win. "I can't even tell you how few centre-leftists there are in rural Jutland," she laughs. "Running as a Liberal candidate was totally risk-free. I was only 20 at the time, and I just felt this need to test myself. When I went for it, I realised that it wasn't all that scary." In order to thrive in the political world, she's overridden her own introvert tendencies. But perhaps more importantly, she's learnt to accept that people will inevitably disagree with her. After all, the fear of being criticised is the scariest aspect of sticking your head out.
During 2008's "Mohammed drawings" cartoon crisis, for example, she challenged the Danish government on its foreign policy with regards to the bombing of the Danish Embassy in Islamabad, and in return, was criticized for taking the side of the terrorists'. The experience made her realise that great political energy resides in clashes. As she told the Danish newspaper Politiken at the time: "I had to learn to live in conflict, because the political world is filled with conflict and unbalance. You have to accept chaos, because it's also in chaos that creative forces are set free."
Just like the discussions at her parents' church, "there was no ultimate, perfect solution. The only thing you could do with certainty was to claim your voice." Margrethe's centrism nowadays manifests itself as an unwavering belief in democracy, in the idea that all opinions are valid. She also embraces a pragmatic approach to power that views it "not as something you own, but something you borrow, in order to achieve a very specific goal."
Untouchable at the exam table
When Vestager sat down in the European Parliament in Brussels on October 8, 2019 for her commissioner's hearing, she was dressed in her usual outfit: a colourful dress (she likes to emphasize her femininity) and sneakers (much more practical than heels). She also seemed to be wearing the invisible armor of a well-studied student. As the hearing for her appointment as the European Commission's Executive Vice-President got underway, it quickly became clear that she had prepared rigorously for every possibility. Earlier that day, she had posted a photo on Instagram of her homework: thick file after file with pink, green and orange Post-its poking out from the carefully arranged pages. Neat handwriting on each tiny scrap indicated an ingenious system, known only to her.
As lawmakers lobbed questions at her about tech companies and tax regulations, Vestager answered coolly, her fluent English only slightly inflected with a Danish accent. She told 5 later that she's always been a meticulous student and thrives under pressure. At university she was already active in student politics, had a teaching job, her studies, friends, parties. "I had to get up at 4 or 5 in the morning to keep up with my own schedule. There used to be this programme with the slogan: it's boring to be bored, it's fun to have fun. That's what I lived by."
Margrethe Vestager
Born in Denmark in 1968.
Studied at the University of Copenhagen, graduating in 1993 with a degree in Economics.
Member of the Danish parliament for the Danish Social Liberal Party, 2001-2014.
Political leader of her party, 2007-2014; Minister of Economic and Interior Affairs, 2011-2014. European Commissioner for Competition, 2014-present. Executive Vice President of the European Commission for a Europe Fit for the Digital Age, 2019-present.
Vestager is married to assistant professor Thomas Jensen and has three daughters.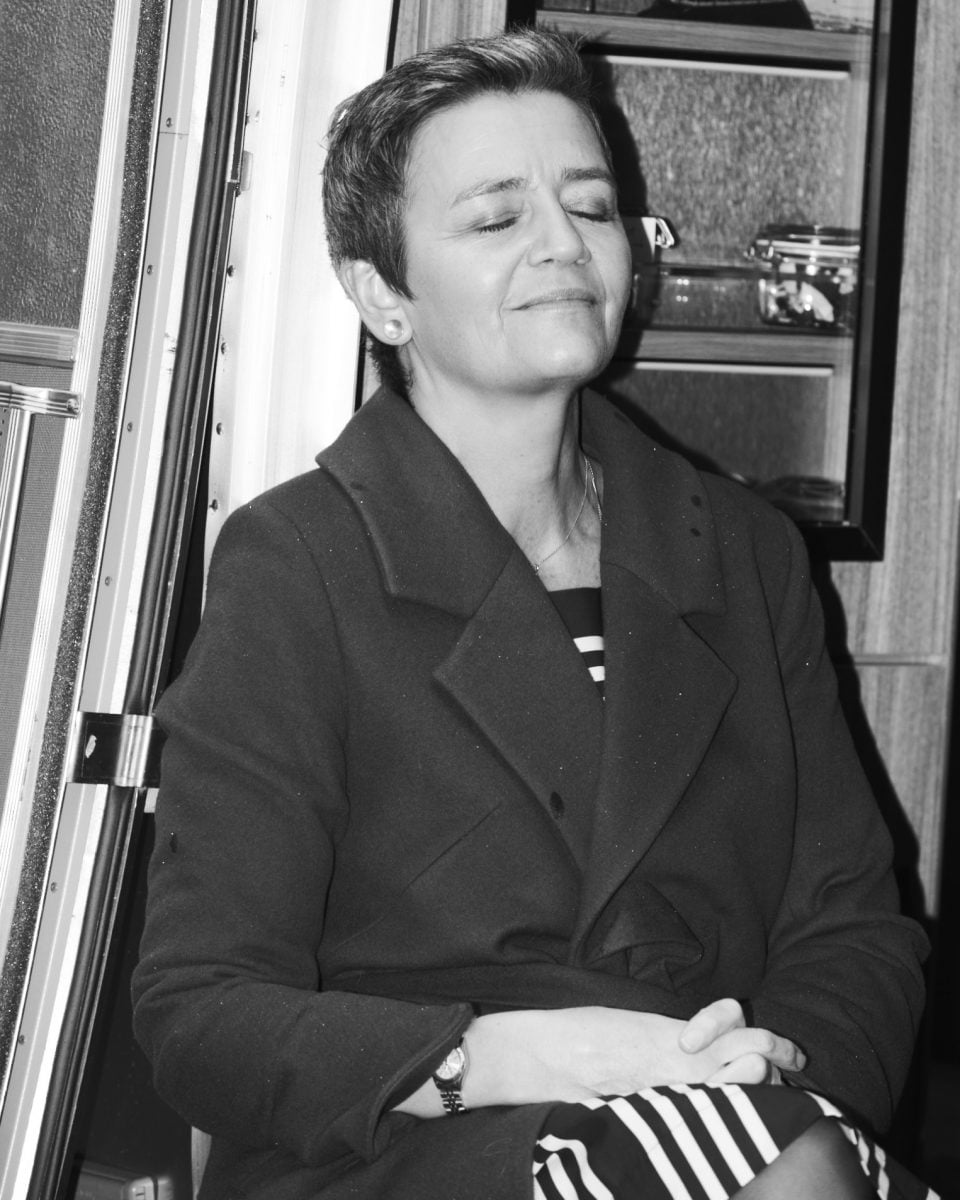 "Going beyond what is prescribed for you, really achieving something through hard work, is what's important to me."
Margrethe Vestager
Her university years, stretching from 1988 to 1993, were set against the backdrop of a period of relentless European optimism, with borders falling and softening as corporate freedom soared (the single currency Euro was first introduced in 1992, a year before Margrethe handed in her thesis). It was this era that European President Juncker recently referred to as the "great EU love affair." These years also marked centrism's rise as a powerful ideology, as encapsulated by the U.K. prime minister at the time, Tony Blair, confidently asserting: "Things can only get better."
No wonder, then, that for someone like Vestager, the only way was up. "Going beyond what is prescribed for you, really achieving something through hard work, is what's important to me," she says. Madeleine Albright, Secretary of State under US President Bill Clinton, was a political role model. "She did stuff that was extraordinary – like pushing for European intervention in the Balkan region, despite the conflict being far from her "backyard." There was no requirement that she should engage, but she did it anyway. That's what I mean by extraordinary," Vestager says. Years later, she's proudest of her children when she sees the same qualities in them. "When they put their minds to something, when they're passionate about something they don't have to be, that's what really counts."
Lead Differently
As she steadily progressed in the political world, Margrethe found herself in increasingly senior and exclusive spheres of power. These spaces, and the unspoken rules that governed them, were intimidating at first. When she initially entered them she made the quintessential human mistake of trying to fit in. "Of course, you do as has been done! You think – what does this bakery smell like? How can I bake some bread that smells the same?"
If the bread at the time had any single taste in common, it was staleness. "Lots of what I saw was the kind of power that had existed for hundreds of years." There seemed to be little space for innovation. "I used to enter these rooms, and see how every meeting was an imitation of the last. Everyone pulls out the same lunchbox and echoes each other's sentiments. That's not even a parody, that's how some meetings actually play out! Someone says something, everyone repeats it – sure, we're agreeing, but we're no cleverer for it."
Margrethe had to learn that there are many ways of being a boss. After she realised that stoic meeting structures and impersonal leadership didn't work for her, she made it her mission as a leader to ensure that doubt is esteemed. "The Radikale Venstre Youth used to have a slogan: 'with us, no doubt is accidental.' I think doubt is a sign of strength in a leader, it allows an openness that is the best fundament for decision-making." Her ingrained moderatism tells her that to disagree is to progress.
She warns that people are only going to dare challenge you if they feel close enough to do so. "You can't lead lovingly unless you bring something of your personality into your leadership style," she says. "And it's a lot to demand from your employees, that they are on board, willing to give something of themselves."
She relies heavily on her team at all times. How else could she cope with the pressure of some of the tasks assigned to her, such as making a plan for the whole of the EU's digital strategy? "Firstly, I avoid the mistake of thinking that the whole thing depends on me, and me alone," she tells us. "Sometimes you can think leadership tasks are lonely. But they're not, because they can only be achieved by the whole team: those countering you included."
She believes that it's important to communicate directly with her employees and avoid top-down games of "Telephone" that occur in some workplaces. "With such an international group," she says of her staff, "some come from structures where they've never even met their boss, let alone spoken to him." She says that some are initially surprised by her very direct leadership style. "Last year, I posted a photo on Twitter of the team of commissioners on the day of our approval with the caption 'here we all are'. One of the new people on my team came up to me in a panic, thinking it must be a mistake since I wasn't in the picture. I told him: 'I'm there, I'm just behind the camera."
"Sometimes you can think leadership tasks are lonely. But they're not, because they can only be achieved by the whole team: those countering you included."
Margrethe Vestager
Bad at being a man
One of the big reasons why leadership has become such an uninventive category, Vestager says, is the fact that men have been its main occupants for centuries. Vestager then states matter-of-factly, "You are wasting your time if you, as a woman, try to fit into a template that men have defined."
This realisation first came involuntarily, fostered by the extensively different expectations attached to men and women in positions of power. For one, "their uniform". "Remember when then-Greek PM Alex Tsipris didn't wear a tie to an EU meeting? It was a huge story. For men it's a success to wear the same clothes every day, for women it's a catastrophe."
Margrethe sees the pressure placed on female leaders to dress up as unfair in many ways. But as an optimist and a big thinker, she also sees it at a more metaphorical level as full of possibility. "I get to wake up and decide what I want to wear that day – I get to constantly reinvent myself."
The fact that it's such a big deal when men take their ties off speaks to how confined they, too, have been within the traditional templates of power. In other words, the male 'uniform', or any uniform (metaphorical or otherwise) might be comfortable, but it's also constraining. "It's no coincidence that soldiers wear them, it's because they have to do as they're told. Whatever your gender, letting yourself be uniformed, it's an issue – because you're indirectly saying yes to fitting in, to doing what is expected of you."
Hence, her faith that boundless opportunities lie in diversifying leadership. "As women, we get to redefine power: because we are the first women to enter those spaces – we get a blank canvas. At least if there is a critical mass of us." At the EU high-table, Vestager is of course no longer surrounded by men. In fact, she's part of a female-heavy European leadership team headed by Ursula von der Leyen, President of the European Commission, and Christine Legarde, President of the European Central Bank – a leadership team that former EU President Donald Tusk declared he was "really happy about. After all, Europe is a woman.''
Elephants
On the last day of our interview, we stroll through a windy Copenhagen, and Vestager greets people and makes small talk with ease. She's not the same introvert she used to be, but something of that demeanour remains. As a person, in her observant stroll around the city, as a leader, in her wish to "take a step back and merely synthesize a hundred opinions."
Although she misses the bikes and lakes of Copenhagen, the atmosphere in Brussels suits her more. "I think it's one of the most diverse cities on the planet. Everyone comes to Brussels, all nationalities, ethnicities, and all languages ​​are spoken. This is far from reflected in our hierarchies, not only when it comes to women but especially also when it comes to ethnicity – that is something that needs to change." But if there's one conviction that has been solidified in Margrethe it's that when fora of power are truly diverse, leadership and power is totally redefined: "I'm telling you, it works like magic."
"As women, we get to redefine power: because we are the first women to enter those spaces – we get a blank canvas. At least if there is a critical mass of us."
Margrethe Vestager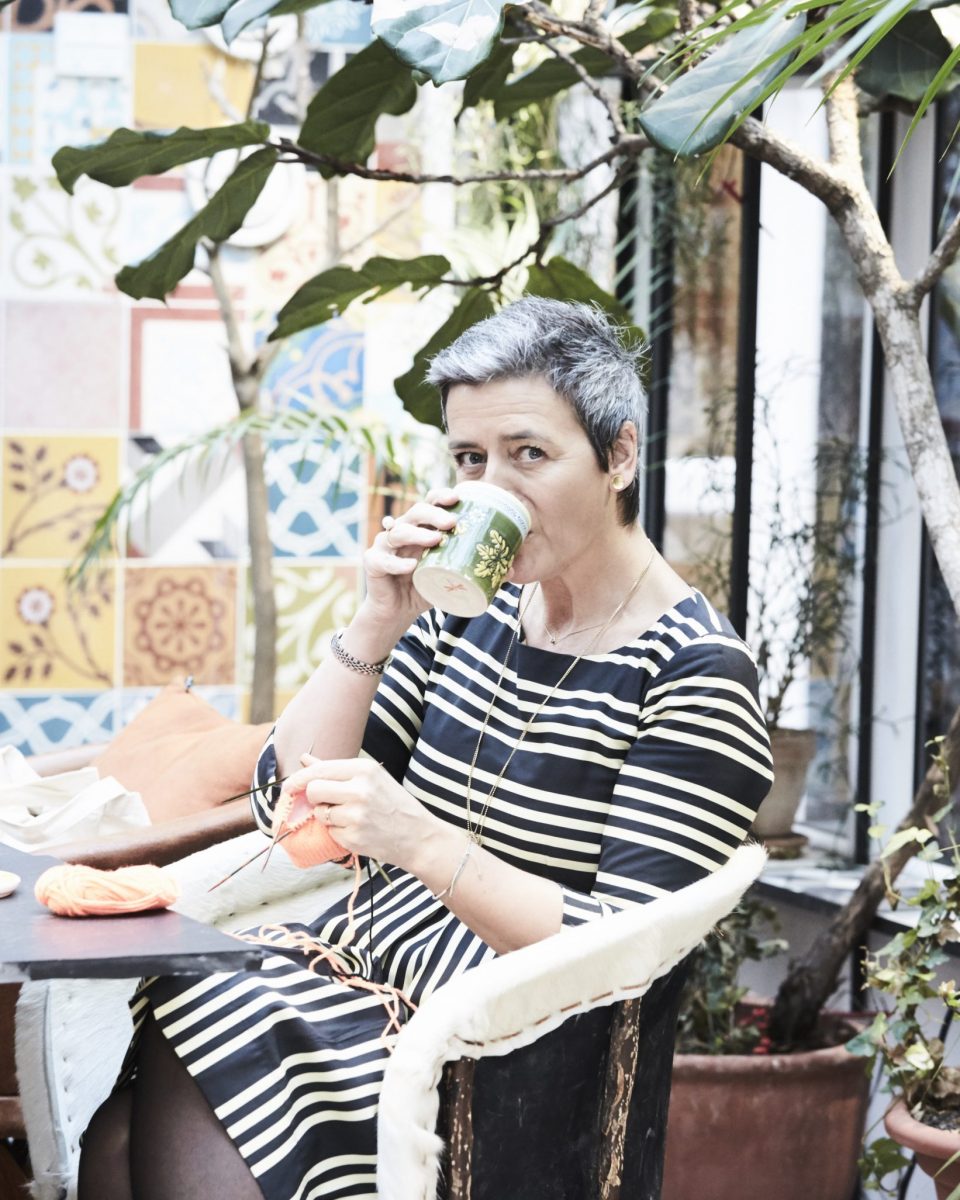 A few weeks after our interview, 5 received its first official launch present: a knitted yellow and black elephant, signed by Margrethe. She's been an avid knitter for many years. It's an unorthodox pastime for a top politician, but for a woman who works with "words, words, words" and is strategizing Europe's digital future, it's the perfect analogue hobby. In fact, she has been known to spend her time in between high-stakes EU meetings knitting these elephants, and there are even press photos to prove it. Where, between grey suits and blue flags, there sits Margrethe, offhandedly knitting a colourful elephant whilst those around her check Twitter. If one thing is clear, it's that the girl from Ølgod is no longer afraid to stand out.