She's taking the party outside, and everyone's invited. All hail the new queen of green, Pattie Gonia.
When Wyn Wiley posted a video on Instagram of himself hiking through mountainous wilds in platform heels, he thought no one would pay any attention. The next day he woke up to over 80,000 views. Pattie Gonia – Wiley's outdoorsy nature- loving drag persona – was born.
If you don't see yourself as the outdoor type, Pattie Gonia is here in sequins and stilettos to convince you otherwise. She's the gorgeous, sweaty-browed heroine of a new generation of colourful, climate-conscious back-country explorers.
Pattie Gonia's journey starts in Nebraska, where Wiley grew up. There, Wiley's queerness was seen as 'unnatural' – God forbid he ever do drag. Wiley suppressed this part of his identity for many years, working as a photographer, until five years ago, when he was invited to a dance party at a conference. The only requirement to attend was to come as whatever you want to be.
"I was like, fuck it, I'm gonna do drag for the first time. So I put on heels that night, and the worst makeup you've ever seen," Wiley recalls. "It was such an incredible evening to liberate myself on the dancefloor, and to be who I was. I was so into it and also so terrified by it. But I knew I was onto something."
What Wiley wasn't thinking about at the time was the fact that this was a photography conference, and 400 photographers were taking many photos of the party including Wiley's drag – photos that would make their way back to conservative Nebraska. Upon his return home, Wiley remembers being shunned. "I lost a lot of the world that I thought I knew, all because I did drag once," he says.
Grand debut
As a pick-me-up in this difficult time, Wiley went on a backpacking trip with a few close friends, where he decided to bring back out the heels he had worn at the dance party and hike in them. Wiley's friends videoed the moment in what would be Pattie Gonia's debut appearance, the name a playful nod to the bucket-list destination in South America.
Since then, Pattie has grown to become a fully-fledged eco-activist unlike any other, combining style and sass to reach new audiences with her environmental message. Her posts feature instantly shareable slogans like: "sustainability, bitch" and "if you feel dead inside, get the fuck outside". It's a vision that's also made visual, interwoven into every look, with statement dresses of single-use plastics or upcycled tents; entire costumes inspired by leaves or even a meadowlark (the state bird of Nebraska). The overarching story is also one of what you can achieve when you not only stray from the beaten path, but fashion your own, blazing a trail that others can follow.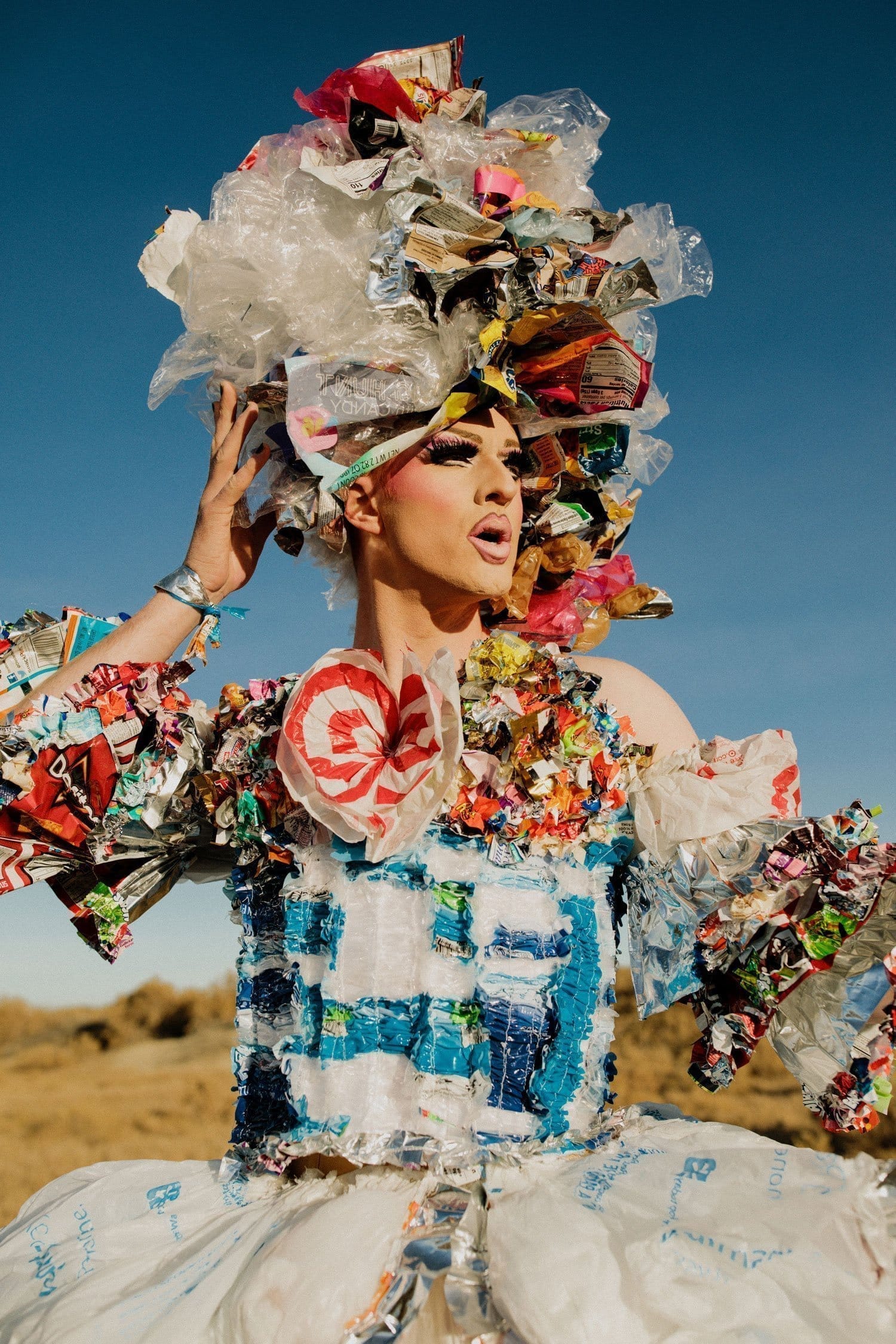 And follow they do. Now with 565,000 followers on Instagram and 280,100 on TikTok, Wiley has been able to use Pattie's platform to co-found the Outdoorist Oath, a nonprofit dedicated to educating people on how they can plug into the climate movement and create community spaces for people to take action together. With smiles, glamour and bags of community spirit, the aim is to foster not only a more fun climate movement, but also a more inclusive one.
Access for all
Because for this activist, interest in environmental action is closely connected to outdoor access. Many posts feature Pattie in stunning outdoor settings, strutting her stuff atop rocky cliffs, on the shores of mirror-smooth lakes or dappled by sunlight on shady forest paths. You can almost smell the trees and can't help wanting to be right there with her.
Yet, the outdoors isn't a place where everyone feels equally welcome or at home. "There are so many barriers between people getting outside, when we think about it, too, from a cultural lens," Wiley says. "I was told, growing up, the outdoors is for masculine strong men. Unless you're going to be that, you don't go backpacking, you don't go outside."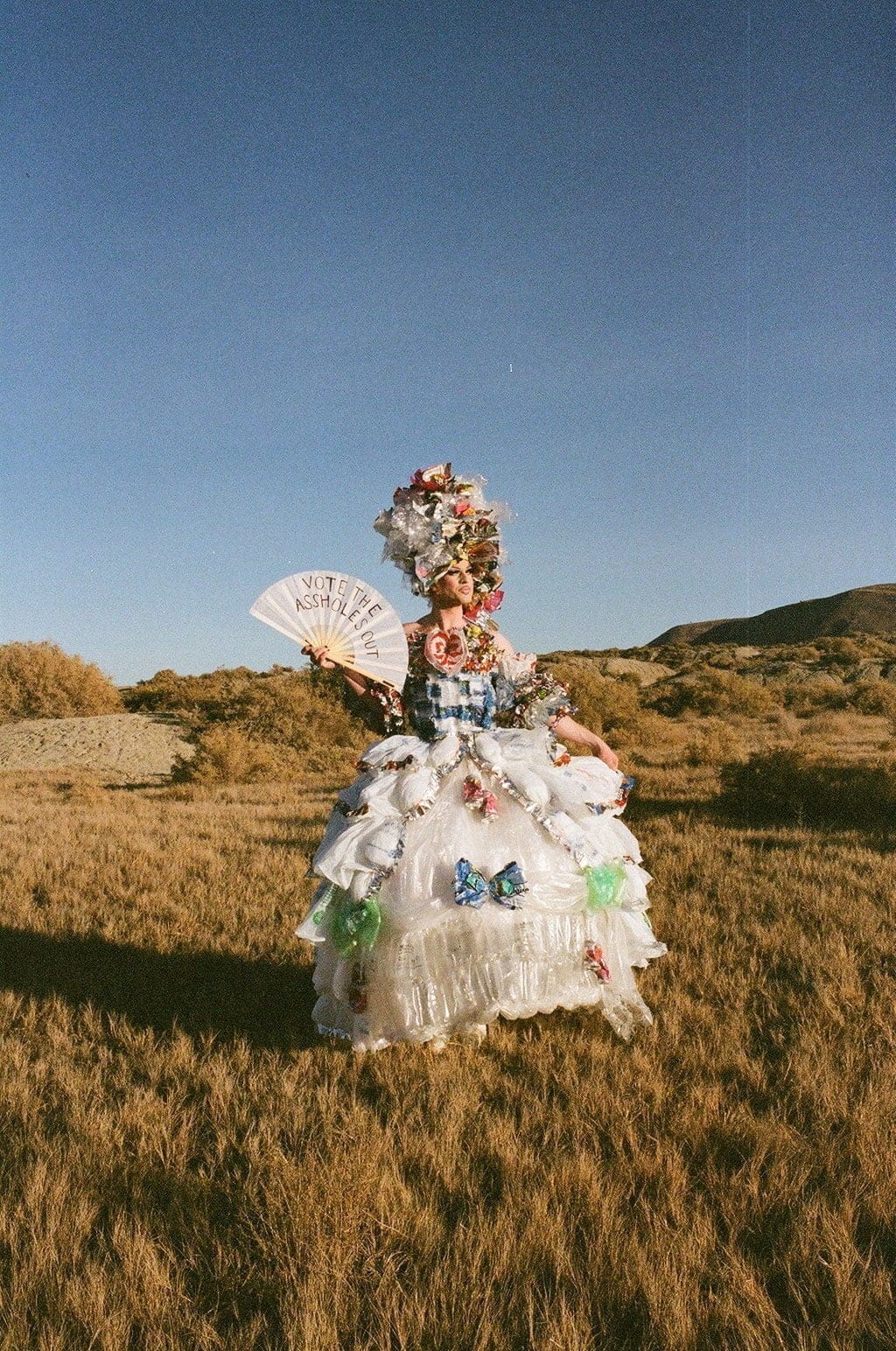 Historically, access has also been marred by exclusivity: gear is expensive, transport can be an issue and outdoor activities are marketed towards white people, making these spaces less accessible to people of colour, women, queer people, and low-income groups. In fact, studies conducted by the US Forest Service, National Park Service, and Fish and Wildlife Service found that about 70% of visitors to national parks, wildlife refuges, and forests are white. Black people are the most underrepresented group in outdoor spaces.
It's why in the last year, Wiley has raised over half a million dollars for queer, BIPOC-led outdoor organisations and is also on the fundraising board for Brave Trails, a queer-led non-profit dedicated to bringing hundreds of queer youth to the outdoors through summer camps.
From capitalism to connection
As a photographer, Wiley got to spend a lot of time in nature, but with a nagging feeling that he was observing it, capturing it, using it, rather than becoming part of it. "Over the past four years with Pattie, I've truly gotten to see what life can be like when you feel connected to nature, when you don't see yourself as different from nature."
People's tendency to imagine that we're separate from nature isn't just a missed opportunity for a more joyful life, Wiley says. It also enables the extractive excesses of capitalism and colonialism, and it's part of the reason humanity now faces a climate crisis.
"I want to engage with people in a way that recognises every person for who they are and what they can bring"
Photo: Maxwell Poth
He has mixed feelings about working "as part of capitalism" by producing sponsored content for brands, in order to raise money for communities and causes. Wiley says: "It feels like the solution we've made to work with a broken system and try to 'Robin Hood' it as much as we can. But it still feels like pushing a giant boulder up the hill."
Capitalism also has a habit of encouraging us "to think of ourselves as individuals, and that it is you against the entire world," he adds. "I want to create spaces and engage with people in a way that celebrates community, that creates that thriving meadow that recognises every person for who they are and what they can bring."

For Pattie Gonia, her platform has always been a way to do that: by bringing people together in-person via community-building events.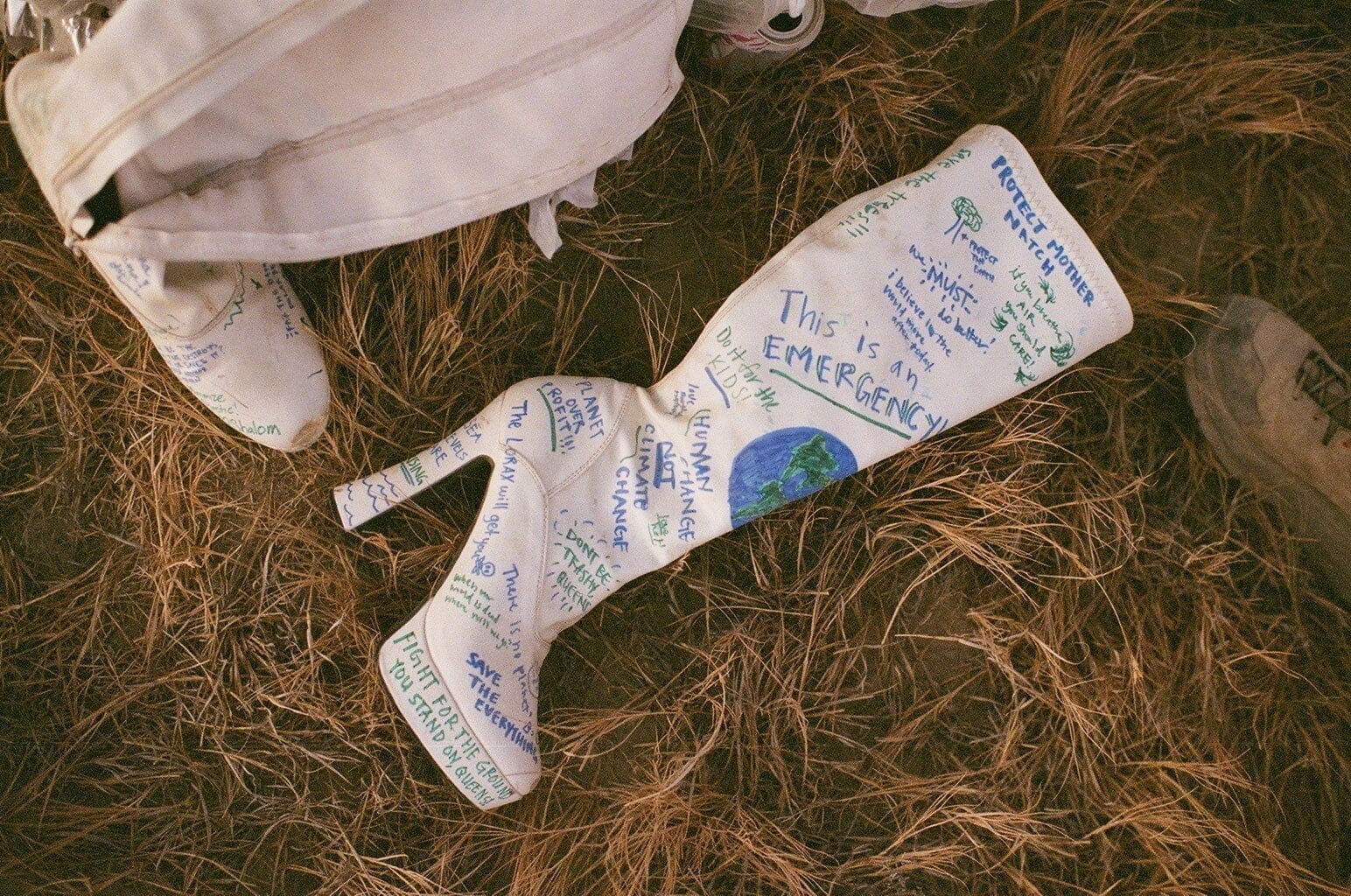 Like the flowers in the meadow, the people at Pattie Gonia's events come from all walks of life, whether they be climate scientists, researchers, or nonprofit leaders – people Wiley believes don't get celebrated enough for the important work that they do.
Like church?
Community is everything, Wiley knows. "I grew up in a church in Nebraska that preached 'unconditional love', 'community', and 'equality'," he says. "And I feel like being a part of a church system that always over-promised and under-delivered has really inspired me to create almost a church-like format to what we do. We call our drag shows 'church'. It's time to celebrate, to be in community with each other. It's the actual community that we were promised but never got, and so we're creating it ourselves."
As a queer performance art, drag fits perfectly into Pattie Gonia's vision for community-centred and inclusive climate actions. According to Wiley, drag, as a freedom of expression and self, is truly for anybody. "You have this playground where anything is possible, not just with gender, but possibilities in this world," Wiley explains. "I want to imagine a world where there are climate solutions, where we are building community, fun, and joy around the climate movement."
"While Pattie has been such a personal journey, it's also been so unbelievable to share it and truly have Pattie, I think, kind of represent a community in a way," Wiley says. "I feel like the luckiest girl in the world. I also feel like it's only just the beginning."
What can I do?
Support the intersections of planet, inclusion and nature by taking the Outdoorist Oath.
Find out how