The art on show at this year's Venice Biennale reflects the environmental concerns of our times. 5 picked out our favourite pieces that address the ever-changing relationship between humans and nature.
It's the world's biggest showcase for how art is responding to the world we live in. And in these times of environmental crisis, artists at the 59th Venice Biennale can't help but turn their gaze to our changing climate and our relationship with nature. This year's event also includes contributions from indigenous groups that have never been represented here before.
The artworks raise a million questions about humanity's future, but also remind us that in the end, the answers are up to us. 5 explored this year's show until our shoes wore through, and here we've gathered our 10 favourite pavilions.
Going since 1895, the Venice Biennale is the world's biggest visual arts festival, attracting hundreds of thousands of visitors. This year's biennale, the 59th, consists of a major exhibition called The Milk of Dreams, curated by Cecilia Alemani, plus national pavilions representing 80 countries. Organisers are aiming for all the biennale's events to be carbon neutral.
The Sámi Pavilion: a first for the biennale
Pauliina Feodoroff, Máret Ánne Sara and Anders Sunna
Curators: Liisa-Rávná Finbog, Katya García-Antón and Beaska Niillas
For the first time at this year's biennale, the Nordic countries have given their space to the Sámi people, Europe's only recognised indigenous group, who live in northern Norway, Sweden, Finland and Russia. "It is now possible to present ourselves as a nation on our own," says Beaska Niillas, one of the pavilion's curators. The Sámi are feeling the unprecedented effects of climate change in the Arctic, and have the potential to play a vital role in protecting nature. The works on show celebrate Sámi knowledge and values, with a focus on the reindeer who traditionally have provided a livelihood for many Sámi people.
Sink into a bog at the Chilean Pavilion
Ariel Bustamante, Carla Macchiavello, Dominga Sotomayor and Alfredo Thiermann
Curator: Camila Marambio
The Chilean Pavilion brings a little bit of the peat bogs of Patagonia to Venice. The first thing that hits you in this multisensory installation is the smell of wet moss and soil. We then enter a tent, which becomes a projection screen for moving images, giving us the experience of being buried in the squelchy ground of a peat bog, and rising up from it. Gradually the film takes us up through the soil and above the grass and plants, finding ourselves surrounded by music sung by silhouetted figures of the Sekl'nam people, who for thousands of years have kept these bogs alive. In the heart of this celebration, visitors can feel for themselves how this ancient culture is interwoven with the peatlands. The fate of the planet relies on people like the Sekl'nam continuing to preserve these landscapes – which absorb even more carbon than forests, helping to hold off climate change.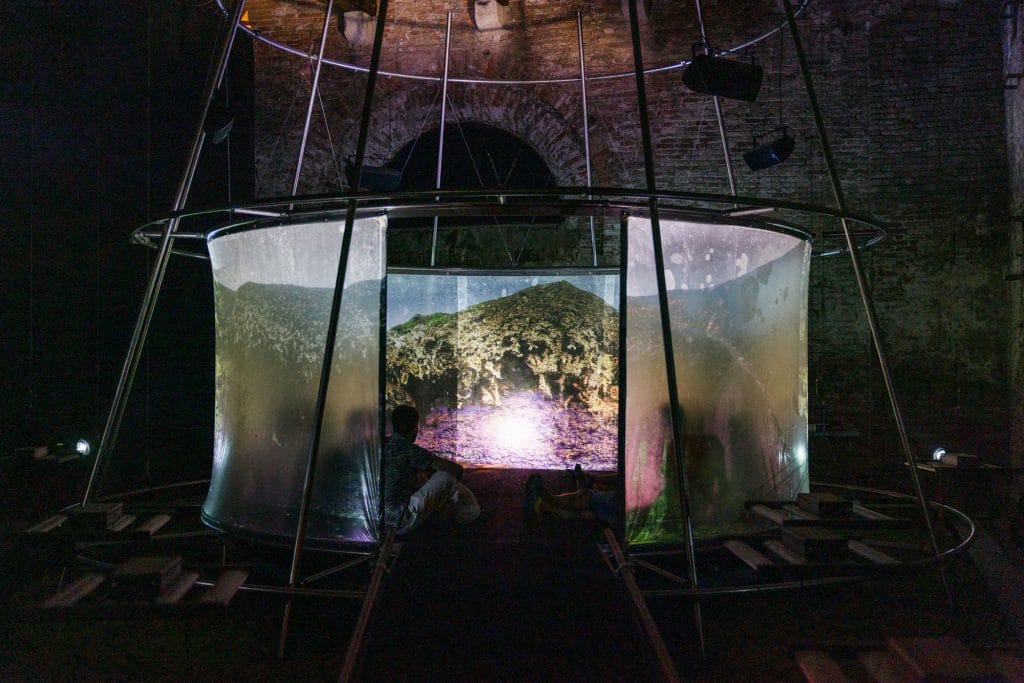 The Lithuanian Pavilion – artwork or business pitch?
Robertas Narkus
Curator: Neringa Bumblienė
Built around the idea of harvesting wakame seaweed from canals for sustainable food, the Lithuanian Pavilion is like no other. Ranging from the mundanely practical to the vividly surreal, it's part art installation, part social impact project, part working biotech lab, part eco business proposal. The installation features videos of fermentation guru David Zibler, urging us to trust our "gut feeling" (which is also the name of the installation). It reminds us that, while humanity may face an existential threat from climate change, nature will find a way to endure. As Zibler reminds us: "The chief mechanism of evolution is extinction."
Is the Korean Pavilion… alive?
Yunchul Kim
Curator: Youngchul Lee
At first glance it looks like something from a science fiction film – half machine, half organism. The snake-like form (is it a body?) seems to be flying through the room, as lights elegantly move and pulse through it. "I often have dreams about strange creatures and the swirling movement of things that I sketch out on paper," explains the artist, Yunchul Kim. The artwork is "a swirling cosmic event" that shows how "objects, beings, and nature all co-exist on an equal footing".
The Danish Pavilion is more than human
Uffe Isolotto
Curator: Jacob Lillemose
This one is intense. Entitled 'We Walked the Earth', this haunting installation brings audiences into an idyllic farm setting inhabited by hyper-realistic not-quite-human figures, where a drama has been played out. In the artist's words, it is "impossible to tell whether it is tragic or hopeful, or perhaps both". It asks us to challenge the idea of what it means to be human, and consider what we become when the world we know no longer exists.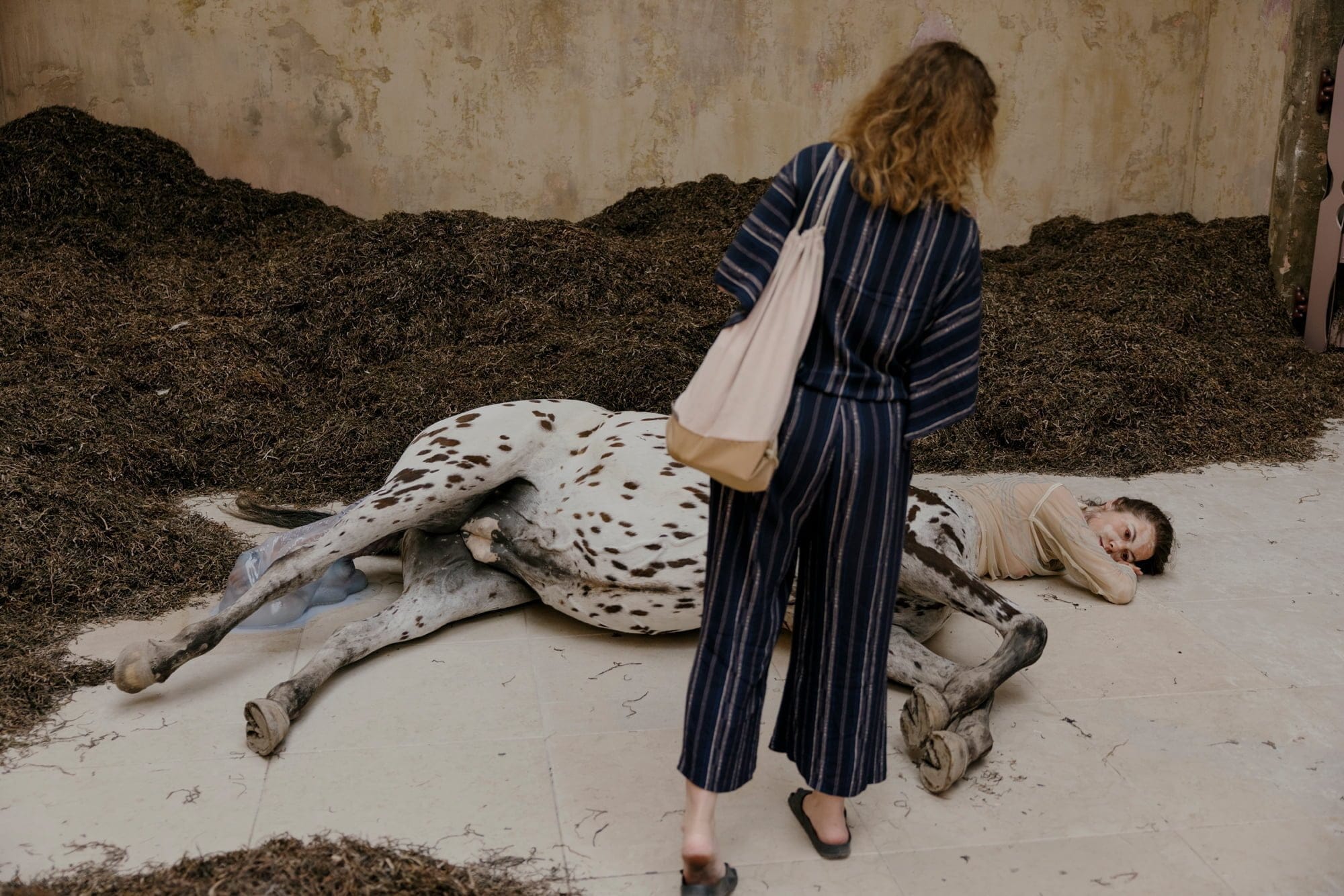 Ocean Space brings the sea indoors
Dineo Seshee Bopape and Diana Policarpo
Ocean Space, run by the art foundation TBA21, exists to inspire us to care better for our oceans. For this year's biennale, it is hosting a project called The Soul Expanding Ocean, with two very different installations that combine technology and natural imagery. Diana Policarpo's installation features giant rocks which, from far away, seem to dominate the room. Close up, you find screens built into the rock, with views and sounds of the sea that document the artist's research process. In Dineo Seshee Bopape's installation, video screens take us on a journey to the Solomon Islands, Jamaica and South Africa. Grab an iPad, and augmented reality elements bring the room around you to life.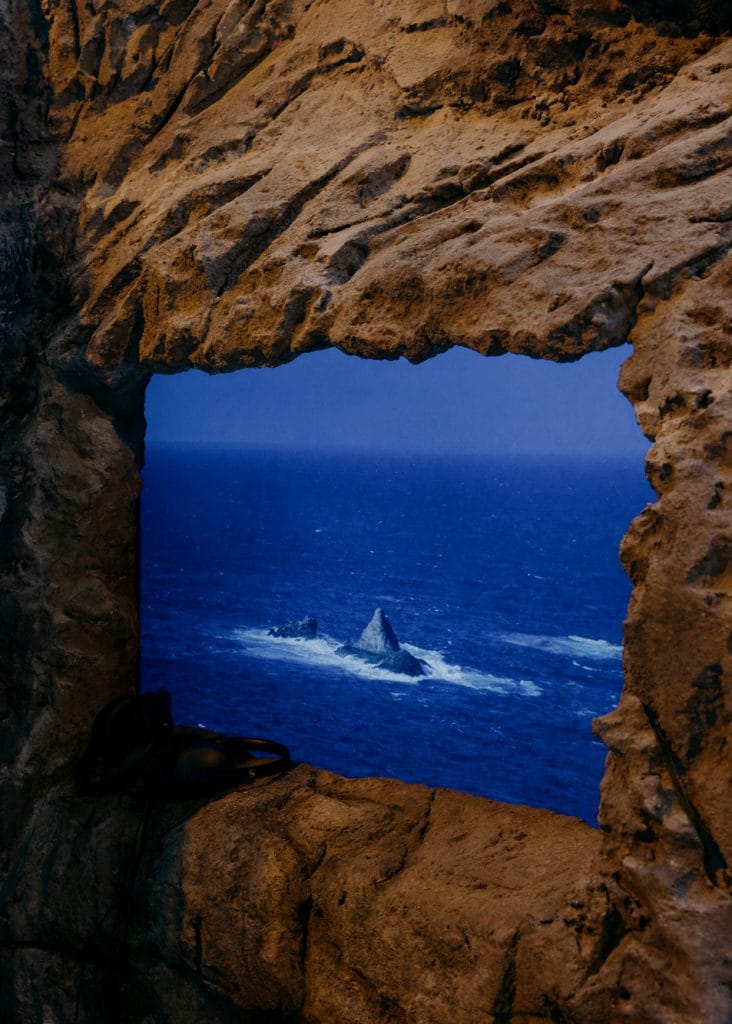 At the Swiss Pavilion, every end is a beginning
Latifa Echakhch
From the outside, it looks like a building on fire. The immersive installation uses light, space and large sculptures of charred wood and straw to tell a story about the cycle of life, with fire at its heart. Most of the material used is recycled from previous biennales, helping to remind us that endings are also beginnings.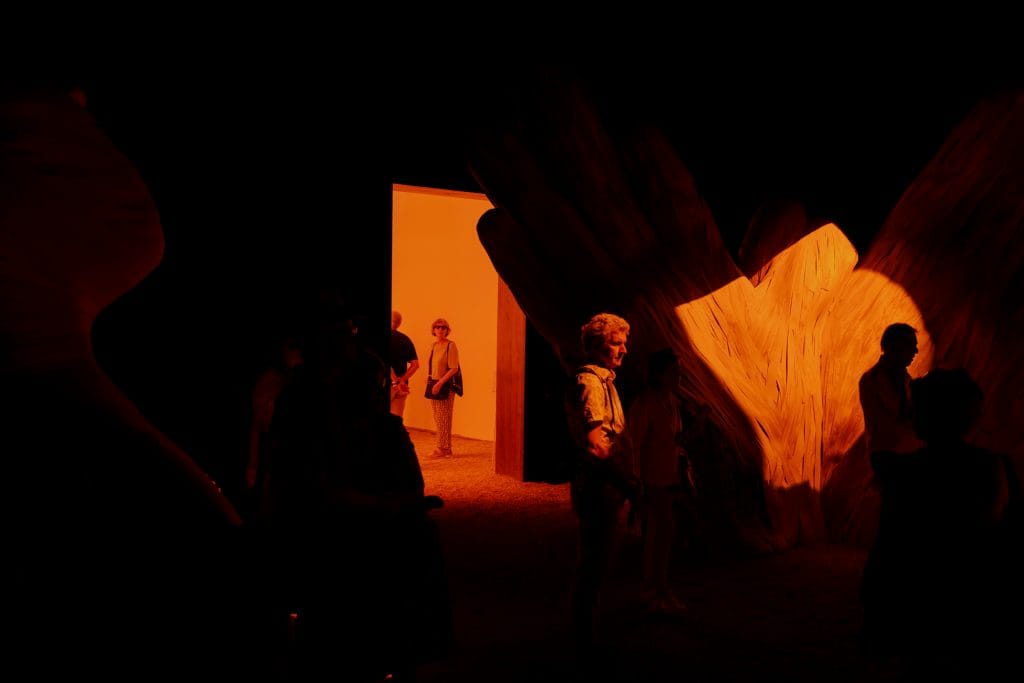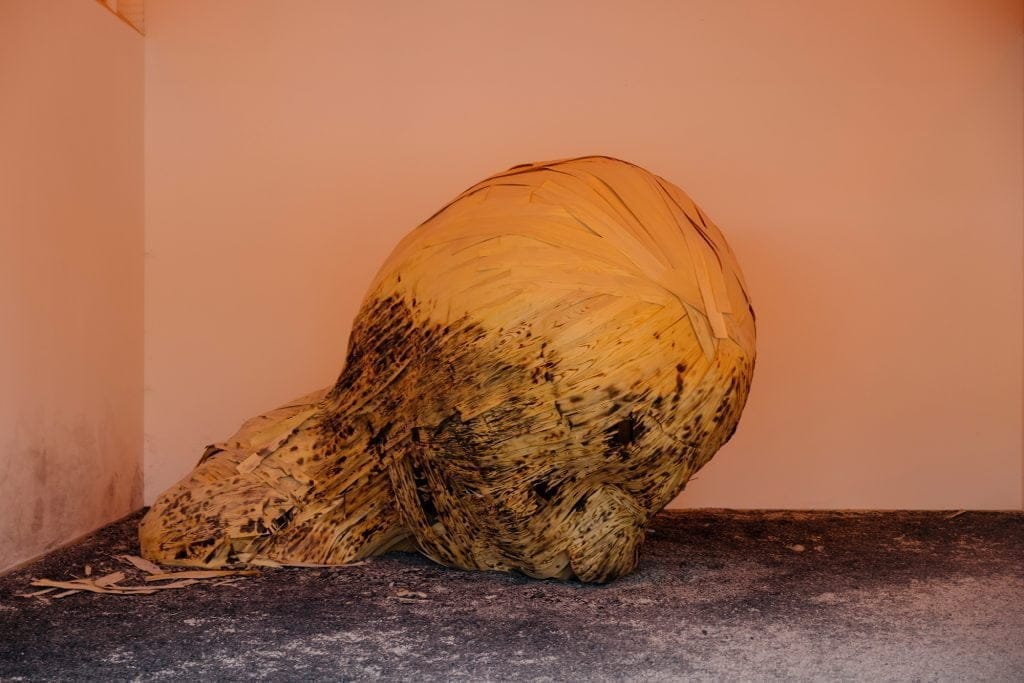 Dive deep into the Serbian Pavilion
Vladimir Nikolić
Curator: Biljana Ćirić
You enter a room with two giant screens, one vertical, one horizontal, both showing moving images of water. One is a view from afar. In the other, you're in the water – part of it. The artist Vladimir Nikolić wanted to explore "how water unites us more than anything else on the planet". But the way we experience water and nature, divides us – especially amid the pandemic when many of us were stuck inside, glued to screens. It widened the gulf between "those whose world views are mediated by the screen, and those whose eye remains a direct optical instrument".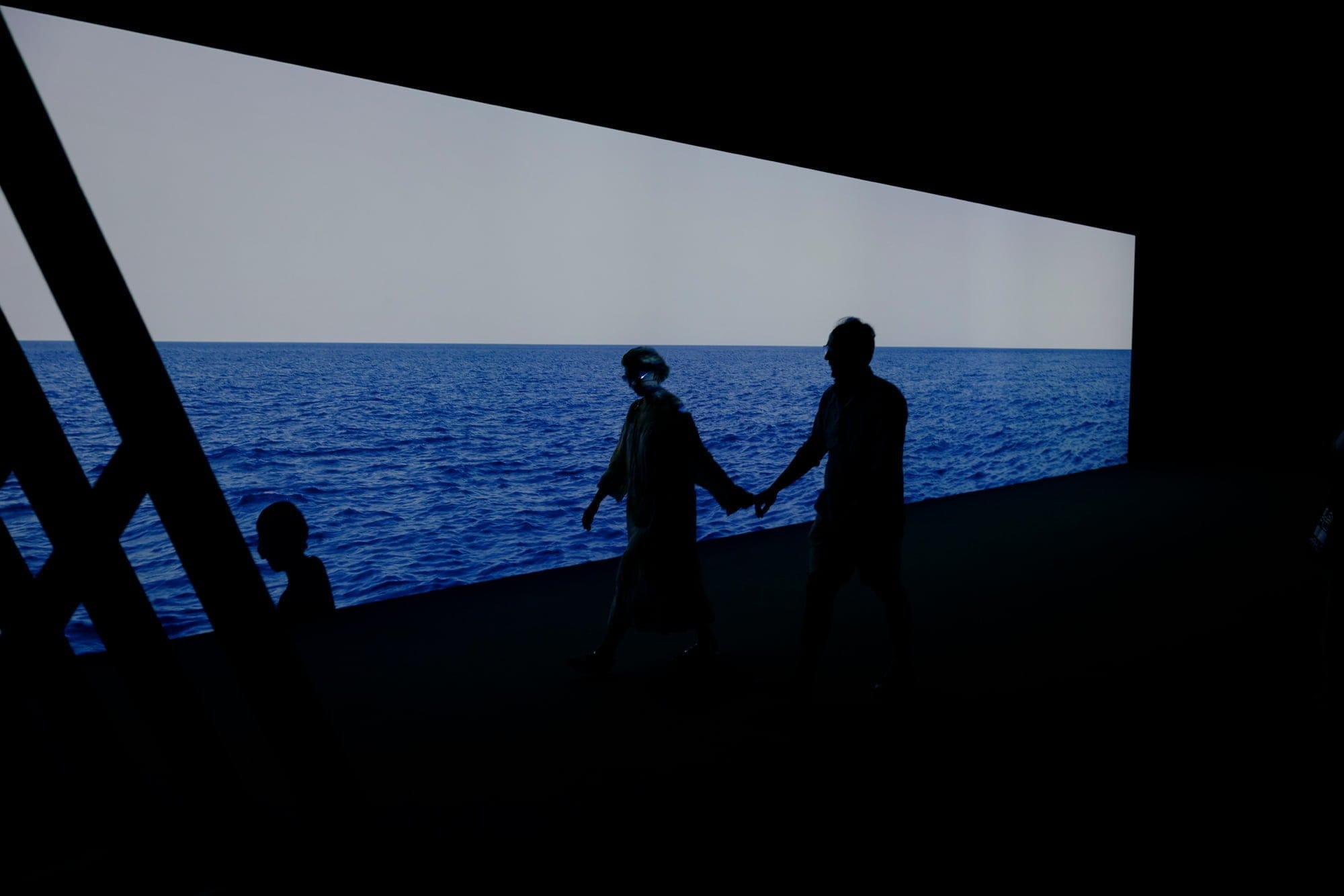 The Scottish Pavilion urges us to remember
Alberta Whittle
Not an 'official' pavilion but taking place alongside the biennale's main events, this exhibition asks us to face up to uncomfortable truths, to hold on to the memory of painful events, and to heal. Artist Alberta Whittle uses film, sculpture and tapestry to address themes including police brutality, colonialism and climate.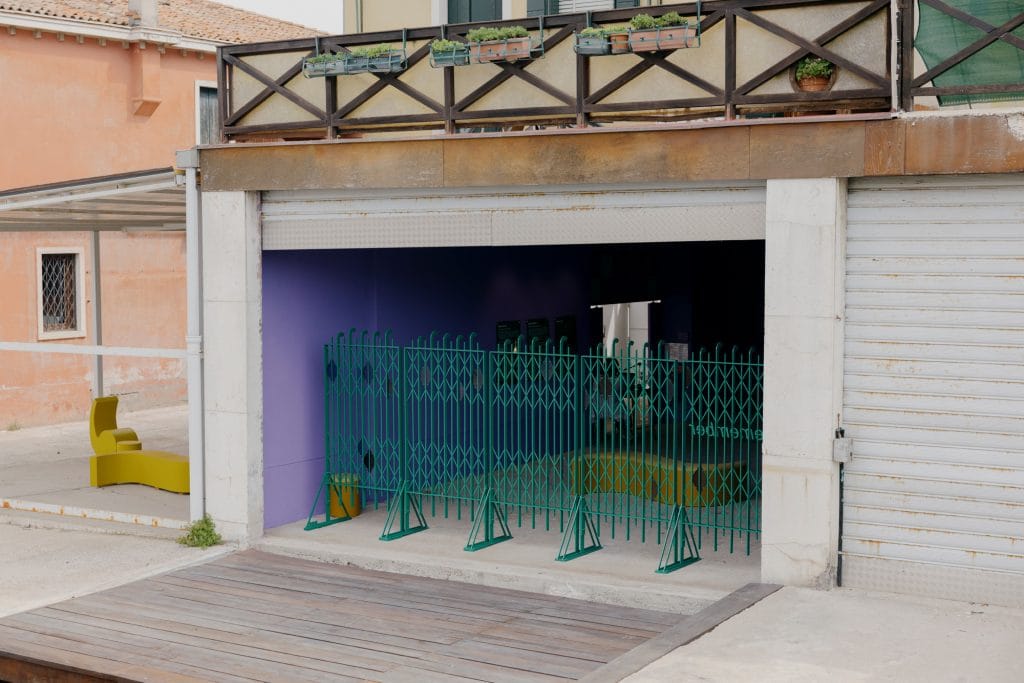 Past, present and future at the Italian Pavilion
Gian Maria Tosatti
Curator: Eugenio Viola
In an abandoned factory, rows and rows of sewing machines stand on tables, quiet and still. The chairs next to them are empty. Designed specifically for the building in Venice's former shipyard area where it is hosted, the Italian Pavilion takes the story of Italy's industrial decline as the starting point to explore visions of humanity's past and present – and to pose questions about the future. We move through various empty factory spaces, where rusting machinery sits silent. This powerful installation, called History of Night and Destiny of Comets, structured as a 'prologue' and two 'acts' looks at "the difficult balance between man and nature, between sustainable development and territory, between ethics and profit".