In this powerful series, award-winning Uruguayan photographer Pablo Albarenga tells the story of the indigenous people of the Amazon who are risking their lives to protect their land.
For many of us, nature is where we go to "get away from it all" – a place to escape to for a breath of fresh air, a hike or a few days of camping perhaps. But what if nature was your home, your history, your culture, your everything? And what if that was all under attack? This is the reality that indigenous communities across the Amazon face, where deforestation threatens the core of their existence.
Moved by the stories he encountered when visiting one of the affected regions, documentary photographer Pablo Albarenga looked for a way to show the intimate bond between these indigenous people and their land. In his project, 'Seeds of Resistance', he captures portraits of people taken from above, as though they are laying down their lives for the land they are fighting so hard to protect. A second aerial photograph accompanies each image, zooming out to reveal the wider territory and often, the threat to the natural landscape. The series won him the Photographer of the Year title in the prestigious Sony World Photography Awards 2020.
But the struggle taking place in the Amazon is ongoing and lethal. A recent study by Front Line Defenders estimates that at least 20 environmental activists were killed in Brazil in 2021 alone.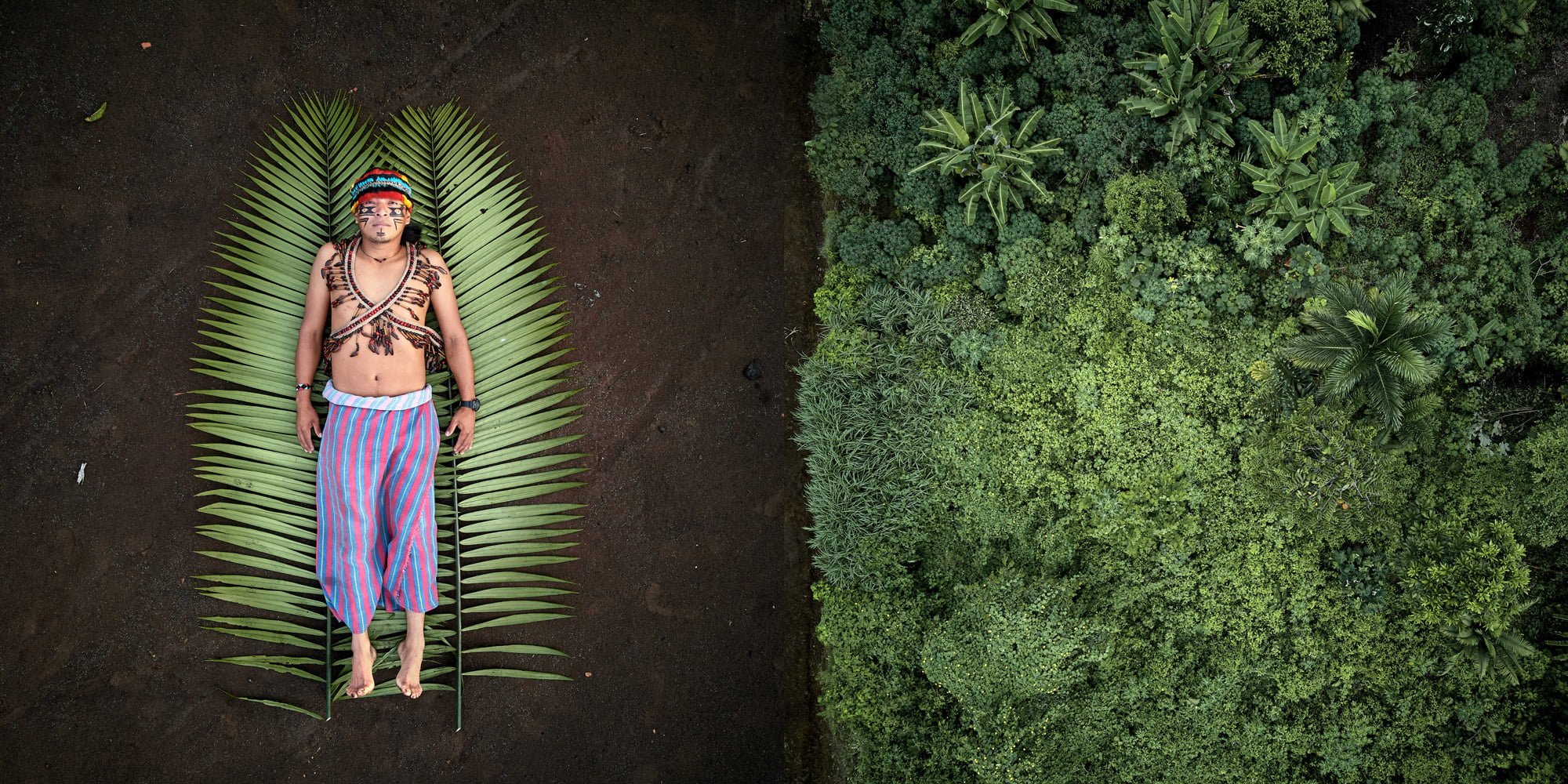 "To them the land is sacred – below their feet there are hundreds of generations of ancestors that still rest there"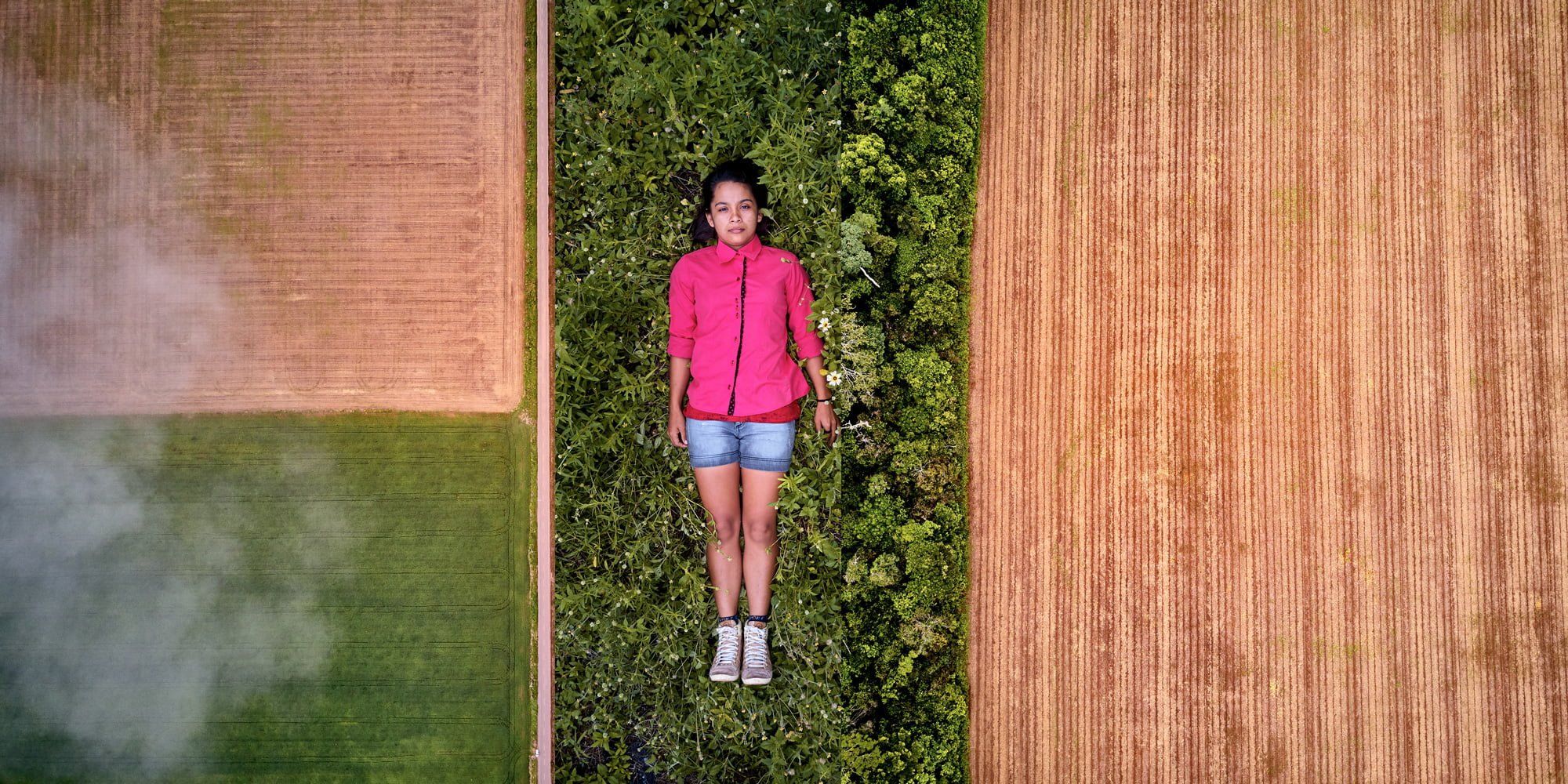 "It's not only about tragedy because these stories completely empowered me and I think they have the power to make people conscious"
5 SPOKE TO PHOTOGRAPHER PABLO ALBARENGA ABOUT HIS PROJECT:
How did you come up with the idea?
In October 2016 I did my first story about indigenous people fighting against the destruction. It was a life-changing experience. After my first trip to Brazil's Mato Grosso do Sul, I realised that the land is key to understanding the issues and stories. These people are struggling for their land because of the importance of their territory. But when I went back through my images, that relationship between them and their territory wasn't there, so I wanted to visually show this relationship, this bond with their territory in a much more powerful and direct way. It was very challenging because I didn't have any idea how to make this relationship explicit in the pictures. So I thought of portraying these people from above, so that their land would form the background of the image. But that wasn't enough because I really wanted to show the territory as well, so I took the second pictures from a much higher altitude, trying to show, where possible, the threats they're facing and making this visually clear for the viewers.
What do you hope to communicate?
That these people have a very unique and different relationship with their land than we have. In land, we see the possibility of conquering. We find success in conquering places, we find success in visiting new countries, living in new countries. We have an economic view of such territories and the land and that's why we want to control it and colonise it. It's part of our story. But when it comes to indigenous communities, they have a completely different relationship because to them the land is sacred – below their feet there are hundreds of generations of ancestors that still rest there. As they say, the forest is their pharmacy, their supermarket, it has been providing everything that they need in order to survive – and even when that rainforest has been completely destroyed, the land is still sacred.
What struck you when working with the people in your portraits?
How colonisation is still working and active. Colonisation tends to be something that we attach to an event in the past. We think of when Columbus arrived in Latin America. But it's not only in the past, it's still happening. People are losing their lives because a small group of powerful people are taking advantage. So we should be aware of how colonisation is still affecting us in our everyday lives.
How did it feel to be in these natural landscapes under threat?
Being in-situ in places like this makes you feel many things. One of them is the risk. You understand how these people are risking their lives everyday and how they are being killed because of defending their territories. But on the other side, it's not only about tragedy because these stories completely empowered me and I think they have the power to make people conscious and empower other communities and citizens from all over the world to take action and better understand what's happening there and to support them. So I think that in the context of constant violence against these people it's amazing to see their stories and find their stories, because through their stories I think I found hope.
What surprised you the most?
How young people are joining the frontlines and engaging in the struggle from an early age. They join the struggle all the time because their leaders are being murdered. I heard a great phrase that led to the title of this project, which went something like this: "They (the ranchers and landowners) that are killing indigenous leaders… they think that the solution is to bury us. But they didn't realise that we are seeds." That's why the project is called 'Seeds of Resistance'.
What would you say to people seeing your photos, safe in their homes, a world away from the places you depict?
I would say that we should stop and think about how we think about the Amazon. Every time we think about the Amazon we do it in a very selfish way. We only think in terms of deforestation, oxygen, carbon storage, and undiscovered species for our science. But we forget about the most important thing – it's about the 30 million people that live in the Amazon. I think that we're making a big mistake, because we're forgetting about the people, which is really important because they are there every single day, defending their land, their territory. And I think we have a great responsibility because I think that we are like the crowdfunders of the Amazon looting because of the overconsumption of our society. We are supporting the companies that are completely destroying these places. So I think we should be really critical with ourselves and think about how our consumption on this side of the supply chain has an impact on the other side of the supply chain.
The Sony World Photography Awards are organised by the World Photography Organisation.