The amount of food we waste is maddening, and it just keeps growing. One Dutch startup is looking to space-grade technology to change things.
Companies often decorate their office walls with certificates, newspaper cuttings or other evidence of proud achievements. At Future Kitchens in Rijswijk, the Netherlands, it's a sachet of powdered soup – not so much an accomplishment, as a reminder of where it all began.
By freeze-drying fruits and vegetables, Future Kitchens turns them into instant soups and smoothies. The process captures the nutrition from produce while it's still fresh, and allows it to stay good for months. The ingredients are sourced from leftover crops, by-products and side streams, such as broccoli stems and tomato seeds, that would otherwise be thrown away.
"Given the complex world we are living in with all these meaty problems, why wouldn't you pick one of those problems and build a business around it?"
Jef Cavens
The company was founded last year by serial start-up entrepreneurs Jef Cavens, Floris Schoenmakers and Frederik van Dessel with a plan to target employers with a healthy, sustainable food option for office workers. But it was the start of the Covid-19 pandemic, and the worst possible moment for this kind of venture. "It's a bit difficult to sell soups and smoothies to offices when there's nobody there," says Frederik.
From commerce to purpose
But selling powdered soups and smoothies is not why these entrepreneurs began their business. These sustainable snacks are a means to a bigger end – to do something about food waste. Future Kitchens was born out of a desire to use business as a force for good. "We have a background in building startups and being involved in innovation in general," says Jef. "But what we had been doing until we started Future Kitchens was mostly money-driven and working for clients or investors, who at the end of the day, always wanted to optimise for the financial metric. That obviously is a super important metric, but we came to a point where we wanted to spend our time working on things that have a deeper sense of contribution."
He adds: "Given the complex world we are currently living in with all these meaty problems we're faced with, as an entrepreneur, why wouldn't you pick one of those problems and build a business around it? So, we came across the huge problem of food loss and waste and found out that it was one of the biggest drivers of climate change."
Often described as the world's dumbest problem, food waste generates about 8% of global greenhouse gas emissions annually. Besides the environmental impact, the scale of the issue is staggering. An estimated 1.3 billion tons of food is wasted each year, according to a United Nations report. That's around a third of global production. A recent 2021 study by WWF suggests that the amount may be as high as 2.5 billion tons.
Future Kitchens hopes its products will help make a dent in these figures. Eighteen months after launching, the company's range has been expanded to four soups including tomato and bell pepper and broccoli and parsnip, and two smoothies. But getting to this point has not been easy. 
"The problem at first was that me and Jef – Frederik joined later – didn't have any experience with food, except amateur cooking," says Floris. Jef had been involved in developing internet applications for commercial companies and Floris had originally studied business administration. The two knew each other from start-up world. Floris points to the sachet of powder on the wall. "Our first soup was not that nice, but we had proven that it could work. Then we found a recipe engineer who could help us develop recipes."
So far, the pumpkin coconut soup is a particular winner. After some trial and error with the formulation (the vegetables kept sinking), the powder now dissolves within a few seconds of being mixed with water, resulting in a silky consistency, but with enough texture to be satisfying.
All plants, zero crap
The freeze-drying process, in which food is frozen and then placed in a vacuum that turns the water in the food straight from ice into vapour, ensures the ingredients retain their colour and between 98-99% of their nutrients. The technique has been around for over a century, and was significantly improved by NASA to provide astronauts with nutritious, lightweight, long-lasting and easy-to-prepare food as they journeyed to the moon and back.
Another feature of the products, which are all vegan, is the high fruit and vegetable content – or 'all plants and zero crap' as the packaging proclaims – and low levels of salt and sugar.
Since the easing of Covid-19 restrictions in spring 2021, sales have started to pick up. Future Kitchens targets mainly large businesses, although the products are also available to individuals online. Pilot customers include McKinsey & Company and other major consultancy firms in Belgium and the Netherlands, and the company has plans to expand to more countries in Europe.
Eager to increase their impact and save more fresh produce from being wasted, the company aims to have expanded from soups and smoothies into at least ten different categories, including healthy sweets, baby food and fruit and vegetable bars, in the next three years. It has recently applied for B Corp certification, committing to high standards of social and environmental impact, and third-party verification.
Two-legged carrots
Currently, Future Kitchens sources its ingredients from three local farmers and estimates it has saved around two tons of food from going to waste. By the end of 2022, it hopes to have sold a million servings and saved 20 tons of food. It is expanding its network of farmers to accommodate this growth.
"We should be talking about why supermarkets reject a bent cucumber or a carrot with two legs"
Martin Topper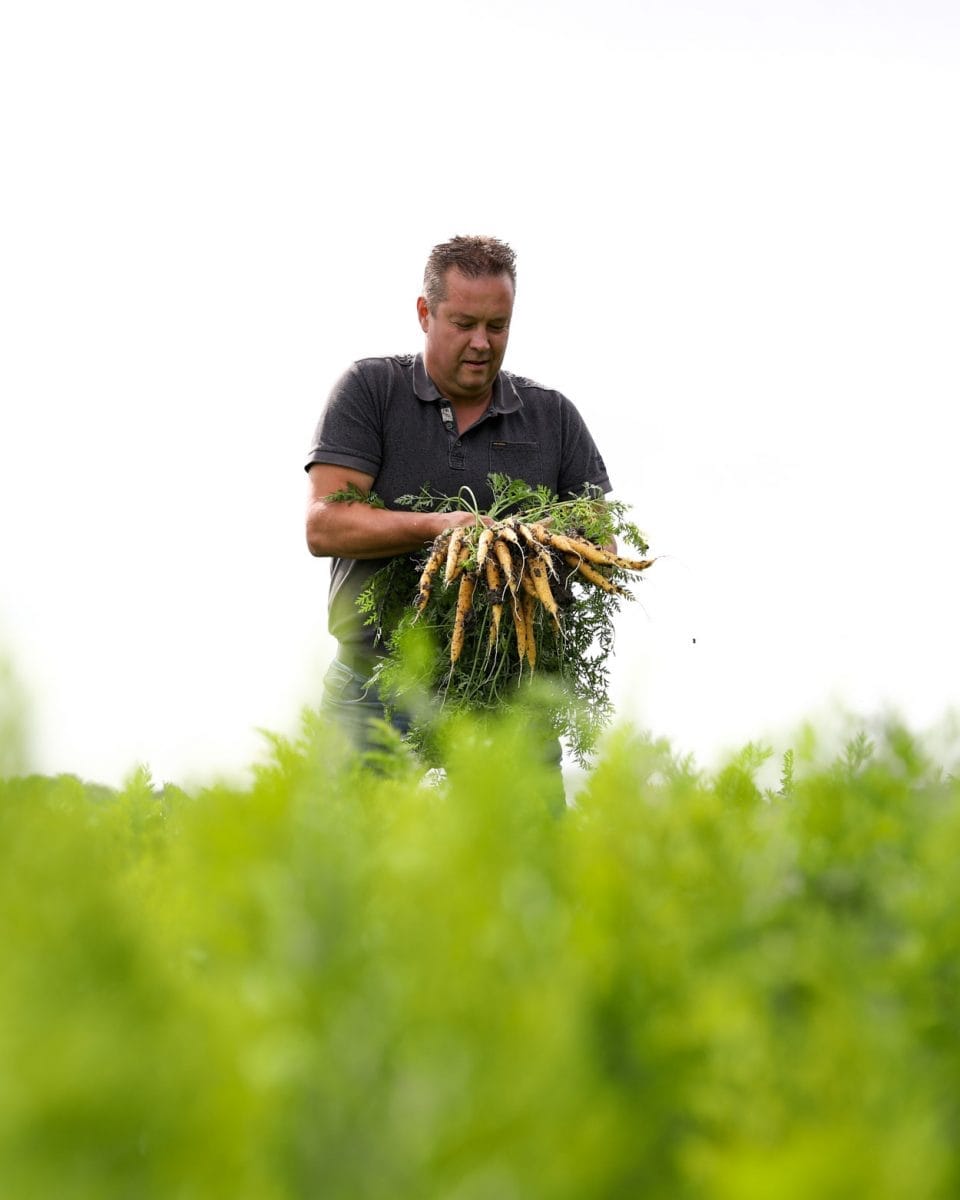 For Martin Topper, a farmer in the Dutch province of Flevoland, initiatives like this can't come soon enough. Of the more than three million kilos of vegetables he produces each year, around 800,000 kilos end up as animal feed. The main problem, he says, is aesthetics. "Supermarkets want perfect products. If vegetables aren't perfectly straight, unblemished or a particular size, supermarkets don't want them."
And that's the crux of the matter, in his view, "We shouldn't be talking about how many kilos go to waste; we should be talking about why supermarkets reject a bent cucumber or a carrot with two legs. It's still a quality product and tastes just as good. So why shouldn't you be able to eat it? Sure, we can turn rejected vegetables into animal feed, but we grew them for human consumption and so they should be eaten by people."
Expansion plans
While supermarket standards don't help, a lot of food already goes to waste where it's grown. The WWF study suggests over a billion tons of food is wasted on farms annually.
"Food is left on the land to rot. This creates methane, which is 26 times more potent than CO2"
Frederik van Dessel
This is a problem in all regions of the world, but a lack of refrigeration and packaging, and poor transport infrastructure, can put less industrialised nations at a disadvantage.
Part of Future Kitchens' long-term goal is to source from farmers in Africa and South America as well. It has just started exploring the options in Kenya and Uganda, with the aim of understanding the types of food losses in those countries and identifying existing food preservation facilities.
"What often happens is that food is left on the land to rot. This creates methane, which is 26 times more potent than CO2. So, the impact of preventing food loss in developing countries is higher than preventing food loss here," says Frederik. "If we can't freeze dry there, there's solar drying, air drying and other drying techniques. One of the big challenges is making sure you get the product to the drying facility in time. So, there are a few hurdles we need to dive into to make sure this idea is economically feasible."
For now, Future Kitchens is focusing on building brand awareness and a steady revenue stream closer to home. Jef says: "The idea is to be organised here locally, so we can start selling the product, telling our story and then, one ingredient at a time, go where the impact is biggest."
Future Kitchens is in the process of changing its name to Winning. The new name will be introduced in the coming months. 
What you can do
Get tips on reducing food waste from Love Food Hate Waste
Get the Too Good to Go app and pick up great food near you, before it goes to waste
Go gleaning – rescue your own surplus fruit and veg, straight from the fields. Check out the Gleaning Network for tips
Thoughts from our community
— 15.09.2021
This looks like a great idea, especially if the food is intercepted at time of harvest as being surplus and can be processed immediately. This way it doesn't have the chance to decay and loose its nutritional value.
Sam R.