For one weekend a year, it's volunteers only. Laura Hall travelled to the Faroes to discover how a different approach to tourism can help destinations look after themselves, and care better for the planet.
At first glance the Faroe Islands don't seem to have much tourism to speak of. Single track roads, sheep and floating fish farms, yes. Waterfalls and towering mountains that wouldn't look out of place in an action film? Again, yes. But tourists? The airport welcomes direct flights from Paris, Copenhagen, Edinburgh and a handful of other cities in Europe, but with its single grassy runway and compact terminal, it's hardly Heathrow. 
Chances are, you haven't visited the Faroe Islands. You might struggle to pinpoint them on a map. This handful of windswept volcanic rocks erupts out of the North Atlantic Ocean about 300km north of Scotland and 700km southeast of Iceland. But its status as an emerging tourist nation that has allowed the Faroes to do something unique in travel terms: it closes to tourists once a year.
"The Faroe Islands had been successful in increasing tourism for a number of years, giving them a positive challenge," says Rune Hørslev, a partner at Mensch, the Danish creative agency that came up with the 'Closed for Maintenance' concept. "On the one hand, tourism was up, but on the other, they wanted to manage tourism in a sustainable way so the local community would benefit not just in economic terms, but as a society. We came up with the concept of closing down for a weekend."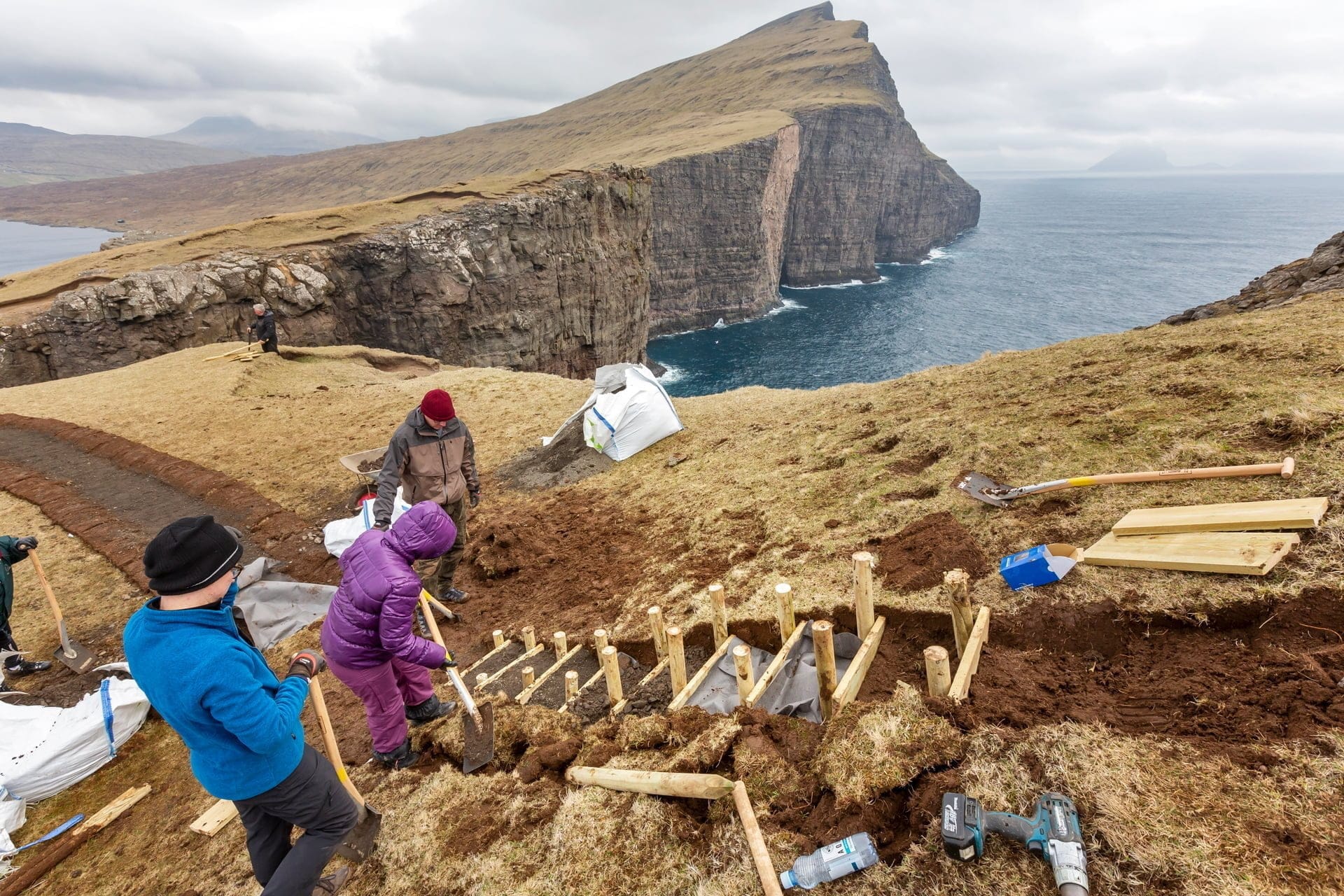 A working holiday
During weekends when the islands are closed, 100 places are available on a volunteer scheme where, in exchange for bed, board and a locally-made woolly hat, volunteers will come to work. Their tasks include repairing paths, building cairns, making signs, gates and ladders and creating easier and safer ways to navigate between towns and villages. 
It has taken off. The scheme is heavily oversubscribed, with only around 3% of those who apply are accepted. When it launched in 2019, the World Economic Forum named it one of the world's most innovative initiatives for tourism. Since then it has won multiple tourism and communications awards.
Closed for Maintenance may only take place once a year, but the whole nation is in support of cultural, environmental and financial sustainability within the tourism industry. That means making sure that tourism here makes sense, giving back to the local community and supporting nature and culture without eroding it. After all, if incoming tourists destroy its nature and culture, there will be no reason to visit.
The Faroes aren't the only place to try out this kind of approach. On the other side of the globe In New Zealand, tourists come to take part in replanting programmes, organic farm work and native bird breeding programmes. And in the Pacific Island nation of Palau, the Ol'au Palau app rewards positive tourism decisions like using reef-safe sunscreen with access to nature-based initiatives usually reserved for locals. 
Curiosity, balanced with respect
It's a short drive from the Faroe Islands' tiny airport to Tórshavn, the capital, and doable by electric car thanks to car rental firm 62° North, who have one EV in their fleet. At the tourist office, I ask about sustainable things to do, and the guide immediately starts annotating a city map with her favourite city walks. It's a reminder that sustainable travel doesn't need to be complicated.
"If it rains, these paths are unstable. Who will pay for it to be rebuilt, if not the tourists?"
Elsa Maria, tour guide


I join local guide Elsa Maria on a tour of the island group, spotting puffins and driving hairpin roads around the mountains. She proudly points out paths rebuilt during 'Closed for Maintenance', and is vocal about why it was needed.
"We need help to fix the environmental damage that hikers cause," she said. "If it rains, these paths are unstable and sometimes dangerous. Who will pay for it to be rebuilt if not the tourists? Farmers don't have the money for that."
Part of the vision for sustainable tourism in the Faroes is to find a balance between the wellbeing of the 53,000 people who call these islands home – including making tourism successful as a business for them – and providing a good experience for visitors. 
Elsa Maria suggests that there could be an upper limit for tourists (in 2019, the country welcomed 140,000 visitors, nearly three times its population), and a tourist tax so trails could be maintained and services like public toilets and litter collection are possible. 
Tourist taxes are in action in the Caribbean, Croatia, Prague, France and Japan among other places, and tourism limits are in place in peak season in Marseilles, France and Italy's Amalfi Coast. However, in a place like the Faroe Islands, where most things are imported and prices are already high, adding more cost risks punishing the nature-loving tourists keen to visit. 
Everywhere we go, from historic sites to a tiny surf town, I see signs saying 'keep off the grass', and 'drones not permitted'. What's that all about, I ask Elsa Maria.
"If you have 800 sheep and you need to feed them, you need to take care of the grass," she says. "Farmers get cross when tourists don't observe this: you have to walk on the path, not on the grass beside it. And the drone signs are because people want their privacy."
Curiosity about island life is what brings visitors in the first place, but it must be balanced with respect for the inhabitants. Peering into windows, whether with your eyes, or with a drone-mounted camera, is not ok. 
At home with the locals
I get an authorised peek into local living in the evening, when I take a local ferry to the island of Nølsoy to dine at a Heimabliðni, a dinner at home with a local resident. All over the islands you can find locals who regularly host visitors for traditional Faroese meals. Maud has been running a supper club at her house for the last four years and has welcomed people from all over the world. For her, it's an enrichment project, from both sides, sharing her local culture and enjoying the company of her visitors.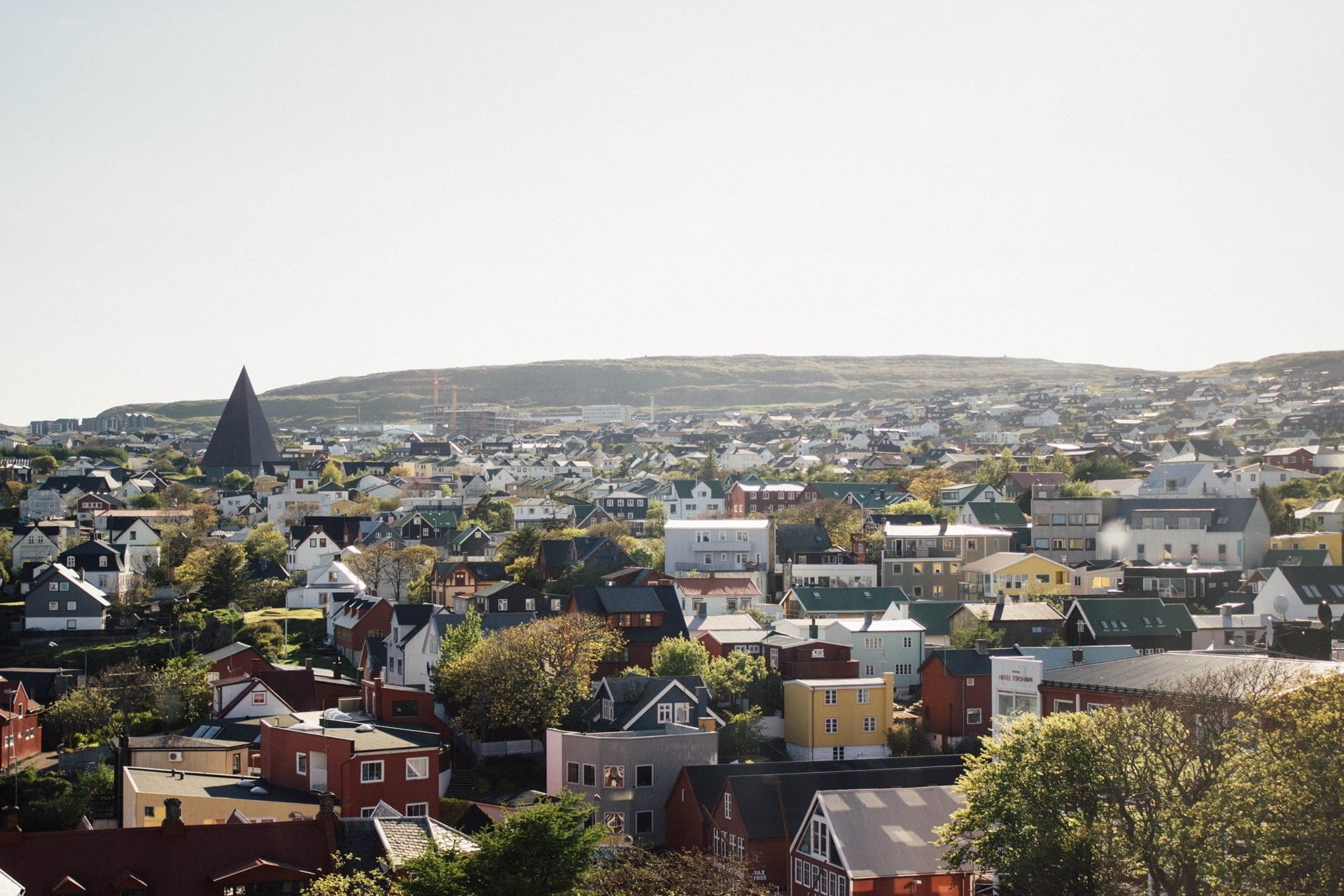 Her face brightened when I said I was writing about sustainability in the Faroe Islands. 
"That's what I'm all about!" she says. All her food comes from local sources as far as possible, and her beautiful vegetable garden is visible from the dining table, awash with bristling onion leaves and flourishing herbs. Her entry into tourism started at the request of the island's tourist office, who asked her to host some visitors one evening, and she has enjoyed sharing her life and her food with incomers ever since. 
Over a delightful dinner of local smoked salmon, cod and delicious rhubarb cake, I learn about life on the edge of Europe, admire a photo of Maud's son hugging an enormous bluefin shark – he's a commercial fisherman in Greenland – and hear how annoying it can be when an errant sheep breaks into your garden and eats all your lovingly grown crops. 
On my last day here I drive to the northernmost tip of an island until the road runs out. I look at the sea, at the cliffs that rear up from it, and at the pretty little church, dwarfed by the ancient volcanic landscape. Then I walk on the stony track all the way back to my car, careful not to tread on the grass. 
Five ways to make your travels count